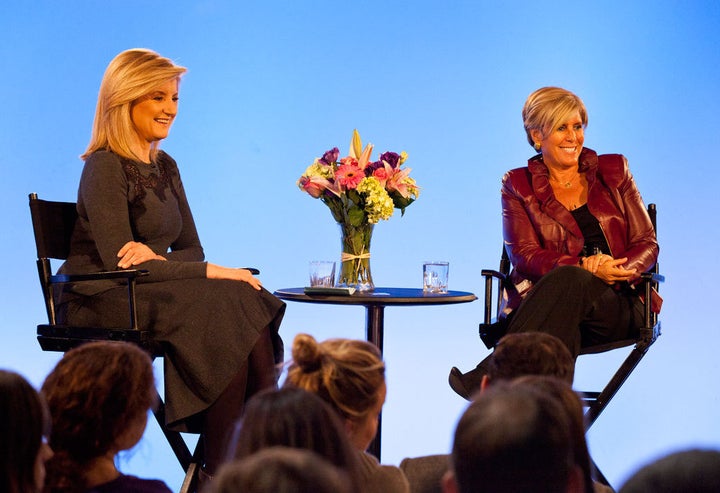 (NEW YORK) - If you thought personal finance expert Suze Orman just wanted you to change your money behavior, think again. The 60-year-old author, CNBC television host and now financial services entrepreneur stopped by AOL Studios here on January 9 for an interview with Arianna Huffington. Orman unveiled a new pre-paid debit card that she hopes will turn the credit-scoring system upside down.
"My job is to educate American and give them the tools they need so they finally have a highway out of poverty," she said.
This week Orman launched The Approved Card,
a purple-hued, pre-paid debit card aimed at middle-class folks who want to steer clear of credit cards. They allow someone to load money on the card and then use it for every day transactions. I have reported on these products since their launch more than a decade ago. Initially a solution for the unbanked, the industry began loading the cards with multiple hidden fees, preying on the mostly poor Americans who relied on them.
At $3 to obtain the card and $3 a month in fees, The Approved Card rivals the industry's cheapest product, the Walmart Moneycard. There is no checking account attached to the card, and users who direct deposit at least $20/month onto the card get free, unlimited withdrawals from AllPoint ATMs. If someone tries to overdraw it, the transaction is denied. Users also get a daily email telling them how much they have left to spend.
But the most unique feature of The Approved Card is the ability to help consumers build a credit score: TransUnion has agreed to collect aggregate spending data from the cards for a period of 18 to 24 months to test if the system is feasible, Orman said. The card also offers credit monitoring and free assistance with identity theft.
"Middle-class Americans...don't want a credit card in their wallet because don't want ability to get themselves into trouble again," she said. "The problem with that is if you spend money on debit or cash, it doesn't report to the credit bureaus so it doesn't give you a FICO score."
People without this key score pay the highest interest rates on consumer loans, such as mortgages and auto loans, because lenders have no way to gauge the lending risk. It can also affect their ability to rent an apartment and get a job, as many employers now check credit scores as part of the hiring process.
"I wanted to create (a scenario) where people who pay with debit and cash are rewarded," Orman said. She has invested $1 million of her personal fortune in building the product, and shrugs off ethical concerns raised by observers who suggest that in giving advice to viewers on CNBC, she could tout her for-profit product as a potential solution. "You will have to educate yourselves on prepaid cards now -- I'm not going to be talking about (them)," she said.
Along with her new card, Orman unveiled the life lessons that permeate her mission. She talked about growing up in a low-income family on the south side of Chicago, in a neighborhood that changed quickly amid white flight. "Every single white person moved out except us; I grew up as a minority and it taught me how to be very, very tough and that I had to work for what I needed to get," she said.
Orman had a speech impediment and trouble in school, where her teacher arranged the seats by reading scores. "They told me I was dumb, so why even try?" she recalled thinking. Throughout grammar school and high school, Orman worked in her father's deli, and took six years to finish at the University of Illinois at Urbana-Champaign, where "I never got a grade above a C," she said.
She moved to Berkeley and landed a job as a waitress at the Buttercup Bakery making $400 a month. Seven years later, she called her parents asking to borrow $20,000 to open her own diner. They had nothing to offer, and word got out among her loyal customers that she needed backers. They collected $50,000 and offered Orman a 10-year, no-interest loan. She put the funds in a money market account at Merrill Lynch, where they disappeared.
"I had a crooked broker," she said, and figuring she could do better, applied for a job. "I had on white cowboy boots with white Sassoon pants and a blue silk shirt. They didn't know what to do with me, and before I knew it I was in the manager's office." The manager said he would hire her to fill his affirmative action quota, she recalled, but vowed to fire her in six months.
As Orman learned the business, she realized what her broker had done with the $50,000 was illegal, and with the encouragement of a friend in the office, sued. By the time the case came to court Orman was the sixth top-producing broker; she won and was able to repay her restaurant backers, with 18% interest.
"That's why I'm the consumer advocate you see today -- because one person helped me fight for myself and I'll never forget that as long as I live," she said.
Orman also revealed her biggest financial mistakes, including a $250,000 foray into credit card debt. She once withdrew money from her 401(k) plan to buy a Cartier watch to impress a wealthy date.
"This is how insecure I was," she said. "I thought other people defined me. I didn't understand who Suze was -- a kid from the south side whose friends abandoned her and went to the north side, and whose parents never had any money. I had no reason to feel I could be more or have more, so when I met people who had things, I thought they would never like me unless I pretended to be like them."
In 1998, when Orman's book "Nine Steps To Financial Freedom" hit number one on The New York Times best seller list, she gave away the Cartier watch and replaced it with a $200 Michael Kors watch she liked.

"You get to the point where money is no longer the goal," says Orman. "It's to transform the world and make it a better place for everybody."

WATCH: Suze Orman discusses why she created The Approved Card.
Related
Popular in the Community