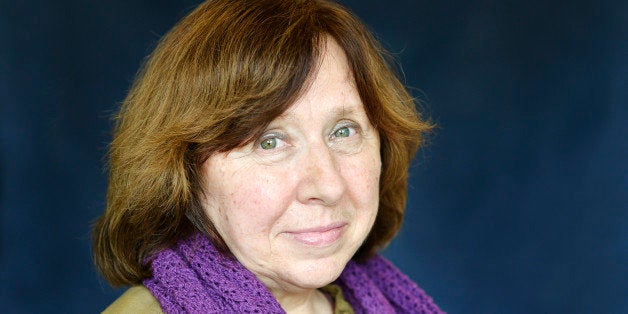 Svetlana Alexievich is the voice of modern Russia. Her non-fiction narratives, based on interviews with witnesses, are literary testaments of her country's turbulent history from the Second World War to the perestroika euphoria and its disenchanting aftermath. The news that she is the receiver of this year's Nobel prize in literature came as a rewarding surprise to every journalist in the world, not only because it reminds us that serious reporting is not dead in the Internet age, but also because it bestows a poetic quality to the journalistic endeavor. As Alexievich has put it, "I don't just record a dry history of events and facts, I'm writing a history of human feelings." The technique of blending journalism with literary embellishments had been successfully practiced before her time in Soviet Russia and in the West by authors like Vasil Bykau and Ales Adamovich -- the Belarussian writers who are credited as Alexievich's early main influences -- or Truman Capote and Norman Mailer, among others. But unlike her predecessors, Alexievich, who has written only in Russian, totally silenced her own voice and let only the witnesses speak, thus inventing her own genre.
'People always speak beautifully when they are in love or close to death.'
As she put it, "each person offers a text of his or her own." To those who wondered how come ordinary people always speak as beautifully as they do in her work, Alexievich offered that "people always speak beautifully when they are in love or close to death. We, people of socialism, are not like others. We have our peculiar ideas about heroes and martyrs." One may add that people speak so skillfully in Alexievich's narratives because the author is patient and determined to have their voices heard. In "Voices from Chernobyl," one of Alexievich's most powerful works, a witness utters nervously: "I'm not a writer. I won't be able to describe it. My mind is not enough to understand it." Nonetheless, the witness did manage to find a voice to describe it. Extracting wisdom from people's traumas and offering them their lost dignity in return is Alexievich's quixotic art that finally prompted the Norwegian Nobel Committee to award her the prestigious prize earlier this month as recognition "for her polyphonic writings, a monument to suffering and courage in our time."
I first met her at her home in Minsk in August 1991. I went there in the early afternoon and I ended up staying until late. Svetlana speaks as beautifully as the people she interviews. The sun, I remember, had already set and it was getting dark in her kitchen. Alexievich rose to turn on the light. She paused for a second and, noticing my empty mug, with a gentle move she refilled the tea kettle with water and put it on the burner. She had been talking to me about her encounters with Western intellectual women and her decision not to move abroad. (In particular, she was responding to my question about how come she did not leave Belarus in which her work, to this day, has been consistently censored -- since 1994 her books have not been published in Belarus at all). Svetlana took back her seat across from me on the wooden kitchen table and said:
Expatriation is not a solution. It's only an evasion of our situation. This presumed desire of ours to escape from our country is one of the greatest false perceptions that most of you Western people have for us Russians. Our image in the West is not accurate, and neither the way we think about you is correct. We have mythologized you and you cannot understand us. That is a deep problem. It is, however, a passing problem because both you and we are in the beginning of the age of a new understanding.
That was the time of perestroika and glasnost ("openness"), instituted by Gorbachev in the late 1980s, that swept away the old Soviet system. Boris Yeltsin had just rose to power that summer and Russians mirthfully cued for days out of McDonald's in Moscow's Pushkin Square to get a bite of the American taste. It was a very exciting time to be in Russia. I was dispatched there as a young reporter to cover the transition from communism to what no-one-really-knew-would-be the day after. I spent several weeks in Moscow and in what was then Leningrad interviewing people from the new and the old establishment, and the idea to get to Belarus primarily came from Helena Gourko, a writer and professor of history of philosophy at Minsk University who became my interpreter and companion in my journey.
"You can't leave Russia without talking to Svetlana Alexievich," Helena said solemnly. "She's the greater living Russian writer. One day soon she will get the Nobel Prize, mark my words."
And so we landed at Minsk's airport on a warm sunny day. The capital of Belarus is a friendly city of almost 2 million people, not very far from the borders with Poland and some 250 miles from Chernobyl. Visually, Minsk is modern, flat and simple, unlike Moscow or St. Petersburg, because it had to be rebuilt from scratch after its complete destruction in the Second World War. Humans and buildings were often reduced to ashes around here in the 20th century -- a horrific century that brought to Belarus, as Belarussian columnist Valzhyna Mort recently recapped in the New York Times, "an unrelenting series of misfortunes." Mort notes:
The first German attack on the Soviet Union in June 1941 fell on its Eastern Front -- on Belarus. During the war, 209 out of 270 Belarussian towns were completely destroyed ... Thousands of Belarussians died in the 1930s at Stalin's hand; five decades later the republic would endure the bulk of the fallout from the meltdown of the Chernobyl nuclear power plant in neighboring Ukraine.
Her sister was killed and her mother was blinded in the Chernobyl nuclear disaster of 1986.
Alexievich was born and bred in the sadness of this place, in what is now Ivano-Frankivsk, Ukraine. No wonder her work is all about it. Her sister was killed and her mother was blinded in the Chernobyl nuclear disaster of 1986. Even before that, Alexievich had already resolved to chronicle the endless misfortunes of her land -- most of them intentionally silenced by the Soviet system. Writers who emerge from cultures in crisis and transition, the South African Nobel laureate Nadine Gordimer told me once, are twice as aware of Brecht's dictum: "to speak of trees is almost a crime. For it is a kind of silence about injustice."
As Alexievich explained to me back then, she did not want to write fiction, or blend the experiences of other people's sufferings with her own prose. So she mastered what she studied in college: journalism. Armed with a tape recorder she began interviewing countless witnesses whose testimonies of suffering were rendered in her deeply researched narratives as uninterrupted blocks of speech: the hardships endured by the Russian women soldiers in the Second World War ("War's Unwomanly Face," 1988); the trauma experienced by the Russian soldiers during the Soviet occupation of Afghanistan ("Zinky Boys: Soviet Voices from a Forgotten War," 1991); the dark memories of the Chernobyl disaster survivors ("Voices from Chernobyl," 2005); and the unsettling transition that followed the fall of communism in Russia ("Second-Hand Time," 2013), which Alexievich was about to start when I met her and she completed long later.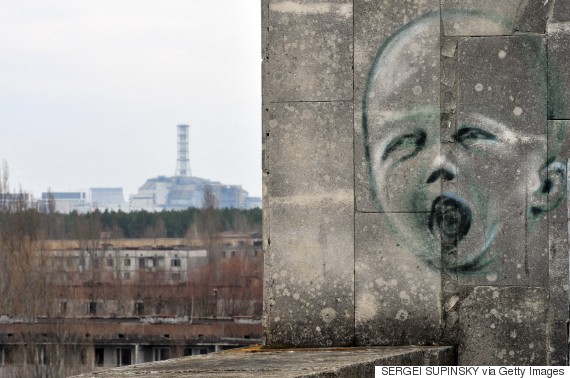 Graffiti is pictured on a wall in the ghost city of Pripyat near the fourth nuclear reactor at the former Chernobyl Nuclear power plant. SERGEI SUPINSKY/AFP/Getty Images.
The fact that she is the 14th woman to be awarded the Nobel in literature must be one of Alexievich's greater delights. Back then, we talked a lot about the presumed emancipation of the Soviet women, which, as Alexievich pointed out, was a pure fiction:
The [Soviet] ideology of equality produced a very stupid model. We created a society that is culturally nihilistic. Homo-Sovieticus, this 'poor,' as Dostoyevsky referred to him, ideologically one-dimensional man, whose intelligence is smashed by the system, is our collective character. This smashed monster now is called to take us out of social and financial chaos! Like anything else that affects us emotionally, this despair is more felt by us Russian women. Women are the most denigrated social group in the Soviet Union. The idea of women's emancipation is only a slogan in -- but also, I should say, in many places outside -- the Soviet Union. But especially in the militaristic Soviet society, people only thought of life in terms of struggle and the workers' toil. It was never a good place to be a woman here. State politics always excluded feminism as an ideology, because our society does not need woman as a real, equal member. All this has created a false perception of the female character in Russia that also reflects the false image of Russian women abroad.
For someone who has spent a lifetime writing about the feelings of others, Alexievich remains enigmatically silent about her own feelings. "It's not important the way I feel," she told me in her kitchen. "My task has a collective scope." Alexievich has lived alone most of her life, but not necessarily in seclusion. Her kitchen never stopped being the vibrant place I knew and cherished as a young visitor. Even though her apartment was large and elegant, all the social activity took place around Svetlana's kitchen because, as another guest reporter recently confirmed, this is "the room where, in keeping with the Soviet intelligentsia tradition, all the important conversations happen." Naturally, aside from her personal friendships and cozy social evenings at home, Alexievich spends thousands of hours traveling and interacting with strangers from all over Russia whose oral stories will end up in her work. For most of her adult life she has lived in Minsk, with a 10-year break of self-exile in European capitals, including Paris. She was running away from the Belarus restricted press freedoms until she realized that political oppression is an integral part of her fate and her story and she eventually returned because there is nothing to do about bad politics aside from, perhaps, keep writing about it. Her Nobel no doubt pays tribute to other daring Russian women reporters like Anna Politkovskaya, a severe critic of Putin's Russia, who was assassinated in 2006 for exposing the dirt of Russian politics.
Alexievich never ceased being outspoken of the ills of Soviet Russia. Nowadays she is discontentedly compelled to remind the world that, ironically, the ills have become even greater in the post-Communist Russia. In a press conference in Berlin a few days after the announcement of her winning the Nobel, Alexievich spoke unreservedly about the untrustworthiness of Aleksandr G. Lukashenko, the Belarus president who has turned Belarus into a "soft-dictatorship." "He is a 'Soviet man' and will never change," she said. Alexievich further described Putin's Russia as a place where "one can no longer speak of democracy" and "where 'liberal' is a dirty word." She explained that, "it isn't about Putin. It's about the collective Putin. He has a huge approval rating, perhaps 80 percent ... I now understand what Hannah Arendt meant when she talked about 'dark times.' Russia is now living in dark times."
'Very often we can hear people in the West speak of Russia's plight with haughtiness: there is always something wrong with these Russians. In actual fact, the whole world today is at risk.'
Dickens' truism "it was the best of times, it was the worst of times," might sum up best the regressive pace of the world from the 1990's global euphoria to today's resurgence of ideological divisions, migrant crisis and faltering economies. Especially the relationship between Russia and America could not be further away than the days when Ronnie and Gorby posed as best buddies. The new age of understanding between Russia and the West that Alexievich hoped for back in 1991 did not quite materialize during the sunny days of glasnost. Perestroika came and went and what followed it for some is as scary as the beginning of the longest Soviet night.
Regardless, Alexievich, who turned 67 in May, is still optimistic. After all, she is a woman of spring and as the Russians know, spring is not only the "time of plans and projects," as Tolstoy famously claimed, but also of reconciliation. If the new understanding between her world and ours did not happen under happier circumstances, it might as well happen in gloom. "America is a remarkable country but I have a feeling that it's a different country after 9/11," Alexievich said a few years ago:
America now understands how fragile this world is and how we all depend on one another ... I think after 9/11 Americans may be more receptive to my books than before it. In the modern world it is dangerous to neglect the experience of other peoples' sufferings. We can describe Russia -- and Belorussia, for that matter -- as a civilization of ordeals and suffering. Very often we can hear people in the West speak of Russia's plight with haughtiness: there is always something wrong with these Russians. In actual fact, the whole world today is at risk. Fear is a large part of our lives -- more, even, than love. Thus, the Russian experience of suffering acquires particular value. We all need courage to live on. I hope we'll have enough.
Alexievich's "Voices for Chernobyl" was published in the U.S. in 2005. Her most recent book, "Second-Hand Time" was published in 2013 and is currently being translated into English. The English edition will be released in 2016.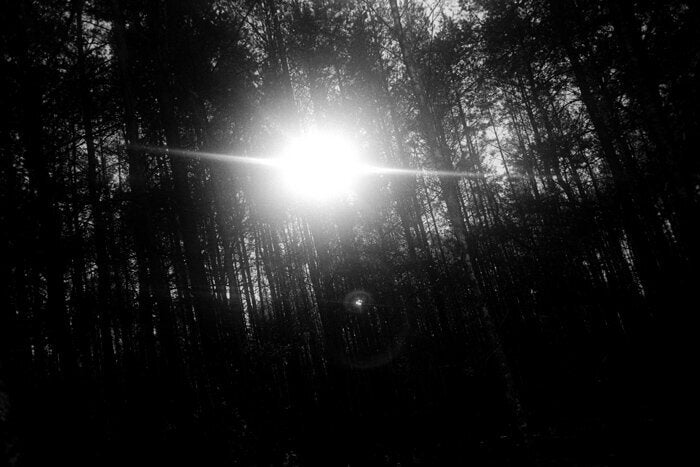 Shadows Of Wormwood
Related
Popular in the Community