 For four years, it has been common practice at one Texas day care to swaddle infants, burrito-style, for nap time. But in December, child-care providers there were told there were new licensing standards and that they needed to stop wrapping babies altogether.
Overnight, the atmosphere in the classrooms changed.
"Young babies that were sleeping an hour [or] an hour and a half are now sleeping 20 minutes," "J.," an employee who asked that only her first initial be used to protect her job, told The Huffington Post. "I have some babies who are not sleeping at all."
And the teachers are at a loss.
"They feel that they are not able to meet the needs of the infants they are caring for," said J. "They are not allowed to do what they feel is needed."
Day cares around the country have been quietly moving away from swaddling since 2011, when the National Resource Center on Child Health and Safety, in conjunction with the American Academy of Pediatrics and American Public Health Association, released its third edition of "Caring for Our Children," a set of safety guidelines for early care and education programs. According to those rules, swaddling can increase the odds of serious health outcomes, particularly if a baby is placed on his or her stomach to sleep, and can also increase the risk of hip problems. "In child care settings," the standard says, "swaddling is not necessary or recommended."
As more child-care providers are affected by these conclusions, experts and pediatricians are speaking out. Dr. Harvey Karp, creator of "The Happiest Baby on the Block" books and DVDs, and often credited with making the ancient practice of swaddling vogue again, has vented his frustration on CNN and in Parents magazine. (He also is a frequent contributor to The Huffington Post.)
"They're changing something that is a very entrenched standard of care of the community," Karp told HuffPost. "The burden of proof on their shoulders to change something that is such a well-used -- universally-used -- intervention is rather high."
The NRC statement lists only five studies as references to justify its conclusion, Karp said, while simultaneously ignoring a robust body of literature showing swaddling benefits, including reducing crying in newborns.
"We started swaddling after I saw Dr. Karp present at a conference, and it made such a huge difference," J. said. "The babies fell asleep so quickly. It changed how much they slept, and how much better they slept."
In 2011, the American Academy of Pediatrics issued its latest recommendation for what constitutes a safe sleeping environment for babies. The organization agreed that when done correctly, swaddling is an effective technique to help calm infants and promote sleep. However, the report -- which focused on strategies for reducing Sudden Infant Death Syndrome -- ultimately concluded there was not enough evidence showing it helps babies in that regard.
"Swaddling is an effective way to calm infants, especially in the newborn period, and is generally used in the first three months of life," a spokesperson for the American Academy of Pediatrics wrote in an e-mail to The Huffington Post, cautioning, however, that in a child-care setting, multiple people care for an infant and not all of them may be sufficiently trained in proper swaddling.
There is a wrong way to swaddle. If a baby is wrapped too tightly in the wrong
position -- with his or her legs straight or pressed together -- it can cause hip dysplasia or dislocation.
"If the infant kicks the blankets off, or the swaddling blankets are not applied correctly, loose bedcovers would be in the crib, which is against AAP policy," the spokesperson wrote. "The AAP understands why NRC has implemented this
standard."
The American Academy of Pediatrics may understand it, but many parents and day-care workers do not.
"You get these little babies in day care who can't sleep and are extremely fussy," said Rachel Turow, a 33-year-old attorney whose 8-month-old goes to a day care in Washington, D.C., where swaddling recently was banned. "It's really bad for the baby, it's really bad for the teachers, and therefore, it's really bad for all of the kids."
Her son has not been swaddled for some time because of his age, but she nonetheless worries that his teachers will now have to spend an "inordinate" amount of time soothing the youngest babies, hurting her son's experience.
"Our teachers are very committed to what they do, and they're feeling very frustrated that they can't do what they know helps the baby," echoed J. "There's more crying. The babies are not as happy or content when they're awake. It makes
everything a lot more stressful."
Related
Before You Go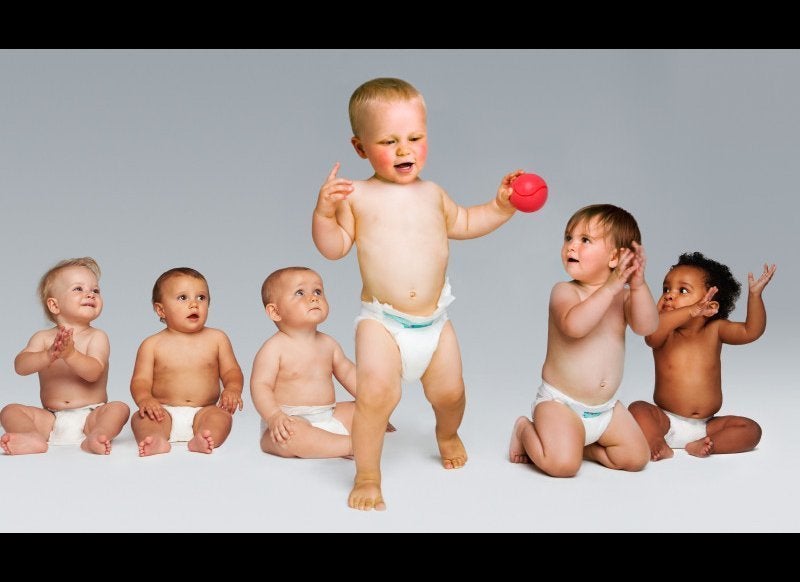 Seven Things You Didn't Know About Babies