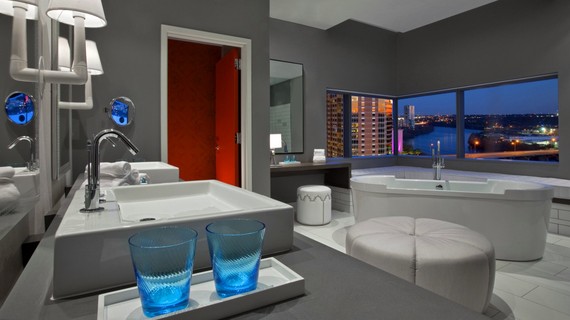 Having just celebrated its fifth birthday in Austin, it comes as no surprise that the W Hotel has its own category in the hotel world. From the smallest details, such as the pleasant scent when you first walk into the lobby, to the chocolate and water bottle delivered to your room at night, the W Hotel focuses on creating an outstanding guest experience. Staying in one of the rooms gives travelers incredible views, plush bedding, and the feeling that you are the guest of honor regardless of what room you booked.
The W Austin is the type of hotel that thinks of everything before you have a chance to need it - from complimentary wi-fi throughout the hotel, and a fully stocked bathroom with every item of toiletry you might need, it truly is a smart hotel. Staying at the W is like a vacation from having to think, as it seems they do so for you -- by the time you realize you forgot your phone charger and look down to call the front desk, you will find an array of options for you to plug in no matter what model you have.
The hotel is also home to one of Austin's most popular dining destinations, TRACE, where you will be welcomed by friendly staff and presented with a gluten-friendly menu featuring local and seasonable dishes such as red fish, perfectly tender hanger steak, and an impressive selection of wines. Don't miss the specialty cocktail infusions in the Living Room while you wait for your reservation, and enjoy dessert in the lounge after dinner.
You don't need to be a guest to enjoy AWAY, the hotel spa located on the fourth floor, and choose from exotic massages including the new Ashiatsu massage, body treatments, and revitalizing facials. If you are a guest of the hotel, you can also enjoy spa services in the comfort of your own room. The W Austin is a destination for locals and travelers from around the world who know and appreciate the W standard, and with every amenity imaginable, this one does not disappoint.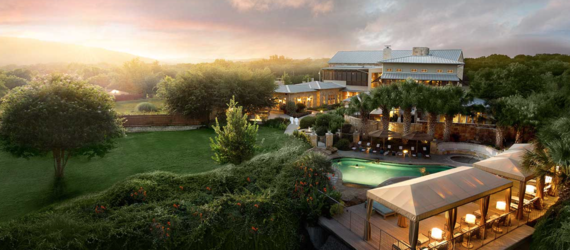 Set on the scenic Texas Hill Country just under an hour's drive outside of downtown Austin, Lake Austin Spa Resort is one of the area's most luxurious and all-inclusive spa resorts. Featuring luxurious accommodations, healthy gourmet meals daily, a variety of fitness activities, events and programs, Lake Austin Resort is an award-winning, waterfront destination that is sure to rejuvenate you whether you opt for a half-day, full day, or a weekend package.
While resort activities like yoga, boating and hiking will encourage you to get outside and get active, guests also have access to The LakeHouse Spa, an award winning spa which offers a wide menu of treatments that are sure to help relax your body and mind. Choose from over 100 relaxing spa treatments, including exotic massages and tropical facials.
Guest garden rooms offer the perfect amount of peace and quiet, with private porches, soaking tubs, fresh-cut flowers, complimentary Wi-Fi and Egyptian cotton linens. Phone usage is discouraged, while guests are encouraged to lounge around the property in comfortable robes. Read (or nap) in one of the hammocks by the river, and enjoy the healthy gourmet meals available three times a day. The kitchen grows as much as possible in their own garden, and portion size is designed to reflect a healthy approach to life. It's no surprise this is a destination for local and visiting celebrities -- Spend one day, or several, at Lake Austin Spa Resort, and you will leave feeling renewed.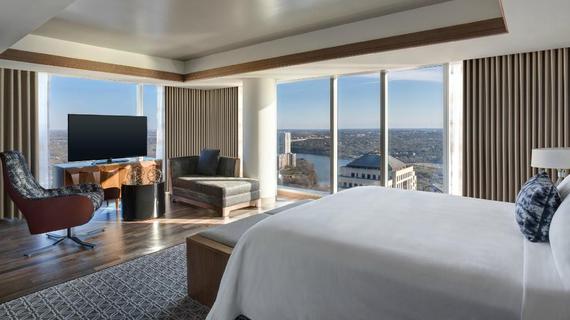 Situated in downtown Austin, the brand new JW Marriott is now open, bringing luxury and countless amenities to the heart of the city. JW Marriott offers elegant and large guest rooms, and incredible location with easy access to some of Austin's best attractions, like the Capitol and the world renowned 6th Street.
Offering modern design in the 120,000 sq feet of event space, including the 30,000 sq foot Grand Ballroom and 42 breakout rooms, the hotel is only two blocks from the Austin Convention Center, making it the perfect accommodation for large events. Business and leisure travelers alike will appreciate the variety of on-site dining options, state-of-the-art fitness center, and outdoor pool and deck. JW Marriott features three dining options -- Osteria Pronto, an Italian-style, full-service restaurant, Corner, a casual authentic Austin eatery, and the Burger Bar, a walk up window featuring fresh burgers and handspun milkshakes.
Guests can enjoy plush bedding and incredible downtown views from one of the 1,012 rooms, as well as 24-hour room service, high-speed internet, and LED smart TVs. Perfect for a romantic anniversary celebration, long stays, or business meetings, JW Marriott holds up the brand standard of unpretentious luxury, quality, and comfort.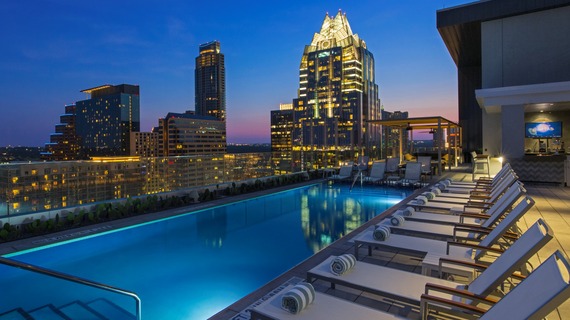 One of the newest additions to the posh selection of Austin downtown hotels, the Westin brings unparalleled luxury to the capital of Texas. Located just one block from The 6th Street Entertainment Districts and steps away from most of the popular foodie hotspots, live music venues, and historic sites, the Westin models its design after the live music capital.
Upon arrival, travelers take in the beautiful design of the lobby, inspired after Austin's staple instrument -- the guitar. Great attention to detail combined with stellar aesthetic were key when creating the masterpiece that Westin Austin Downtown has become since its opening in the fall of 2015.
The 366 contemporary rooms and suites include the famous Heavenly Bed featuring plush bedding, iPod docks, tea and coffee makers. When upgraded to a suite, guests enjoy free wi-fi, flat-screen TVs, floor-to ceiling windows and city views. In the spacious bathrooms you will find Heavenly Bath amenities for a luxurious bubble bath in an oversize tub, then slip into one of the extra-plush custom-designed bathrobes to help you start the day feeling pampered.
When staying at the Westin Austin Downtown, guests can dine at Stella San Jac, a Southern-style restaurant featuring local food and house-made cocktail infusions, as well as two bars, a heated rooftop pool including the highest rooftop bar in Austin, a 24-hour fitness center, and a business center. The warm and friendly staff is available 24-hours for questions, directions, and to tend to your every whim. The perfect spot for a dinner date for two, a celebratory party of 20, or a business conference to entertain and mingle with upscale clients, the Westin Austin Downtown offers a solution to all of your needs.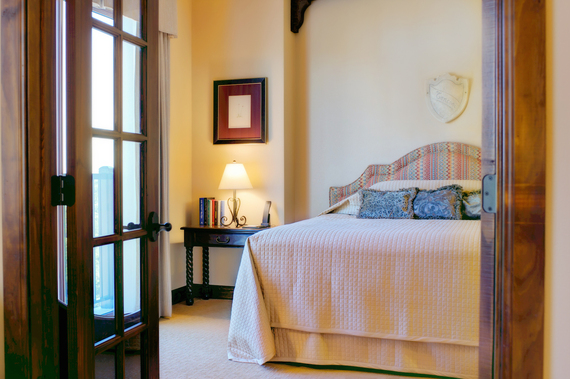 Hotel Granduca is based on developer Giorgio Borlenghi's vision of a private, sophisticated Italian villa. Blending refinement and modern luxury, Granduca Hotel's first property in Houston quickly gained popularity and a reputation for being a graceful oasis for both locals and jet-setters.
Granduca Hotels place strong emphasis on injecting Italian flavors in both its food and its design. The hotel restaurant, Visconti, offers one of the finest dining experiences in Austin, in the same way one would expect to dine in Italy. Meals are slow and leisurely, wine is abundant, and the knowledgeable staff is fully invested in the guest's experience. Infusing its cuisine with specialty Italian ingredients and flavors, the head chef created a menu of authentic dishes and small plates bursting with flavor.
Granduca's amenities include complimentary wi-fi throughout the hotel, shuttle service to downtown, 24-hour valet and concierge, heated saltwater pool, a game room, and is of course, pet-friendly. Located on top of a hill overlooking the Wild Basin nature preserve, guest rooms offer comfortable beds, large bathrooms, enjoy house-keeping twice daily as well as complimentary shoe shine services. When walking through the suites, hallways, and common areas, guests can appreciate the attention to detail the owners placed on the hotel's design, from the relaxing color schemes to the hand-picked Italian art that adors the walls.
Granduca Hotel is the perfect destination for a quick getaway, a romantic weekend wedding, or a corporate conference. No matter the reason for your visit, you are sure to leave feeling like you've just visited Europe, and leave a little piece of your heart at Granduca.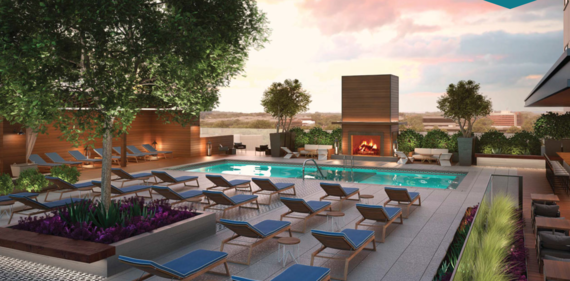 Having opened its doors in the fall of 2015, Kimpton brand Hotel Van Zandt is a true Texas charmer that offers exclusive events and a hideout for the world traveler as well as the discerning Austinite. The Austin-centric hotel offers 319 rooms, 41 suites and 12,000 sq ft of event and meeting space that can accommodate up to 500 people. The design is a combination of rich elegance, class, and high-quality materials - all infused with Texas personality and local antique pieces, while steering away from anything stereotypical.
Located in the Texas capital's Rainey Street Historic District, Hotel Van Zandt is making sure no detail is overlooked. Guests can expect a range of signature amenities and services that will make their stay "authentically Austin". From the moment they arrive, guests can expect to be met with a blend of Kimpton and Texas hospitality -- expect to be greeted with cold towels and water bottle, or a frosty Tejas Lager brew.
Featuring Kimpton's signature social hour, Hotel Van Zandt will "Tex-ify" the cocktail hour with hor d'oeuvres from Geraldine's, the Austin-style, music-centric restaurant, local beer, and margaritas on tap. The more fitness minded travelers can take advantage of the hotel's wellness programs and proximity to Lady Bird Lake by enjoying bike tours, paddle boarding, kayaking, and guided running tours.
The hotel's fourth floor pool terrace and bar will also provide much needed R&R for guests looking for an oasis with views of downtown Austin, as well as an oversize fireplace perfect for outdoor mingling this winter. Austin is all about warm people, good times and live music, and Hotel Van Zandt's proximity to Rainey Street and downtown makes for a cool, and comfortable getaway.