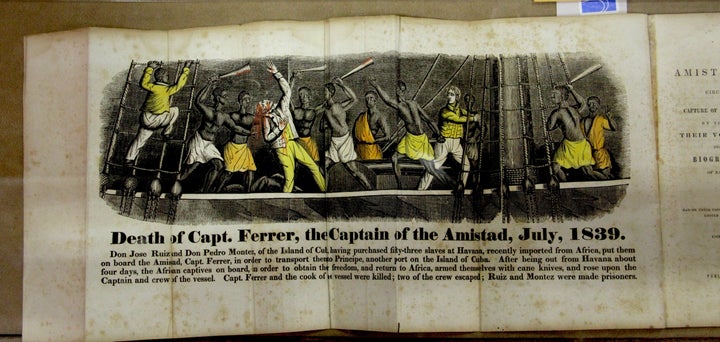 As the midday rush on an exhibition floor at the Swann Auction Galleries in Manhattan cooled earlier this week, curator Wyatt Houston Day floated around the place like a bespectacled, gray-haired dervish.
He bounced from a mounted elephant tusk pulled from the bowel of a sunken 16th Century slave ship, to a classic poster of the Black Panther Huey P. Newton sitting on a fan-backed wicker chair with a rifle in one hand and a spear in the other. He swung over to the far side of the room and reached up high on a bookshelf and pulled down a behemoth of an old book, a family "slave bible," circa 1834, with page after page detailing births and deaths of the family's many slaves.
"This one is a major star," said Day, grabbing a rare autographed copy of the Rev. Martin Luther King Jr.'s first published book, "Stride Toward Freedom," from behind a glass display case. He flipped open its front cover as the glint of a smirk tugged at the corners of his wrinkled cheeks, and revealed a little treasure: an inscription from King to the book's recipient, fellow Civil Rights icon A. Phillip Randolph.
"In appreciation of the standards of loyalty, honesty, non-violence and the will to endure that you have held before all people in the struggle for freedom, justice and democracy," Day read aloud, slow and measured.
The hint of a smirk broke into a full-on grin. "This is major, major stuff," Day said.
If all goes well today, most of these items will be gone, sold to the highest bidder.
Day, a collector and appraiser of antiquities, is the curator of Swann Galleries' annual auction of African Americana, historical artifacts relevant to the black experience in America, which he first brought to the gallery 17 years ago. By all accounts, this is the Super Bowl of African Americana. Experts in the field said no other auction in the country offers such an expansive collection of rare African-American material.
This year's auction will include more than 530 items from slavery through the Civil Rights and Black Power eras.
With each year's auction, the popularity of the sale has grown, both financially and in its reputation among novices, serious collectors and renowned institutions. The galleries' first auction netted $178,365, according to Nicholas D. Lowry, Swann's president. Last year's haul came to $772,660, he said.
When the auction was started, "It was the first time this kind of collection had ever been marketed or packaged in a way that brought together such a wide array from the entire field," Lowry said. "Until Wyatt did it, it had never been done."
The auction features artifacts consigned from all over the country, spanning hundreds of years. Curators from Ivy League schools with deep historical archives have tapped the auction for one-of-a-kind items, some rarely seen by the public. Renowned institutions including the Schomburg Center for Research in Black Culture in Harlem have for years sent curators to bid. About a third of what is auctioned is sold to institutions, Day said, just the way he likes it.
"I try my best to kind of steer material like this into institutions rather than have it disappear in some collector's room for another 30 years or something," Day said.
"This auction is a pretty big deal," said Tammi Lawson, the art collection manager at the Schomburg, which will send curators to today's auction. "Swann has a reputation and they have an audience that is a knowledgeable audience."
While auction houses across the country, including the likes of Sotheby's and Christie's, occasionally present similar items, this auction has more than 530 items categorized in 15 sections. The growth of the Swann auction allows appraisers and experts in the field to place consistent values on items largely overlooked by mainstream museums and institutions.
"It's is one of the few benchmarks for prices on the market for this kind of material in the country," said Camille Ann Brewer, an appraiser of antiques and fine arts in New York City.
Appraisers said the auction offers them an opportunity to see rare items, such as authentic slave shackles and certified rare manuscripts, and use the sale prices to set standards. Now, it is easier for a collector to know exactly what a first edition Phillis Wheatley or Fredrick Douglass letter is worth. And while the market in the past has been filled mostly with so-called Black Americana, the more stereotypical and derogatory stuff like "Jolly Nigger Banks" and postcards filled with pejoratives and shucking and bucking watermelon-eating Negroes, the annual offerings at Swann give the public a chance to glimpse meaningful pieces of not just black culture but American culture.
"What I tried to do essentially is look at this sale holistically. I tried to cover the African-American experience, the diaspora," Day said. "When I set out to do this, what I envisioned, thank God, has come to pass. That it would have enough momentum that it would attract people, and things that might sit in Aunt Jane's or Uncle Joe's closet or dresser drawer or whatever would come out, that for monetary reasons, people would say, 'Oh damn, I've got one of those!'"
There have been some major acquisitions over the years, including one of the few surviving "I AM A MAN" placards from the 1968 sanitation workers' strike in Memphis, Tenn. (where Rev. King was assassinated) that sold for more than $150,000. A letter written by Phillis Wheatley to another slave fetched about $250,000, Day said. And perhaps the best-known find was a manuscript written during the 1850s by a female slave and purchased by the scholar and historian Henry Louis Gates for a few thousand dollars. In 2002, Gates turned the manuscript into a bestselling novel called "The Bondwoman's Narrative."
Like Day, many of the major collectors of historical artifacts are white, he said, a group that has been slow to embrace African Americana. "This is a very different area, a very neglected area," Day said. "You can't find a black person over the age of 21 that doesn't have some understanding of white culture. But very few white people know about black culture, socially. All these white people, all these collectors are all still learning."
Over the course of an hour or so on Tuesday, Day went buzzing through the gallery, gleefully showing off the collection's gems.
He spends more than six months consigning the items from people and institutions, then publishes a catalog with estimated values. The bidding starts at half the lowest estimated value.
Day said he has had a love affair with all things Africa since he was about 10 years old, and for the last three decades with African-American history, artifacts and antiques. Each year during auction time, the giddy feelings stir.
"How does a bullfighter feel before they go out to fight," Day said. "I'm curious and anxious and always surprised. You never know what's going to happen out there."

Calling all HuffPost superfans!
Sign up for membership to become a founding member and help shape HuffPost's next chapter
BEFORE YOU GO
PHOTO GALLERY
Swann Auction Galleries