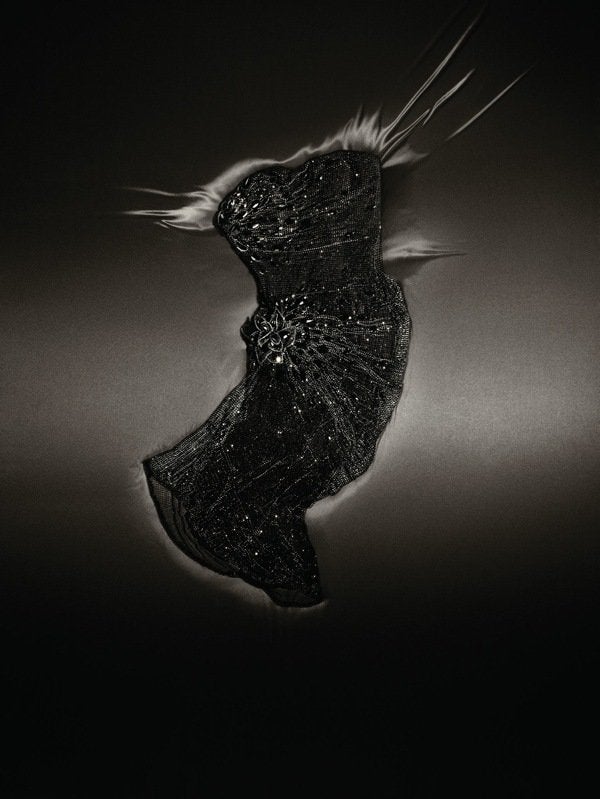 On Thursday, auction house Phillips de Pury held a private ladies' luncheon for thirty lucky women to preview the couture dresses to be auctioned off tonight as part of Swarovski's charity auction "22 Ways to Say Black." 100% of the proceeds will benefit the American Cancer Society and La Ligue Nationale Contre le Cancer in France. The fundraiser was the brainchild of Lila Thibault, Swarovski's stunning textile manager, whose best friend was stricken with breast cancer two years ago. Thibault encouraged designers to create bold, confident dresses in black, each dress being a totally unique creation by some of the most respected names in the industry -- Alberta Ferretti, Donna Karan, Giorgio Armani, Jean Paul Gaultier, Lanvin, Sonia Rykiel and Valentino, to name a few.
"This auction has been in the works for over eighteen months" said Phillips' Director of Contemporary Art, Aileen Agopian, during her opening remarks over lunch of vegetable terrine and tuna tartar. Held in a glass enclosed room overlooking the Highline with a single sparsely decorated table dotted with Swarovski crystals and fine china, the crowd was decidedly art heavy and made up of the type of women who could and would spend $3,000 on a unique dress by Diane Von Furstenburg.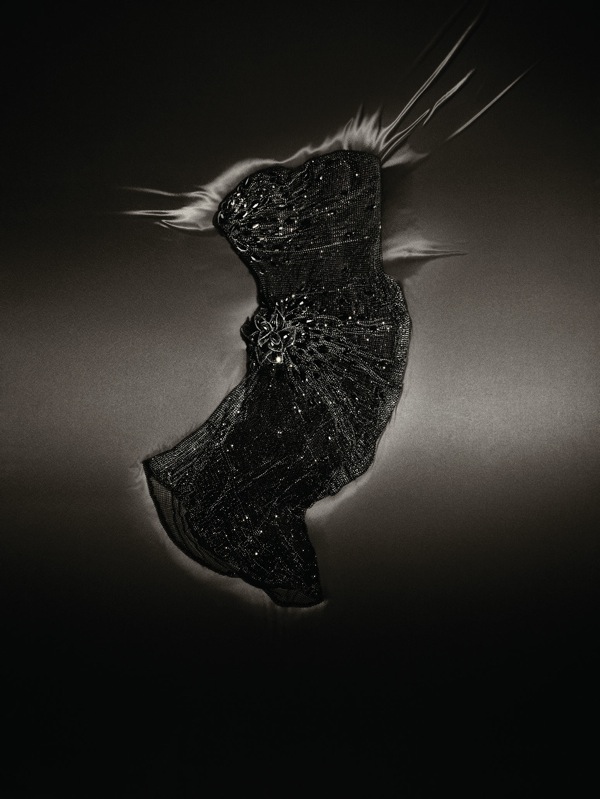 Art adviser BJ Topal zeroed in on friend Phillip Lim's sleeveless shift in ivory duchesse satin covered in collage of 1,800 Swarovski crystals. Lim is a friend and client of Topal, who has been helping him build an art collection over the past two years. "Its not just because I love him. The dress is stunning," said Topal as a crowd of women gathered to admire it. Fashionista Sharon Copeland Horowitz gushed over the long sleeved Valentino creation while art collector Julie Bernstein commented Donna Karan and the complex ruching on the Vivienne Westwood dress. Auction estimates range from $1,000 to $22,000, but these were not the kind of prices that scare away the day's immaculately dressed attendees.
Despite having attended around 25 shows for Fashion Week, T Magazine's prestigious Style Director Sandra Ballentine was charming and upbeat as guests peppered her with questions about Spring 2011 collections. Asked which dresses on view she was most admiring, she admitted to coveting those designed by Ricardo Tischi for Givenchy, Lanvin, Marios Schwab and Martin Grant.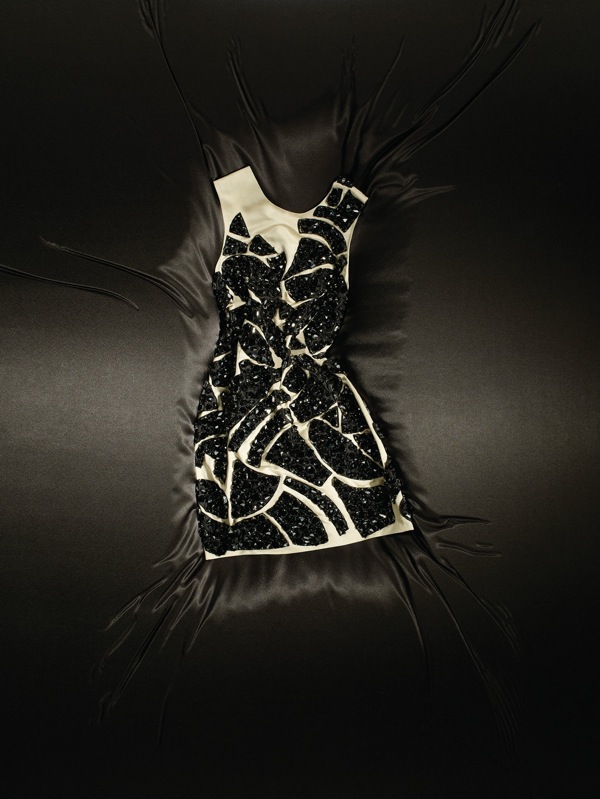 Horowitz, wearing a text-based Cindy Sherman for Balenciaga dress, complimented Swarovski on their proweress for making couture accessible. "With couture fashion, as with art, you need to know someone to have access to these items," said Horowitz, a curator and art adviser who has been in the business for more than twenty years. "As with a gallery, there are complex waiting lists for items made by fashion houses in extremely limited quantity and of the highest quality. What an auction house does is more democratic -- they put coveted pieces up for sale to whomever can afford them. This is a rare opportunity."
Tonight's auction, which begins with cocktails at 7 p.m. at Phillips de Pury, is held under the high patronage of Carla Bruni-Sarkozy and will draw some of the world's most fashionable women, including Oscar-winning actress Halle Berry. Participating designers include Lanvin by Alber Elbaz, Givenchy by Riccardo Tisci, Sonia Rykiel, Jean Paul Gaultier, Azzaro, Alexis Mabille, Gaspard Yurkievich, Martin Grant, Valentino, Giorgio Armani Prive, Fendi, Alberta Ferretti, Missoni, Gianfranco Ferre, Vivienne Westwood, Boudicca, Mario Schwab, Donna Karan, Diane von Furstenberg, Phillip Lim, Catherine Malandrino and Thakoon.

Popular in the Community