A woman in Phoenix, Arizona, was shocked when her neighbor's chihuahua showed up at her door with a swastika painted on its forehead in red nail polish.
The woman, who is half Hispanic with three adopted children of mixed race, saw the dog Thursday and feared it was a message towards her, according to her cousin, Sally Andrade.
The station did not identify the woman or interview her on camera, but she was concerned in the light of last weekend's "Unite The Right" white supremacist, neo-Nazi rally in Charlottesville, Virginia.
Numerous television outlets picked up KPNX's video, reflecting the current national tensions over Nazi and racist imagery.
However, officers from the Glendale Police Department, who visited the house where the dog lives over concerns of animal neglect, said this incident was "prank."
Two teenage boys, one Filipino and one black, admitted they painted the swastika on the dog's head with red nail polish as a joke.
"They started by painting the dog's nails, then its ears and, finally, the swastika," Glendale Police Department spokeswoman Tiffany Smith told HuffPost. "It was just a couple kids doing something as a cruel prank."
The teens also said they'd remove the markings, according to the police.
"It was a case of poor judgment and poor timing," Smith said, adding that the photo used by KPNX in its story was altered with a filter to emphasize the swastika.
"In that photo, it looks as if it's been shaved into its head and it hasn't," she said.
Smith provided a side-by-side photo of the filtered photo and a picture of the dog seen through the responding officer's bodycam.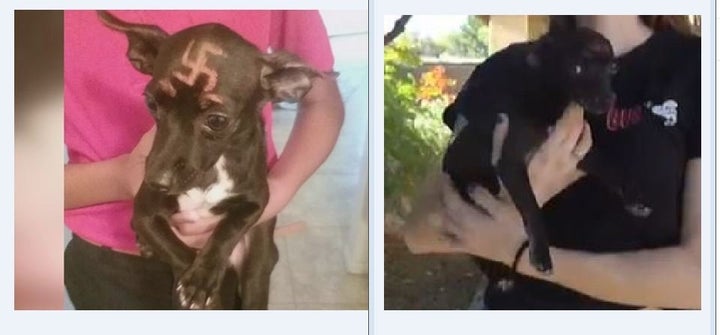 Still, Carlos Galindo-Elvira, the regional director for the Anti-Defamation League in Arizona, says the fact someone would do this to an animal is "cause for concern."
"This is a symbol used by neo-Nazis, by skinheads and by white supremacists," he told the station. "To find a dog in your neighborhood with that symbol on its head could be scary."
The KPNX segment appears below.
Calling all HuffPost superfans!
Sign up for membership to become a founding member and help shape HuffPost's next chapter
BEFORE YOU GO
PHOTO GALLERY
Racist Social Media Posts