A toddler is fighting for his life after a stun grenade landed in his crib and exploded next to his pillow during a drug raid.
Two-year-old Bounkham Phonesavanh is in a medically induced coma at a hospital in Atlanta after he was badly burned by the grenade, WSBTV reports. His family said he has a 50 percent chance of surviving.
"It's my baby. He's only a baby," Phonesavanh's mom, Alecia Phonesavanh said. "He didn't deserve any of this."
The boy was with his mother at her sister-in-law's home when authorities arrived at the residence around 3 a.m., Wednesday, looking for Wanis Thometheva. Authorities said that they previously purchased drugs from the house and that there was no evidence to indicate a child would be present. The suspect, wanted on federal drug charges, was not there.
Police said they had reason to believe Thometheva had weapons in his possession.
"The last thing you want is law enforcement to injure someone innocent," Habersham County Sheriff Joey Terrell told the Journal-Constitution. "There was no malicious act performed. It was a terrible accident that was never supposed to happen."
But Kara Dansky, senior counsel at the American Civil Liberties Union, said incidents like this one highlight the growing militarization of America's law enforcement agencies.
"SWAT teams were created in the1960s for a very specific set of scenarios like hostage taking, active shooter scenes and true emergencies," Dansky told The Huffington Post. "We're seeing increasingly that police are using SWAT teams to do raids of people's homes often in low-level drug cases. This sometimes causes an escalated risk of violence as we saw in this case."
Dansky said authorities have a right to protect themselves, but she said these tactics are sometimes misused.
"Even if they're serving these search warrants on a person's home, they're doing so at night with a paramilitary force of 15 to 20 heavily armed officers and using military weapons and tactics," Dansky said. "It's hard to understand why these types of actions are warranted for low-level drug cases."
Phonesavanh described her son's injuries to the Journal-Constitution.
"It blew open his face and his chest," Phonesavanh said. "Everybody was asleep. It's not like anyone was trying to fight."
Before You Go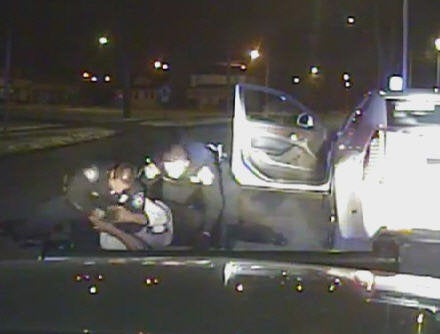 Police Brutality Incidents
Popular in the Community