When it comes to chickens dolled up in tiny sweaters, it doesn't get much more heartwarming than this.
A mother and daughter team in Cornwall, England, is knitting and selling sweaters for rescued battery hens, who spend most of their lives laying eggs in cramped cages. They're donating the proceeds to an AIDS orphanage in South Africa.
Nicola Congdon, 25, said the sweaters are not just adorable but also can help the birds acclimate to normal weather conditions after they're retired or rescued, as some of the birds have pulled out their feathers in frustration during their time in cages.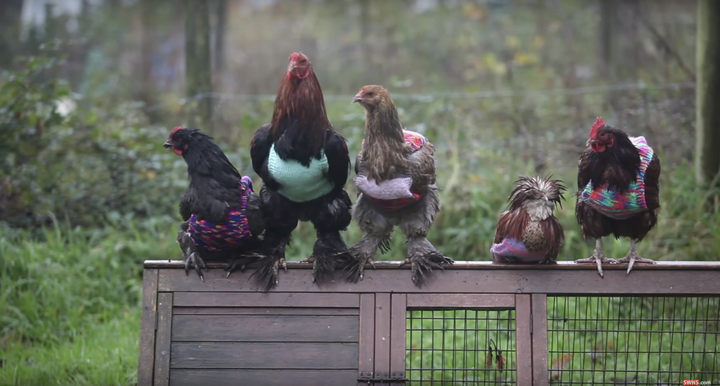 "It's important to make people aware of the poor conditions the hens live in and the fact that they have no feathers when they are retired," she told Mashable.
Wanting to help out, Congdon and her mother, Ann, 58, have been knitting the sweaters in their kitchen for the past six months. About half of Congdon's own 60 or so chickens are rescue birds, she said.
"The chickens absolutely love them," she told U.K. newswire SWNS.
Congdon said the sweaters are easy to put on the birds and, once dressed up, they "do everything they should be doing, as a chicken would."
"I don't leave them on unattended but it's OK to leave [on] if they have someone checking on them for safety reasons," she told The Huffington Post by email. "I like doing it for 30 [minutes] as [it] warms the chickens up a little and helps socializing with them."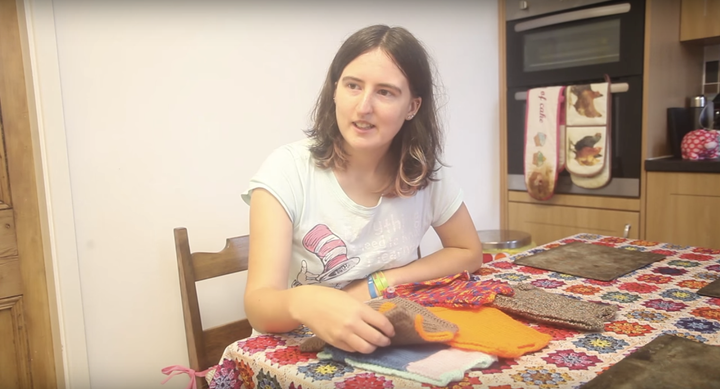 Since word got out about her handiwork, Congdon said, she's had requests for them from as far away as Canada.
"We've received a few inquiries about the jumpers and loads have been purchased. The public loves the idea as it's unusual and [they're] buying them for gifts for friends and family," she told HuffPost.
Congdon said all donations and proceeds from sweater sales will go to Project Primrose, a nonprofit based in Cornwall that helps support children with AIDS at the Ubuntu Orphanage, which the group says is in the poorest part of the Eastern Cape in South Africa.
While chickens bundled up in sweaters may be cute, some animal advocates advise that the average chicken doesn't need extra layers.
"I really think it depends on the situation -- the number of birds, etc.," Farm Sanctuary's National Shelter Director Susie Coston told HuffPost. "I would not put them on a flock of hens, but if I had a few birds that I could monitor to ensure they were not stressed by the sweaters or they were not getting hurt or tangled up wearing them, the idea is fine."
Coston, whose organization advocates for the protection of farm animals around the U.S., advised particular caution with knit items, however.
"We made polar fleece coats for our turkeys last year who were featherless, but these did not have open knit so they did not get caught up in them or hurt and they were absolutely fine and happy in them and only had to wear them when they had a feather issue. We have many pictures of them in these jackets," she said.
Those interested in donating or contacting Congdon about her cause can reach her at nicola@projectprimrose.com. She said most people offering to purchase the sweaters are offering about 5 pounds, or $7.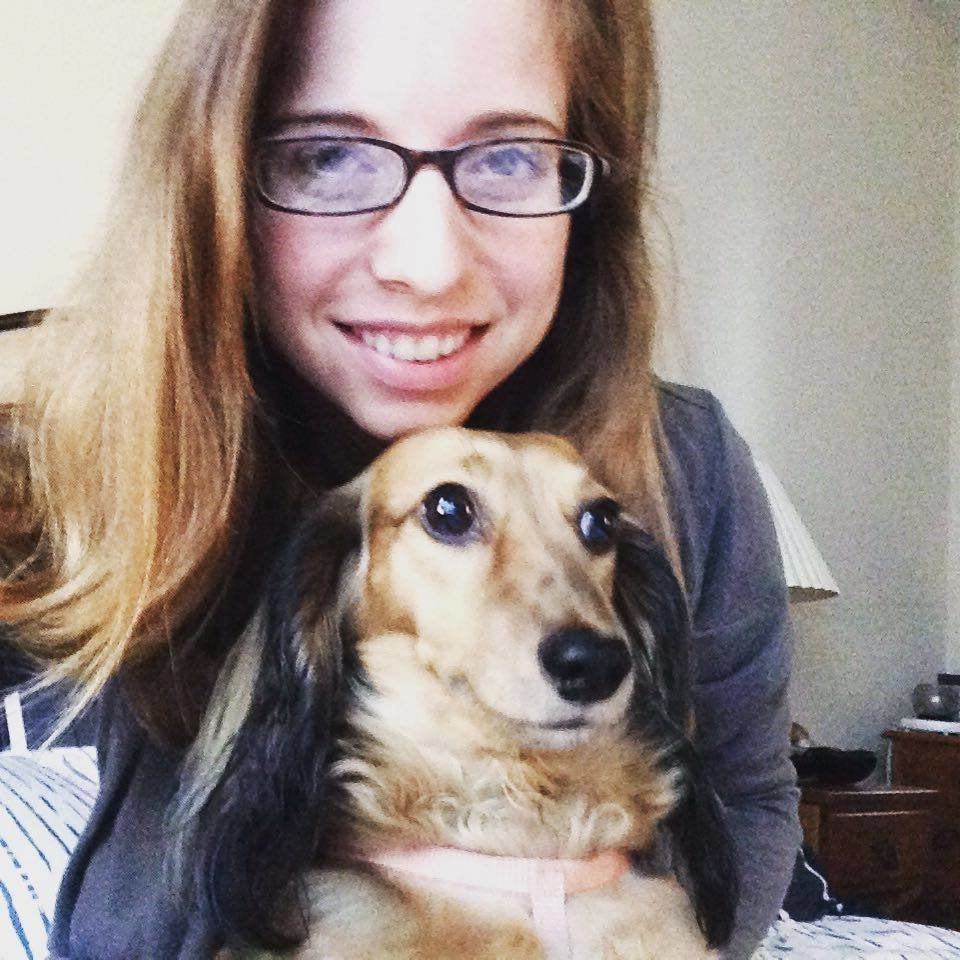 #HPMyRescueDogRescuedMe
Support HuffPost
The Stakes Have Never Been Higher
Related
Popular in the Community