Do your nightmares make you feel like you've entered The Twilight Zone? Do you feel trapped in a surrealistic cesspool? You are not alone.
Written and directed by Christopher Graybill, The Great Gastromancer is a short film that started off with one goal, didn't quite get there, and (even though it's billed as "without a doubt, the strangest short film at the SFIndie Film Festival") became hopelessly confusing. On his Kickstarter page, Graybill explains that:
"The Great Gastromancer will be a short narrative about Charlie Grumbles, an amateur ventriloquist with an innocent heart. His genuine pursuit to make people laugh ultimately leads him to dark places, where this same innocence seems to bring out the malicious talent of peering through time. In these experiences Charlie finds that not only do beauty and generosity hold divine qualities, but on the contrary, so does the overwhelming power of hate and destruction. There are many themes visited in the current script. Old America and new America, hate, love, atheism and animism, demons or autonomous complexes. I've been practicing ventriloquism for the Charlie role. Alan Semok, the famed Dummy Doctor, who has worked on such films as Dummy and Cradle Will Rock is possibly supplying a vintage figure. Also Matthew David has agreed to lend his musical talents."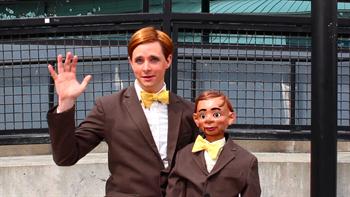 Christopher Graybill as Charlie Grumbles in The Great Gastromancer
If you click here, you can watch a brief video that features some of Graybill's storyboards and hear him explain that the storyboards are about a ventriloquist named Charlie.
"He's kind of modeled after Myshkin from The Idiot. He just wants to make people laugh and just has a real kind of simple demeanor. He's a good guy, this Charlie, and so he kind of ends up being this innocent victim. When this is established, Charlie kind of starts to become ill. Then it's discovered that he has another talent, which happens to be listening to the undead through the noises in his stomach."
The finished product is a confusing film that never really takes off. One reason is that, whereas in live performance, an audience can watch a ventriloquist trying to project his voice onto his dummy, dubbing a film with someone's voice (Graybill is a talented voiceover artist) completely shatters the dramatic illusion. The cruelest irony is that the trailer for The Great Gastromancer stands head and shoulders above Graybill's completed film.
That's not to say that dubbing a ventriloquist's voice can't work. In the following clip from the talented folks at Rubber Chicken Cards, ventriloquist Jack and and his French dummy, Jacques, have another one of their bizarre conversations.
It's a mere hop, skip, and jump from Jack and Jacque's absurd little world to one of the most famous artistic landmarks of the Theatre of the Absurd. Years ago, in a series he titled "Unlikely Casting," the great theatrical caricaturist, Al Hershfield, fantasized about a production of Waiting for Godot that starred Jack Lemmon and Zero Mostel.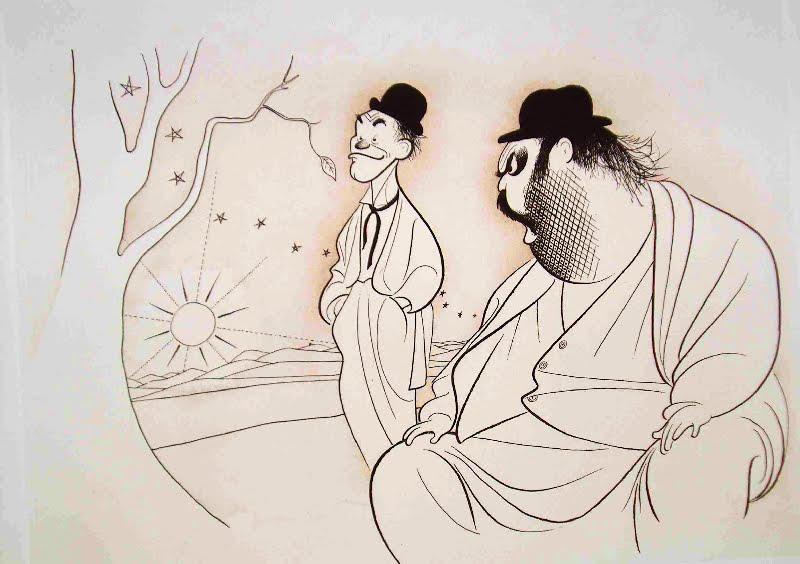 Al Hirschfield's fantasy casting for Waiting for Godot
I've been waiting for years to see Samuel Beckett's 1953 masterpiece and now, thanks to the Marin Theatre Company, my long wait is finally over. While some explore Samuel Beckett's play in search of trenchant symbolism, I find that its greatest reward is its elasticity and the numerous opportunities it offers to create comic moments that are not in the text. Beckett's play requires actors whose comedic instincts and teamwork allow them to approach his work as if it were a piece of chamber music written for clowns trapped in a nonsensical no-man's land.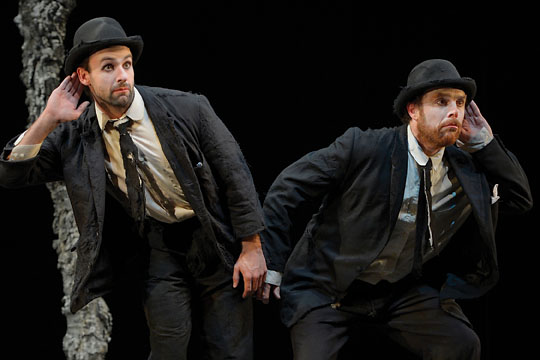 Vladimir (Mark Bedard) and Estragon (Mark Anderson Phillips)
in Samuel Beckett's Waiting for Godot (Photo by: Kevin Berne)
While academics may search for deep meaning in Beckett's play, I prefer to think of Waiting for Godot as the inspiration for such popular films as 1993's Groundhog Day and 2004's 50 First Dates. Set on a nearly barren stage (with only a rock, a tree, and the rising moon), Vladimir/Didi (Mark Bedard) and Estragon/Gogo (Mark Anderson Phillips) are two confused clowns trapped in an absurdist time warp. Although each day starts anew with similar expectations, Vladimir has better luck at remembering what happened the previous day. Estragon's memory seems to have been wiped clear each morning.
While there are slight variations in their day (Lucky and Pozzo cross the stage in opposite directions, two boys who work for Mr. Godot take turns informing Vladimir and Estragon that Godot won't be showing up, but might make an appearance the following day), it's best to approach Waiting for Godot as if it has been set in the kind of snow globe one shakes and inverts in order to witness its peculiar magic.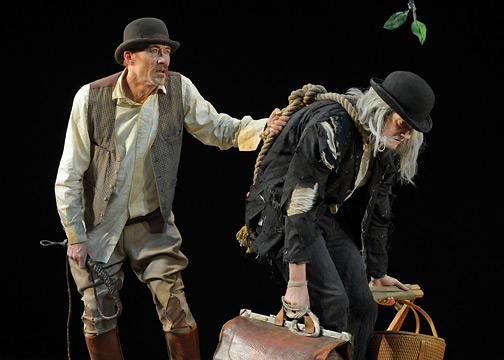 Pozzo (James Carpenter) and Lucky (Ben Johnson) in
Samuel Beckett's Waiting for Godot (Photo by: Kevin Berne)
MTC's Jasson Minadakis directed this production with a superb cast. As Pozzo, James Carpenter's booming basso offered the perfect counterbalance to the ever optimistic twinkle in Mark Bedard's eyes. Likewise, the hulking resignation of Ben Johnson's Lucky was relieved by the physical goofiness and wide-eyed, confused bulldog stare of Mark Anderson Phillips as Estragon. Lucas Meyers and Sam Novick were innocent, unknowing boys who arrive bearing messages from the mysterious Mr. Godot.
How's this for an opening moment? The lights come up on a man and woman in a messy apartment. Neither one can remember their names or how they got there. As they struggle to come to their senses, they notice some drug paraphernalia on the table and a syringe lodged in the man's forearm.
Powerfully directed by Loretta Greco, the Magic Theatre recently presented the world premiere of Se Llama Cristina, a challenging new drama by Octavio Solis which takes the audience on a wild roller coaster ride as Miguel (Sean San José) and Vera (Sarah Nina Hayon) struggle to figure out the who, what, why, when, and where of the moment (as well as how in the name of hell they got there).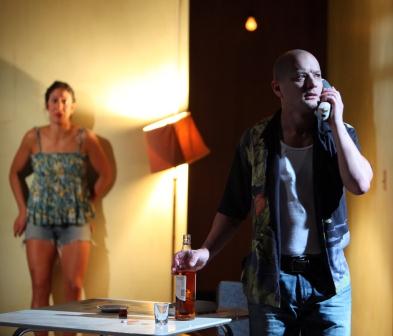 Vera (Sarah Nina Hayon) and Miguel (Sean San José ) in a
scene from Se Llama Cristina (Photo by: Jennifer Reiley)
Is this a nightmare? Are they trapped in a bad meth trip? If so, why is some angry man named Abel (Rod Gnapp) pounding on the door and threatening them? As director Loretta Greco notes:
"I find three qualities particularly and consistently thrilling in Octavio's work. First, it features emotionally viable, poetic, and muscular language. Second, he displays a keen fascination with people who are divided -- or rather, he shares a meditation on divides of every ilk, be they cultural, economic, or spiritual. Characters in Octavio's plays are straddling borders (both literal and figurative) and trying desperately to fill the chasms. Lastly, an Octavio Solis play always uncovers plenty of skeletons in the closet -- deep, dark secrets whose gradual revelations change the courses of the lives they enshroud. This play deals with two people who truly resuscitate each other, who help each other traverse the most treacherous of pasts in order to transcend and bring new light and hope to the future."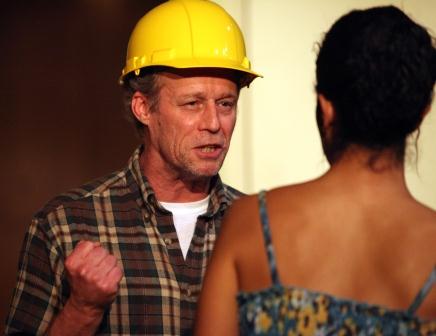 The abusive Abel (Rod Gnapp) confronts Vera (Sarah Nina Hayon)
in a scene from Se Llama Cristina (Photo by: Jennifer Reiley)
With Andrew Boyce's stark unit set and Sara Huddleston's sound design, the actors don't have many props at their disposal. Se Llama Cristina is a drug-addled, 80-minute rocket ride through psychosis, temporary amnesia, and a woman's panic over possibly being pregnant in which a sweet-talking abusive boyfriend can be foolishly forgiven and a deep fried chicken drumstick can be mistaken for an infant. As the playwright explains:
"Se Llama Cristina is a lot more challenging than my other plays because I set up a very complex labyrinth for myself, for the audience, and for the characters to traverse that has its own kind of poetry. Language is the way to enter the darker moments because the things that are happening are often not depicted in the rawness of their reality (they are spoken about). You seldom see an actual murder onstage or something sexually violent in front of you. If you do, it's elevated to a poetic level. It happens in language.

I've always been attracted to language because English is a second language to me and I like to figure out its nuances. I'm more interested in how language remains active (and not just how it exists for its own sake), but how language can be an action. I'm not a 'realistic writer.' I freely mix lyrical language with our profane and/or mundane vernacular because language always has to be in service of the action, which is why there is a kind of immaculate ecstatic melody coexisting with down-to-earth gritty dialogue."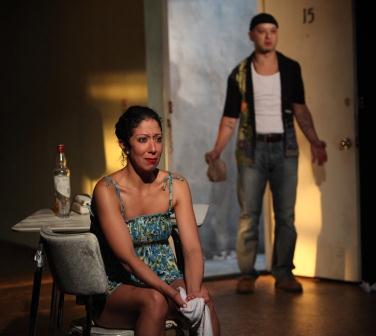 Vera (Sarah Nina Hayon) and Miguel (Sean San José ) in a
scene from Se Llama Cristina (Photo by: Jennifer Reiley)
If Waiting for Godot is a shining example of the Theatre of the Absurd, Se Llama Cristina comes from the blazing forge of the Theatre of Broken Dreams and Tough Love. It burns with the fevered fright of a meth-induced frenzy. Sarah Nina Hayon and Sean San José deliver bravura performances as the two anguished and confused leads. Rod Gnapp adds another sterling portrayal to his extensive rogues gallery of angry, confused straight men.
Related
Popular in the Community