 The U.S. Department of Labor said it found widespread "sweatshop-like" labor violations in downtown LA's fashion district, resulting in the recovery of more than $326,200 in back wages for 185 employees.
Each of the 10 garment contractors inspected during an unannounced sweep of a single factory earlier this year were found to be paying less than minimum wage, not paying overtime, or falsifying or failing to maintain records, the Labor Department said.
The garments being produced were for more than 30 retailers nationwide, including Aldo, Burlington Coat Factory, Charlotte Russe, Dillard's, Forever 21, Home Shopping Network, Rainbow Apparel, Ross Stores, TJ Maxx, Marshall's, Urban Outfitters and Wet Seal.
The retailers did not immediately respond to HuffPost's request for comment.
On average, workers were being paid less than $6.50 per hour, well below the California minimum wage of $8 per hour and the federal minimum wage of $7.25 per hour, according to the Labor Department. None of the employees received the overtime rate for overtime hours worked. Investigators also found that contractors were falsifying time cards and under-reporting or failing to maintain accurate records of employees' hours.
"Unfortunately, wage theft and violation of minimum wage laws seems to be endemic in this sector, as they are in other low-wage, non-union sectors of the economy," John Logan, professor and director of Labor and Employment Studies at San Francisco State University, told HuffPost. "Retailers like Forever 21 and Urban Outfitters need to take greater responsibility to make sure that manufacturers in the U.S. obey the law."
Deanne Amaden, spokeswoman for the Department of Labor, told HuffPost that when workers are given back pay like this, other workers often come out of the shadows. "If someone sees someone else get back wages, they feel empowered to come forward. They see that we're able to get results for them," she said.
Amaden said the department is not releasing the names of the contractors accused of violations. The department has collected the $326,200 from the contractors and is distributing it to the appropriate employees, she said.
Kim Chi Bui, district director for the Labor Department Wage and Hour Division in LA, told HuffPost that government workers are reaching out through consulates and community groups to encourage workers to report violations. Workers who feel they are underpaid can call 1-866 4US-WAGE or visit this Web site.
When federal and state investigators searched the large garment building at 830 S. Hill St. in downtown LA, they found that many workers were paid a piece rate -- in other words, per piece they sewed -- even if that was lower than minimum wage.
Because of a provision of the Fair Labor Standards Act that prohibits the shipment of goods that were produced in violation of the act, the violating contractors could not ship the goods until back wages were paid.
Contractors often blame manufacturers for not paying enough to adequately pay sewers, and manufacturers blame retailers for not paying enough to pay adequately contractors, Bui said. The Wage and Hour Division, currently in litigation with repeat-offending retailers, is working to try to get all three groups to comply with labor law.
"The extent of the violations discovered by these investigations was disappointing," Secretary of Labor Hilda L. Solis said in a statement. "Federal, state, local and industry stakeholders can work together to foster a vibrant, and compliant, domestic fashion industry."
The department's investigation into the companies' suppliers, which began earlier this year, is part of a larger project to better regulate Southern California's garment industry, which employs many low-wage immigrant workers from East Asia and Latin America. In the past five years, the agency has conducted 1,500 investigations in the region, 93 percent of which uncovered violations. The violating companies owed a total of $11 million in back wages to about 11,000 employees, according to the Labor Department.
Support HuffPost
The Stakes Have Never Been Higher
Related
Before You Go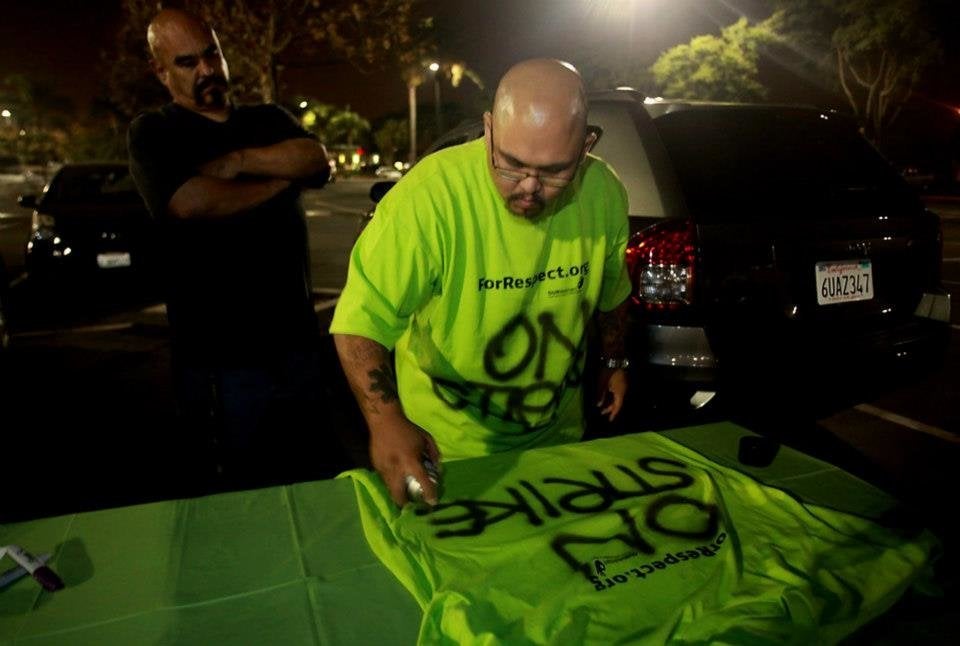 First-Ever Walmart Strike, Oct. 2012, LA
Popular in the Community