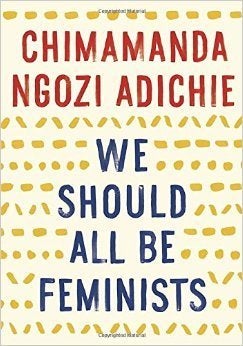 Several Swedish organizations are so determined to achieve gender equality, they gave a copy of We Should All Be Feminists to every high school sophomore in the country.
The Swedish translation of the book by acclaimed Nigerian author Chimamanda Ngozi Adichie came out Tuesday. That day, the Swedish Women's Lobby, which represents 45 feminist groups in the country, teamed up with the U.N. Association, Trade Union Confederation and book publishers to distribute over 100,000 copies of the book to high schools across the country, newspaper Svenska Dagbladet reported. 
Adichie's book, named after a TED talk she gave in April 2013, is a rallying cry to both boys and girls to work together toward a gender equal society. Adichie argues that gender equality can only be achieved when societies start teaching children to treat each other as equals. She calls on boys and girls to transcend traditional perceptions of masculinity and femininity, saying they "stifle the humanity of boys" and "define masculinity in a very narrow way."
"This is the book that I wish all of my male classmates would have read when I was 16," Swedish Women's Lobby chair Clara Berglund wrote on the group's website. "It is a gift to all second grade high school students, but it is also a gift to ourselves and future generations."
The project's organizers hope that high school teachers will incorporate the book into their curriculums, the Lobby noted. They also plan to send class discussion questions to high school teachers in January.
"I hope that the 16-year-olds who will read the book in Sweden will also decide that they're feminists," Adichie said in a video message that the Lobby posted on YouTube Tuesday. "And mostly, I hope very soon that one day we will not need to be feminists because we will live in a world that is truly just and equal."
If there's any country where Adichie's message may be appreciated, it's Sweden. The country attained the fourth-highest score on the World Economic Forum's 2015 Global Gender Gap index, which measures economic participation and opportunity, education, health and political empowerment. Eighty-two women and 90 men formed the heads of Sweden's top government agencies in 2015, the country's official reported Tuesday. And in a November research poll conducted among 39,000 men and women from 24 countries, almost all Swedish participants disagreed with the statement that a woman's place belonged in the home.
The U.N. Association of Sweden, which took part in the project, tweeted its support, saying "Women and men should have equal power over society and their life."
PHOTO GALLERY
28 Famous Male Feminists
Calling all HuffPost superfans!
Sign up for membership to become a founding member and help shape HuffPost's next chapter