Ten years ago, Her Majesty Queen Silvia of Sweden reached the point where she could no longer witness the appalling conditions of children around the world – especially child victims of sexual abuse and exploitation.
Today, the foundation has supported over 500 projects in 15 countries, including Brazil, Estonia, Germany, Latvia, Lithuania, Moldova, Poland, Russia, South Africa, Sweden, Thailand, Ukraine, and the U.S.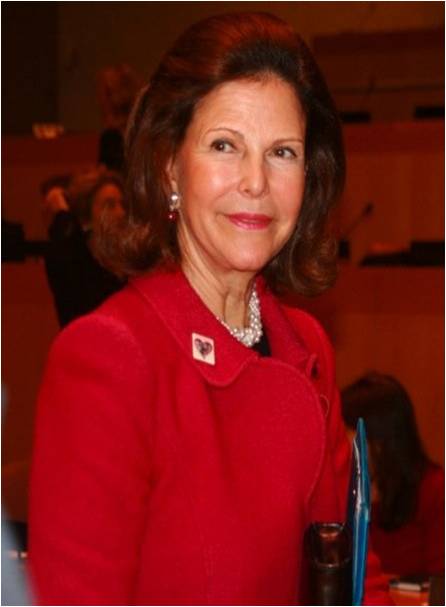 Her Majesty Queen Silvia of Sweden, Founder of the World Childhood Foundation 
I heard Queen Silvia speak at the United Nations last week, was able to join a press conference with her, and then speak to her in person.  What an incredible human being.
The Childhood Anniversary Symposium was built on the theme of the Articles of the U.N. Convention on the Rights of the Child (UNCRC), which forms the basis for Childhood's work.  This year, UNCRC celebrates 20 years of enormous impact.
Her Majesty Queen Silvia believes strongly in both the Rights of the Child and the Swedish notion, "Fire Souls."  People whose passion to better the world burns within them.
The World Childhood Foundation has two primary functions: to act as a Silicon Valley-like incubator for small NGOs helping disadvantaged children to grow large and connect with better established organizations, and to serve as a royal magnet to attract additional funding to support them.
The Queen is particularly interested in Fire Souls, who– through their passion – have devoted their lives to helping children.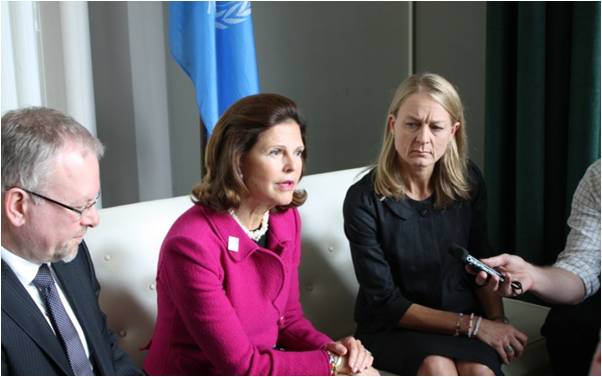 Mats Agurén, secretary general of Childhood, Her Majesty Queen Silvia of Sweden, and
Charlotte Brandin, executive director, Childhood USA at United Nations press conference.
In her Opening Remarks in the ECOSOC Chamber, Queen Silvia said (excerpts):
Ten years ago I had a vision, a dream to reach out to the world's most vulnerable children. To give them a real childhood. I had seen them during my travels, I had met them in the favelas, I had read the shocking statistics on the sexual abuse of millions of children around the world.

I knew that there was a need, an urgent need, but I had not yet formulated a plan on what could be done. Together, with those who became my co-founders, we were able to make my vision a reality.

Today I am proud to say that we together have built a solid structure working intensively to identify the most competent organizations with which to collaborate as well as the best practices to combat abuse and violence of children. 

And I also take pride in what Childhood has achieved in the past ten years. I know that we have made a difference for children around the world. Our efforts, projects and results will be explored during this symposium.

Our project partners are what we call "fire souls" -- people who burn with passion and commitment -- people who have a strong belief in how to help and how to change the lives of street children, of children in institutions and of young mothers and sexually abused children.

In all these different areas we identified committed partners who are compassionate and who with Childhood's support and collaboration make a difference as they reach out to the most vulnerable children. Childhood is proud to provide that support.

We often see the problems, the children who suffer, or statistics on children who have been exploited. At Childhood we see this as well.

But we also try to see the positive aspects – that we are able to help and that there, in the past ten years, have been positive changes in attitudes about children's rights.

The sexual abuse of children or trafficking of children are crimes that today are well defined and governments cooperate in identifying the perpetrators as well as supporting initiatives to prevent child abuse.

The Convention on the Rights of the Child is now high on the global agenda and there are few countries which have not ratified the convention.

However, we must continue talking, because raising the awareness of the rights of the child is the most important challenge we face.

For the child to be seen, we adults need to see them, and we need to hear them.

Let us therefore commemorate the upcoming anniversary of the Convention of the Rights of the Child on November 20th by ensuring that everyone we work with is aware of the Convention and its contents. This can be done in many ways.

In Childhood, we have chosen to highlight some of the articles of the Convention through very tangible, hands-on projects.

We want to be close to the children and through our work show concrete examples and best practices.

Many of our projects are run by small organizations that through their passion and dedication create models and methods – but which need support in illustrating and possibly replicating.

Most of all, our work is about prevention. We need to ensure that the child is not at risk, that a child is not used as a product in the trafficking market and that the child always has access to trusted adults.

In short we need to ensure that children have the right to a childhood in which they are allowed to grow in a natural way both physically and emotionally.

We must also recognize the critical role of the private sector in our work. It has only been possible to achieve my vision to launch Childhood because of the commitment of private companies and family foundations.

Without their compassion, their ability to see the need and their willingness to help fund our work, my vision could not have become a reality.

It is also the collaboration between the private sector and our "fire souls" – that has enabled Childhood to reach out to the most vulnerable children of our world.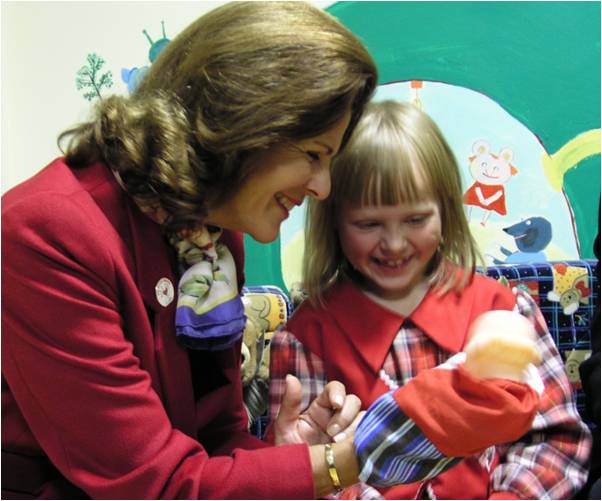 H.M. Queen Silvia of Sweden with a little girl at a Childhood project in Russia
A panel discussion with Childhood project and corporate partners – along with other representatives working with children at risk – focused on prevention and intervention approaches on how to spread public awareness about child sexual abuse and exploitation.
The panel discussed how existing as well as new stakeholders can provide sustainable intervention strategies for the well-being and protection of children who are victims of this kind of abuse.
Some of the speakers are Marilyn Carlson Nelson, Chairman, Carlson Co., Jenny Bowen, founder of Half the Sky in China, Natasha Jackson, GSMA Mobile Alliance, and Mats Agurén, Secretary General of World Childhood Foundation.
Childhood has a generous group co-founders, each of whom contribute $1 million dollars.  
These include The Axel Johnson Group, The Barbro E. Heinz Family, The Charles B. Wang Foundation, The Curtis L. Carlson Family Foundation, The DaimlerChrysler Corporation Fund, Heimbold Foundation, The Oriflame-af Jochnick Foundation, SAP AG, and Skandia
Childhood has a focus on corporate responsibility and has over the last decade engaged a long list of corporate sponsors who have contributed not only through direct monetary donations, but through integrating Childhood into their advertising and branding strategies.
Major partner companies have each signed a three year cooperation contract with the foundation, working with Childhood in its cause-related issues. The Major Partners include Volvo.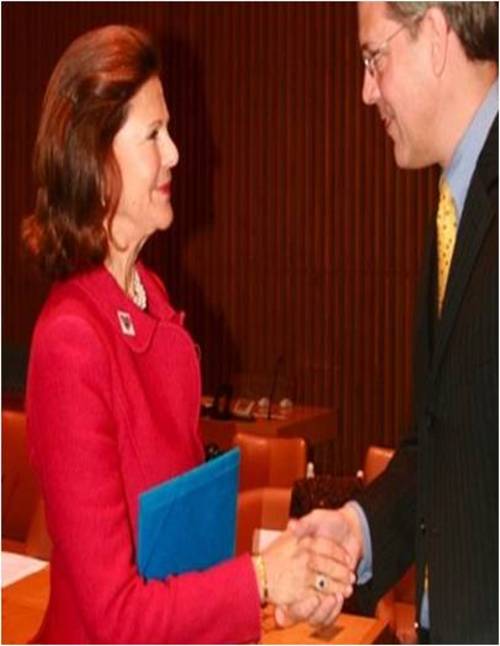 Meeting Her Majesty Queen Silvia of Sweden, Founder of the World Childhood Foundation 
During the press conference I addressed Her Majesty by stating that I wear two hats: I build orphanages and family care models around the world through Orphans International Worldwide, begun with the proceeds of my mother's estate, and I write on Thought Leaders and Global Citizens, both of which epitomize the Queen.
She responded, "I can see your mother was a Fire Soul, and I see that you take after her."
"We cannot do it alone, for the needs of children are a global issue.  It is a global question of how best to respond.  All of us – individuals, NGOs, governments – need to work together," she told me.
H.S.H. Prince Albert of Monaco serves on the Global Advisory Board of Orphans International Worldwide, Duke Frantz of Bavaria has contributed to exploring the possibility of OI working in Romania, and I have met Princess Margarita in Bucharest to discuss the needs of Romanian orphans.
The Queen, and her youngest daughter, Royal Highness Princess Madeleine, are part of the pantheon of royalty who care so much for humanity.  Prince Albert.  Princess Diana.  The Aga Khan. 
No Fire Soul that I have met burns more brightly than the Queen of Sweden.

The United Nations Office for Partnerships serves as a gateway for public-private partnerships with the United Nations system, in furtherance of the Millennium Development Goals (MDGs). 

UNOP provides Partnership Advisory Services and Outreach to a variety of entities, including academic institutions, companies, foundations, government agencies, and civil society organizations. 

The Office encourages investment in high-impact initiatives by assisting in the design of programs and projects; helping establish and manage networks; advocating the use of the MDGs as a framework for action; and advising on UN procedures and best practices.

Furthermore, the Office manages the United Nations Fund for International Partnerships, established by the Secretary-General in 1998 to serve as the interface for the partnership between the U.N. system and the U.N. Foundation. 

This is the public charity responsible for administering Ted Turner's $1 billion contribution in support of U.N. causes.
Calling all HuffPost superfans!
Sign up for membership to become a founding member and help shape HuffPost's next chapter