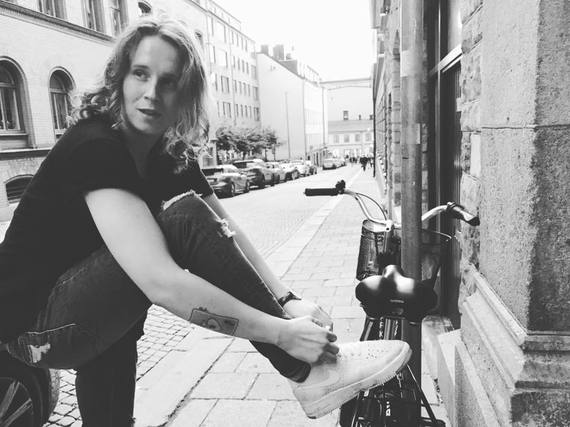 Deep from the bowels of his body and soul emerges the velvety voice of Buster Moe. Though young in age at a spritely 24-years-old, there is an innate intensity that oozes from his music which is reminiscent of a bygone era. His debut six-track EP Good Kinda Crazy was released at the end of September and is a heartfelt mixture of pop and soul. Greatly influenced by old soul, jazz and blues music, his love for the classics is apparent through his lyrical style.
"I still love that feeling when you hear a song and it catches your attention and your first thought is, 'What is this? This doesn't sound like anything else around these days,'" he explains.
The first single released off the EP was "Shoot Me" and has already found its way to the ears of many, ending up on Spotify's Top 50 Viral Charts. Love and heartache always have the widest reach, and "Shoot Me" is a reflection of both. The ups and downs of young love are enough to drive one crazy; luckily Buster Moe has a musical outlet, a rare gift few people possess.
While "Shoot Me" is Buster's debut original track, his first formal release was a bluesy take on Cypress Hill's "Insane in the Brain" as part of the Cold Chilling -- Compton compilation album which quickly garnered millions of views on YouTube, putting Buster's signature sound on people's radars. Working with legendary music curators at PRMD (Pyramid) Music has played a large role in his success as they are responsible for discovering some of Sweden's most talented acts in all genres of music, from hip hop to EDM.
Like the crooners of the '50s and '60s, Buster is part of a legendary lineage of ear-tickling soul-singers. Adapting a classic style with a modern sensibility is part of the genre's evolution and how it continues to flourish. Good Kinda Crazy showcases Buster's ability to merge pop and soul, creating a sound that is both evocative and catchy. There is a timelessness in his music which has the capability of pleasing the ears of a diverse audience. There is no doubt that as long as Buster continues to create music, he will find hearts to play it to.

Buster Moe has already tested the waters of live music performing at various festivals and showcases. As natural on stage as he is in the studio, he feels wholly prepared and excited for his upcoming U.S. tour this fall. "Playing the recent festivals and showcases has been a dream come true," says Buster. With powerful pipes and a unique look, Buster Moe is reinventing the pop star as well as redefining modern soul music.
Calling all HuffPost superfans!
Sign up for membership to become a founding member and help shape HuffPost's next chapter