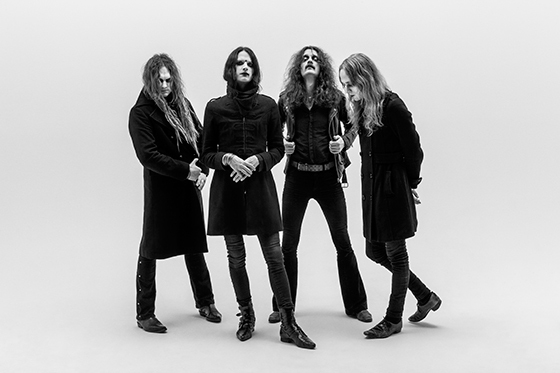 Photo Credit: Linda Åkerberg
The Swedish metal band Tribulation has been together for a little over a decade now, but didn't put out their first proper full-length album The Horror until 2009. Then a few years later, they would release their sophomore album The Formulas of Death in 2013. Last year, their newest album Children of the Night was released continuing their path of dark, eerie metal.
Currently, Tribulation is wrapping up the 2016 Decibel Magazine tour with Abbath, Hire On Fire, and Skeltonwitch, before they embark on a two-week run in support of Ghost. I was able to chat with the band's guitarist Jonathan Hultén before they come to town on Monday, April 18th for a headlining show at the New Dodge Lounge in Hamtramck, Michigan and we talked about what influences the band and some memories of their early years.
The early years of the band, what are some of your memories of that time?
Those early years were a tease. Musically, the bands that were around made a huge impact on us obviously. We were becoming the people that we are today. It's when we learned the most and found each other. It's the basis of, the foundation of what we are today. Obviously important. Personally I don't think it's not too healthy to be too obsessed with the past or what happened, but its more like to focus on what we can turn to and want to do from now on.
How do you hold onto the parts of the past you built while focusing on the future?
Maybe one shouldn't think in terms of bigger and better, but maybe its better to focus on just whatever the next step is, in whatever which way it is, artistically or what we practically may do. Focus on only the creative stuff and on the ideas of what the band should focus on, like a career I guess.
What is it about Sweden's metal history that influences this band?
Earlier in our teens, where we started, it played a large role, but nowadays, I'm not sure. I haven't even thought about it.
Going into the new album The Children Of The Night, what was the overall mood of the band when trying to figure out what you want to do with it?
That's kind of a hard question to be honest because we didn't really have a super clear idea of exactly what kind of record it would be. It's was more like we had something to go on. We had some leads. We had a feeling. We had something going on between us in the rehearsal room and we took it from there. After a couple of months, it almost starts to grow by itself. It takes its own life. Then, all these ideas about of how it should be just popped up and then it feels so clear. Its like a matter of force. It's like an invisible trail that just there and its taken for granted.
You guys really don't stick to one of the many tags or sub genres of metal, what really carries the sound of this band? What influence you guys?
I could give you the obvious responses like we've always listened to Kiss and Iron Maiden, Deep Purple, but it isn't has as simple as that I think. We are individuals. That's what's carrying us forward more than anything else. We influence each other.
Tribulation will be headlining a show at the New Dodge Lounge in Hamtramck, MIchigan on MOnday, April 18th. For more information on Tribulation, visit tribulation.se.
Calling all HuffPost superfans!
Sign up for membership to become a founding member and help shape HuffPost's next chapter