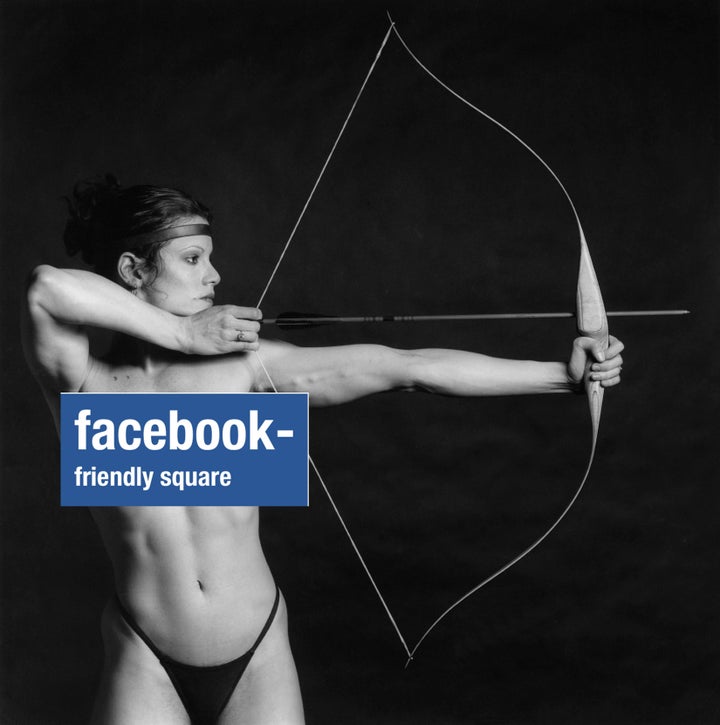 Facebook has had its fair share of user controversy since its inception, but the debate over its oft-discussed censorship policy has taken an interesting turn in the art world. Fotografiska, a photography museum based in Sweden, has chosen to voluntarily censor images on its Facebook page to avoid conflict with the social networking site and simultaneously ignite a discussion regarding censorship. The museum, which is hosting an exhibition of contemporary photographer Robert Mapplethorpe's work until October 2, has willingly censored images to steer clear of any being removed from their page.
The issue isn't just Fotografiska's willingness to censor its own uploads, but also the manner in which they've done it. Fotografiska chose to censor Mapplethorpe's images, not with the traditional black bar, but with a block reminiscent of Facebook's corporate logo and colors. The blue bar with white text reads "Facebook-friendly square" and adorns the figures in Mapplethorpe's images.
The move has reignited the debate over Facebook's censorship policies, which many have found to be haphazard in their execution. According to Facebook, while administrators will remove any nude images of real people, policy "allows the posting of drawings, paintings and sculptures of nudes." However, this set of guidelines has proven to be grossly inconsistent. Earlier this year, Facebook removed a work entitled, "Simone" from the New York Academy of Art's Facebook page by the artist, Steven Assael, despite the fact that it is a rendering of a nude form. The Art Newspaperquotes the blog of the New York Academy of Art, which stated that "As an institution of higher learning with a long tradition of upholding the art world's 'traditional values and skills', we find it difficult to allow Facebook to be the final arbiter—and online curator—of the artwork we share with the world."
A spokesman for Fotografiska acknowledges the importance of Facebook in marketing the museum, but touts the distinction between art and pornography, despite how challenging it may be to distinguish between the two. "We do not warn people about entering certain rooms, but they have titles such as 'Nude' and 'Sex'. We even show erect penises, but from an artistic point of view," he said.

Calling all HuffPost superfans!
Sign up for membership to become a founding member and help shape HuffPost's next chapter