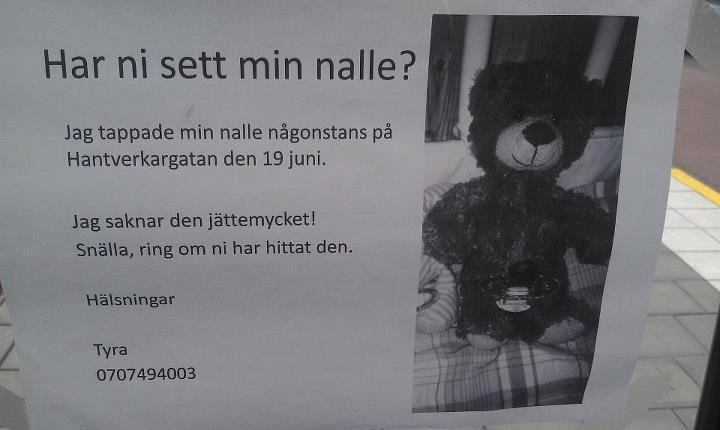 The Swedish police has joined the search for a little girl's beloved teddy bear.
"The teddy bear really means a lot to her. She can't sleep properly at night without it, and she searches for it when she wakes in the morning," Blomqvist said, adding that the family posted "missing teddy bear" posters around the Stockholm island of Kungsholmen in an effort to locate the missing toy.
A local police officer spotted one of these posters and promptly took a photo of it, uploading it onto the official police Facebook page, The Local reports. He added a caption urging people to help join the search:
Together, through 'liking' this picture, spreading the link and keeping our eyes open, we can make it so Tyra gets her beloved teddy bear back. Be sure to leave the bear at the nearest police station so Tyra can see her friend again!
Though many Facebook commenters lauded the generous and empathetic response by police officers in handling the little girl's 'case,' some commenters questioned police priorities -- pointing out that there are plenty of more urgent matters for the police to handle.
A police inspector, however, quickly addressed the criticism by responding in a Facebook comment.
"The article above was written by an off-duty policeman, so the cost to us was zero," the inspector wrote. "If we, through two minutes' work, can help her get her friend back, we'd say it's good prioritizing, don't you think?"
"We still haven't heard anything yet but it feels good to know that people want to help out," Blomqvist told Nyheter24 News.
Earlier this month, transport workers in Boston halted a train to save a little girl's stuffed bunny from dismemberment. Nummy, the bunny, had "somehow jumped" out of 3-year-old Roozle's stroller and fallen onto the tracks, Boing Boing reported. The conductor of an oncoming train stopped during rush hour, picked Nummy up and returned the toy to the little girl.
Popular in the Community