 Thursday's Sweet 16 gave us a sizable upset with Syracuse beating Indiana -- which became the tenth team ever to lose three games in one season as the nation's top-ranked team and not win a national title -- not to mention 2 seed Miami losing to overachieving Marquette. Friday however, with powerhouse programs and the biggest of upstarts, should be even better.
Here's a look at the ten things you can't afford to miss on day 2 of the Sweet 16.
Seriously, what better story is there right now? Point guard Brett Comer and the Eagles offense have been terrific, but Florida has big, strong, athletic bodies in its backcourt and frontcourt. The combination of Patric Young and Erik Murphy is a lot to handle, and Andy Enfield's club will try to neutralize it with the speed game. Per ESPN Stats & Info, Comer's assist rate -- the percentage of his possessions that wind up as assists -- ranks third-highest in the country.
We've talked at length about great guard play, but in Kansas vs. Michigan, we have a real gem of a matchup. Michigan freshman Mitch McGary is a brute-forced, left-handed rising star who loves to bang on both ends of the floor. His 21 points on 10-for-11 shooting along with 14 rebounds dominated VCU. Meanwhile, Kansas features senior 7-footer Jeff Withey, a shot-blocking extraordinaire who is averaging six blocks per game thus far in the tournament and completely shutting down the painted area.
Michigan's Trey Burke is the epitome of the modern day point guard. He can score, pass, control the game without scoring, and excels in the open floor. And his destruction of VCU's HAVOC in the round of 32 is a prime example.
Two of the game's greatest ever face off in an iconic battle of head coaches and programs. Izzo took Sparty to six Final Fours from 1999-2010, including a national title, while Coach K. has won four championships during his storied tenure on Tobacco Road. All in all, the two legends have combined to coach in 17 Final Fours. It doesn't get better.
Don't forget about the little guy! Louisville's Peyton Siva and Russ Smith may have met their match for quickness and speed in Oregon's impressive duo of Johnathan Loyd and star frosh Dominic Artis, a pure jitterbug who can really bother as a playmaker. The Ducks have overachieved as a 12-seed, and the biggest thing to watch for is how they handle the Cardinals' supreme pressure. Rick Pitino's squad has a non-stop dose of traps, and Oregon led the Pac-12 with over 14 turnovers per game -- translating to a porous 21.5 percent of its possessions this season, per ESPN Stats & Info.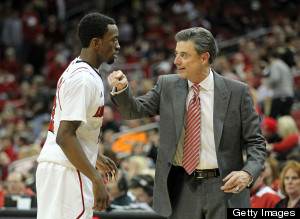 Rick Pitino relies heavily on do-everything guard Russ Smith to set the tempo for overall top seed Louisville.
6). But, Back to the Bigs
Duke's Mason Plumlee has enjoyed a terrific senior season, but the Spartans have a front line duo of bruiser Derrick Nix and jumping jack Adreian Payne. Ryan Kelly's ability to stretch the floor will prove big in terms of bringing out the MSU bigs, but this will be a flat-out slugfest for 40 minutes in the paint.
Classic Krzyzewski teams defend at a really high level and, while this team may not be his most talented, it too loves to lock down. Creighton was an efficient offensive team until it was held to 50 points in the round of 32 by the Blue Devils. Wooden Award candidate Doug McDermott shot an almost impossibly poor 4-16 from the floor. Duke loves to hoist the long ball with sharpshooters Seth Curry and Ryan Kelly, but manhandled a game Creighton team despite going a mere 7-20 from distance.
The winning formula for 31-5 Kansas has been starting four seniors and one freshman, a rarity in the college game today. We can talk all we want about Withey and Travis Releford, but quite honestly, if star freshman Ben McLemore -- whose gone a shocking 2-14 in the tournament thus far -- doesn't get on track against Michigan, the Jayhawks will not advance. The potential top overall pick in June's NBA Draft has been marvelous all season (16 points per game on 42 percent 3-point shooting), but has yet to find a rhythm when it matters most.
9). The 'Other' Florida Team
It's crazy to think that Billy Donovan's two-time national champion Gators have taken a backseat to both Miami and FGCU, but it certainly feels that way. Yet, while we're not dealing with premier talents like Corey Brewer, Al Horford and Joakim Noah, this remains a very dangerous team. The aforementioned Erik Murphy may be Chandler Parsons 2.0, and Rutgers transfer Mike Rosario (a former Micky D's All-American), can store in a hurry. The Gators can both grind and run because of their athletes, and rank eighth in the nation in field goal percentage.
10). Back to Florida Gulf Coast!
Sorry, I couldn't help myself. Florida vs. FGCU is going to be awesome. Let us not forget that Enfield's club lost to Lipscomb twice this season, not to mention East Tennessee State, Mercer, Maine and -- wait for it -- Stetson. But this is not the same team as it was in November, let alone February. The Eagles shoot a splendid 52 percent inside the 3-point line, according to KenPom.com, and have improved their defensive efficiency in the half-court since the conference tournament began. Do they run and gun? Absolutely. But this is also a club highly capable of beating the opposition in other ways as well.
Correction: A previous version of this article misidentified Miami as a 1 seed. It is a 2 seed.
Email me at jordan.schultz@huffingtonpost.com or ask me questions about anything sports-related at @Schultz_Report.
REAL LIFE. REAL NEWS. REAL VOICES.
Help us tell more of the stories that matter from voices that too often remain unheard.
BEFORE YOU GO