These Sweet and Spicy Swiss Chard Wraps are my husband, "MacGyver"'s signature dish. They are beautiful and delicious, can be made raw or cooked (both discussed below), are flexible and easily adapted to what you have on hand, and just happen to be vegan. This delicious vegan dinner idea is just about as nutritious as you can get and has a flavor both kids and adults love. Depending on what you choose to fill them with, cooking time is next to zero, though there is a lot of chopping and assembly time involved.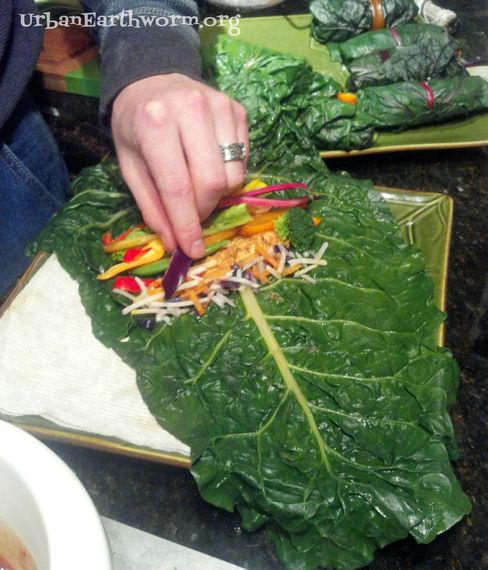 So here is MacGyver's Guest Recipe, which can be found along with several other healthy meals from a family practicing Ethical Eating at UrbanEarthworm.org, Sweet and Spicy Swiss Chard Wraps:
This recipe is broken up into three segments, the filling, the sauce, and the wraps:
You can cheat and just buy the Asian style sweet chili sauce that comes in a jar. Most grocery stores carry it, and you can get higher quality versions in Asian food stores, or you can make an authentic version of it yourself ensuring you know exactly what is in it.
It's pretty easy and the ingredients aren't hard to find or exotic by any means. First off, I don't normally use any real premeasured amounts in my cooking. So all measurements below are estimates and should be adjusted to suit your tastes.
1 Cup Vinegar - Apple Cider Vinegar or Rice Vinegar work best, avoid distilled or balsamic
1 Cup Sugar (aim for ethically sourced brands)
1 tsp chili powder
½ tsp red chili flakes
2 Tbsp ketchup or 1 tsp tomato paste (DO NOT use ketchup with high fructose corn syrup)
1 Tbsp garlic (minced preferred, but can use powdered as well)
2 Tbsp ginger root (minced preferred, but can used powdered as well)
Thickening agent (a roux made from arrowroot powder or cornstarch mixed with water, or use agar agar)
If you use agar agar, just add with rest of ingredients and simmer for 4 minutes as directed below.
If you use roux, stir in slowly to thicken to desired consistency. Don't use too much or it will change the taste profile of the sauce.
Vinegar to Sugar is a ratio of 1 to 1. So 1 cup Vinegar to 1 cup sugar. You can make however much you need or make a large amount and save for later.
1 Mix in sauce pan and bring to a rolling boil.
Turn heat down and stir in chilli powder, red chili flakes, garlic, ginger root, and thickening agent.
Simmer for 4 minutes.
4. If you used agar agar to thicken, place the sauce in the refrigerator or freezer to cool until it starts to thicken around edges. Stir again before adding to roll-ups.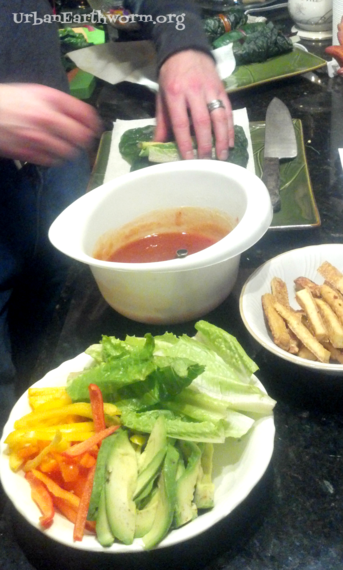 You can put whatever you want in them. We've used them as substitutes for tortillas, for a Mexican twist to a burrito (though without the Asian sauce). I use them often to wrap up leftovers -- rice and beans, quinoa, veggies, or some combination.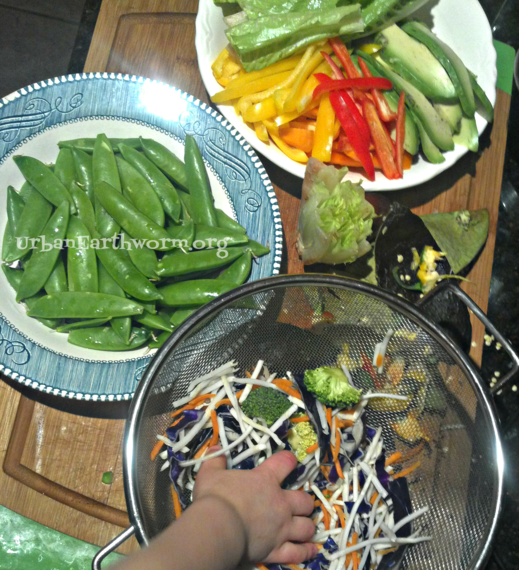 Watch out for sneaky filling thieves!
For the recipe pictured here, something more fresh and spring-roll-like, use crispy salad fixings like cucumbers, romaine, radish, carrot sticks, celery, shredded broccoli, bell peppers, pea pods, green beans, green onions, etc. sliced into thin sticks 2 - 3 inches long. Avocado as a great addition, and so are certain fruits like slices of apple or mango. Unless you're ready for a messy meal, avoid juicy fillings like tomatoes.
It is also nice to add some sushi rice or other sticky rice to these rolls.
For the wraps pictured here, we also sliced and baked extra firm tofu in strips the size of fat French fries:
- Drain and gently press the moisture from one package of extra firm tofu.
- Slice into extra large "fries."
- Carefully roll them through any powdered seasonings you like (such as kelp flakes, sesame seeds, ginger, garlic, ect). I used TVP crumbles (TVP = textured vegetable protein, makes for a very crispy coating) seasoned with a little garlic.
- Bake at about 350 for 10 minutes or until light brown or to desired crispness.
- You can also marinate your tofu by placing it in a sealed container with the marinate of your choice overnight (after draining and pressing). Some tamari or soy sauce, vinegar, ginger, and garlic, maybe with a touch of orange juice, might make a good marinate. Teriyaki is another option for this.
There are several kinds of large leaved greens that will work as wraps: Swiss chard, Cabbage, Collard Greens, or Kale for starters. You can use any, as long as the leaf is larger than your hand (palm to fingertips). You may even want to use a couple different types at a time, layering them before rolling them.
You can usually find larger leafed varieties at farmers markets, so best try there first.
I prefer using Swiss Chard for these. It is less bitter than some of the others and the color adds a bit of flare to the wrap. You can also cut the stalks you chopped off into sticks to add to your fillings, which we did here. Otherwise it makes a great addition to the pile of scraps in our freezer for our homemade vegetable stock.
Start by chopping the bottom of the stalk from the base of the leaf. Make sure you clean them well. Many times dirt can get trapped in the crevices of the leaves and you don't want to spend all this time preparing them just to bite into a gritty leaf. It would be like sharing a bag of chips at the beach with your 3 year old.
Steam them for 5 to 10 minutes depending on the size of the stalks. Make sure not to over steam them or the leaves themselves will fall apart as you try to roll them. . Steam those with larger stalks longer or put them at the bottom of the pile in the steamer.
- Don't have a steamer? Pile them on a large plate, splatter water in between each leaf, and microwave them for 3-5 minutes, longer if needed.
This step is the most important: You will need to rip the backbone out of the leaf. This can be tricky without tearing the leaf, but the tips below should help you do it like a pro after a couple tries
Before pulling and ripping the stalk from the leaf, put your hand down around the stalk (as pictured) making sure you put enough pressure down where the stalk branches out like veins into the leaf.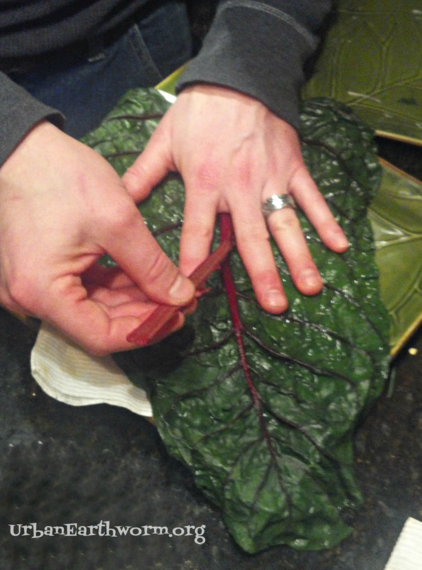 You don't need to remove the entire stalk. Just the part which gives it most of its strength. You also don't need to pull it off all the way to the tip of the leaf (and trying to do so will tear the leaf)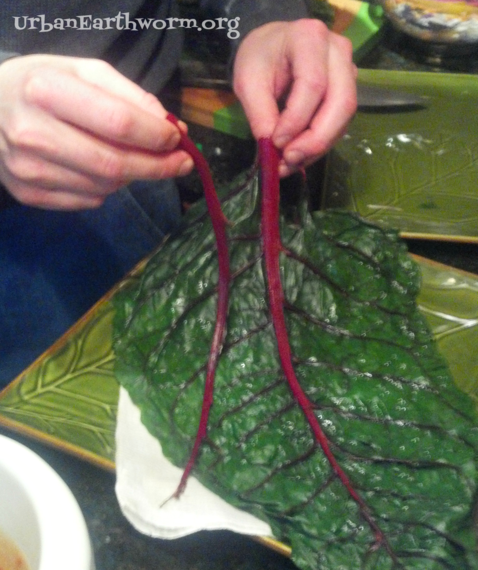 Hold up the leaf by the stalk (after steaming it) and you will notice right away at what point the stalk no longer supports the leaf or you may be able to simply look at it and tell where it isn't worth pulling it off. When the stalk is about the same size as those branching off into the leaf, you can stop there.2. Dry each side of the leaf off before adding fillings.
The secret art of filling and rolling your wrap:
Place fillings in wrap.
Pour 2 tbsp (or desired amount) of sauce over fillings.
Wrap
There is a big trick to this (another one)....add fillings moderately. Add too much and you won't be able to close it. If you have ever eaten at Chipotle or Moe's you've seen them wrap the ginormous burritos. The secret is in the method. When starting to wrap it, the fillings shouldn't be in the center of the wrap. They should be towards the butt of the leaf where you chopped off the stalk. This is where you will start to roll it. Also make sure the leaf is face down, stalk up. So you'll be putting fillings on the side you cut and ripped the stalk from.
Fold the sides over your fillings. Wrap over the end, slightly squeezing and folding the leaf under the fillings, then wrap the sides up and roll it. Don't just roll it down to the end. Roll it by pulling the remaining leaf under and keeping the roll tight. When it starts to cool, this will ensure the wrap sticks together and doesn't unfurl.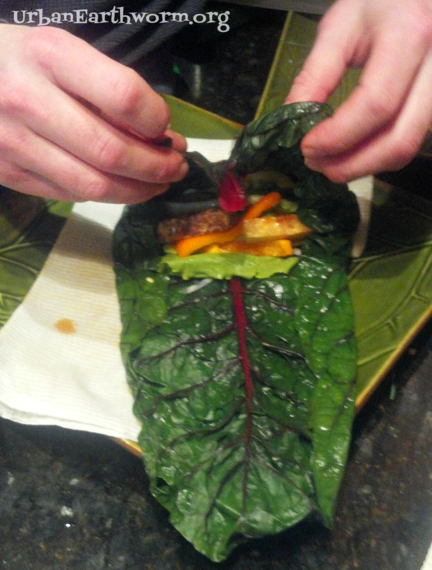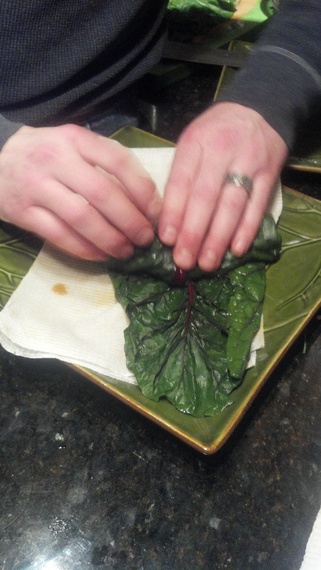 Finally, arrange it all artfully on a plate and soak up the adoration and praise from your happy, healthy family.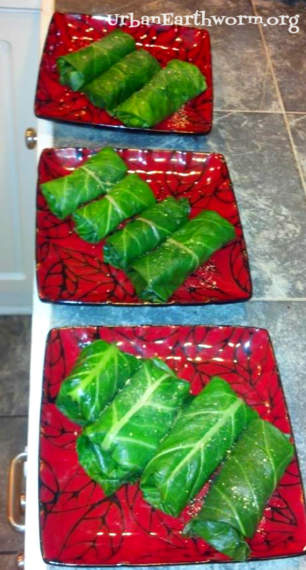 Bonus Tip for Packing Lunches:
Want to send you kids with a salad, but don't have a salad bowl or are afraid the dressing will drip out of the container? Wrap it up in a large romaine leaf by putting several small horizontal slits down the spine of the leaf so you can roll it. Wrap it properly and everything should be contained in the wrap. No forks necessary.
Related