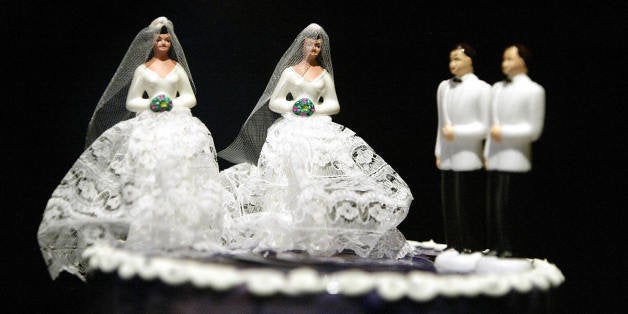 In 2013, Sweet Cakes by Melissa, a bakery in the Portland, Oregon-area, refused to bake a wedding cake for a lesbian couple. The reason given: doing so would violate the religious convictions of the bakery's owners.
Recently, the Oregon Bureau of Labor and Industries (BOLI), which enforces some of Oregon's civil rights laws, ruled, based on existing state law, that "businesses cannot discriminate or refuse service based on sexual orientation, just as they cannot turn customers away because of race, sex, disability, age or religion."
The decision was, in fact, perfectly appropriate. From a legal standpoint, the decision affirmed the obvious: that the civil rights of Laurel and Rachel Bowman-Cryer had been violated and that they were entitled to appropriate compensation after being denied service at the bakery because of their sexual orientation.
Nowhere does the Constitution allow businesses to discriminate against others for religious reasons. That is not to say such arguments have not been made and even worked in the past. Many segregationists argued that their Christian faith required that they not serve African-Americans in restaurants and other establishments.
The Klein's are trying to resurrect an argument that groups like the White Citizen's Council(s) and Ku Klux Klan used as the legal framework for white supremacy.
As a minister in the United Church of Christ, I find discrimination against gays and lesbians intolerable. The Klein's are free to disagree with my belief that gays and lesbians are created in the image of God and are deserving of all the legal protections available to straight couples. But no business owners have any right to use faith as a legal excuse for discrimination. African-Americans, Jews, and women have all been discriminated against in the past in the United States for religious reasons. This century we have added gays and lesbians to that list.
Thankfully, we begun to reverse that trend, but groups like the Family Research Council are fighting back.
This summer a resolution was adopted the General Synod of the United Church of Christ that called on our local churches to fight new discriminatory laws that target the LGBTQ community with the intent of robbing any "persons of any sexual orientation, gender identity or gender expression of the security that they will not be denied services, employment or even a place to live on the basis of their sexual orientation, gender identity or expression, or marital relationship."
Commissioner Avakian has represented the people of Oregon well during this process and brought about a measure of legal justice for Laurel and Rachel Bowman-Cryer.
Aaron and Melissa Klein and their supporters, on the other hand, have misrepresented the essential teaching of the Christian church. Our greatest commandment is to love our neighbors and to love God. You cannot achieve that faithfully when you place a "gays not welcome" sign in your window.
In this case, a cake is worth your soul.
Calling all HuffPost superfans!
Sign up for membership to become a founding member and help shape HuffPost's next chapter