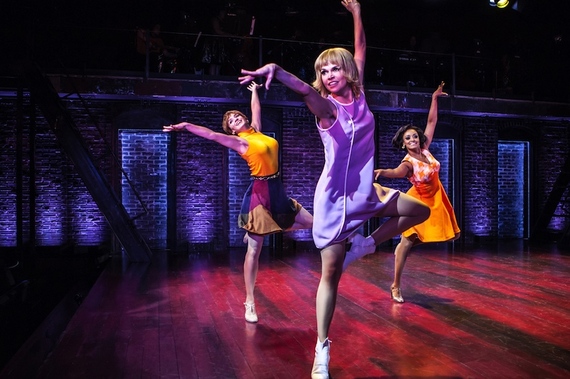 By Jil Picariello, ZEALnyc Theater Editor, December 2, 2016
When they build the musical theater equivalent of Mount Rushmore, I know who one of the faces will be. My only complaint about the inimitable Sutton Foster is that I have a hard time figuring out what she does best. Flawless dancing? Check. Stunning singing? Yup. Hilarious physical comedy? For sure.
But the thing that puts the cherry on the Foster cupcake (and makes her latest, a small-scale revival of the 1966 Cy Coleman-Dorothy Fields-Neil Simon musical Sweet Charity, so brilliant) is that while doing all that singing and dancing and laugh-generating and even gymnastics (just watch this), she manages to imbue every moment with a depth of character that most performers don't attain even without the high kicks and tumbles. The psychological and emotional progression of the story doesn't stop for the musical numbers, rather, thanks to Foster, they are expanded by it.
This revival is not as sweet as Charity usually is. Director Leigh Silverman, has reconfigured things a bit. The big brass band of an orchestra has been whittled down to a six-member all-woman band. She has re-inserted some of the Fellini grit from the source material, the 1957 film about a hopeful hooker, Nights of Cabiria. The film became the 1966 Broadway show directed and choreographed by Bob Fosse and starring his then wife, Gwen Verdon, as the goofy and good-hearted dime-a-dance girl, Charity Hope Valentine. The show then morphed into a 1969 film directed by Fosse and starring Shirley Maclaine. And now the New Group has taken on the task, with a modest stage, pared-down set, and reduced cast that somehow manages to make you believe there are about three times more of them than there are.
This Charity, like all the others, is an irrepressible romantic. But unlike her predecessors, she has begun to suspect that something may have gone seriously wrong. Director Leigh Silverman has wisely amped up the sorrow at the center of all that singing and dancing, a smart move in a time when a musical about a woman who is taken advantage of and serially used by men might not seem so hilarious.
She's also moved the deeply affecting song, "Where Am I Going?" to the close of the show, and jetissoned the positive-attitude ending of the original and the movie, both of which closed with the words "And so she lived hopefully ever after" before us.
The performances are uniformly superb, with well-deserved shout-outs to Joel Perez who plays four different characters with such remarkable distinction that I didn't realize until I looked at the program that it was Perez in every role. Nikka Graff Lanzarone reveals similar skill in a passel of female roles, and Asmeret Ghembremichael and Emily Padgett are terrific as Charity's friends and fellow dance hall pals, Nickie and Helene. They help Foster turn the show's most memorable number, "Big Spender," from a sexy come-on into an angry, dark dare. And, of course, the always-welcome Shuler Hensley is marvelous as Charity's sad-sack schlub of a boyfriend Oscar, who captures, and then breaks, her Tootsie Pop heart.
My only quibble is the ratty shag wig and pale lavender dress that Clint Ramos has designed for poor Charity. Yes, I know she's not a princess. But did they have to try to make her look like she's been sleeping in the gutter? She's a dime-a-dance girl, not a charwoman.
But minor, I know, next to everything this production brings to the stage. There's talk of it moving to Broadway in the spring, and I hope it does. A bigger stage won't dampen this Charity's charms, it will only expand them.
Sweet Charity presented by The New Group at Pershing Square Signature Center, 480 West 42nd Street through January 8, 2017. Running time: 2 hours and 20 minutes with one intermission. Book by Neil Simon, music by Cy Coleman, lyrics by Dorothy Fields. Directed by Leigh Silverman; choreography by Joshua Bergasse; scenic design by Derek McLane; costume design by Clint Ramos; lighting design by Jeff Croiter; sound design by Leon Rothenberg; wig and hair design by Charles G. LaPointe; make-up design by Joe Dulude II; orchestrations and music supervision by Mary-Mitchell Campbell; music direction by Georgia Stitt; production supervisor by Production Core; production stage manager is Valerie A. Peterson.
Cast: Sutton Foster (Charity), Yesenia Ayala (ensemble), Darius Barnes (ensemble), James Brown III (ensemble), Asmeret Ghebremichael (Nickie), Shuler Hensley (Oscar), Sasha Hutchings (Rosie / ensemble), Donald Jones, Jr. (ensemble), Nikka Graff Lanzarone (Ursula / ensemble), Emily Padgett (Helene), Joel Perez (Herman / Vittorio / Daddy Brubeck), Cody Williams (ensemble), and Ryan Worsing (swing).
Cover: Emily Padgett, Sutton Foster, Asmeret Ghebremichael 'Sweet Charity'; photo: Monique Carboni.
_______________________________
Jil Picariello ZEALnyc's Theater Editor writes frequently on theater and culture.
For more features from ZEALnyc read:
For all the news on New York City arts and culture, visit ZEALnyc Front Page.
Calling all HuffPost superfans!
Sign up for membership to become a founding member and help shape HuffPost's next chapter