One trendy restaurant is bringing a whole new meaning to the term "sourced locally."
"Before my friends and I got seated we saw them quickly bring in two large boxes of Popeyes to the kitchen," Tyler wrote last week. "...I kindly asked our waiter how they cooked their fried chicken. After checking he admitted that they do in fact use Popeyes."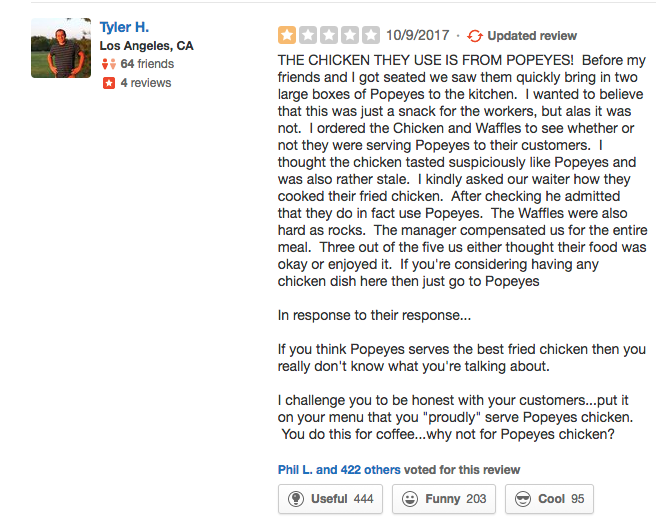 "We've always let it be known that we serve Popeyes," supervisor Devon Lee told HuffPost, saying the fast food chain's name doesn't appear on Sweet Dixie's menu because of copyright laws.
Sweet Dixie has been open for four years but has only serving fried chicken for about two months, Lee said, adding that the restaurant doesn't have a deep fryer because it's located in a historic building with residents living above. Getting city approval to install a deep fryer could take years, and getting the proper fan systems to accommodate the residents would cost at least $75,000, she added.
"People came in all the time asking about fried foods, because when you come to a Southern restaurant that's what you expect on the menu," she said. "[Popeyes] was the easiest and best option, because Popeyes chicken is actually really good."
She said Sweet Dixie plans to cite Popeyes on their menu, but is waiting on approval from the local franchise first. For now, she said, waiters are telling customers who order fried chicken that it isn't fried in-house, so they can choose something else if they want.
The Popeyes where Sweet Dixie buys its chicken is less than a mile away. A worker at the location declined to comment and told HuffPost to contact Popeyes's corporate office, which has yet to respond to a request for comment.