The annual holiday hullabaloo used to start in the US right after Halloween like every other year. However, it starts much earlier now.
With packed shopping malls, extra responsibilities like gift shopping and wrapping, making and sending holiday cards, decorating homes and gardens, doing community work, throwing a holiday party and financial pressures, most people say their stress level climbs around the winter holidays.
Even though the US is one of the religiously the most diverse nation in the world, the "holiday season" is mostly a "Christmas season." It is impossible to get away from the persistent reminders of Christmas, with spectacular Christmas decorations and Christmas music playing constantly everywhere you go, the repeatedly running TV and radio commercials about what to buy for Christmas gifts, Christmas carols, photos with Santa, Christmas movies and shows, etc.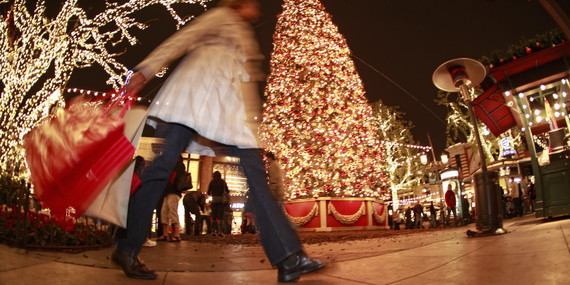 On the other hand, during the holiday season, it's hard to keep ourselves on a healthy diet. Everywhere we go, chocolates, candies, cookies, pastries and desserts are waiting for us. Yet the last couple of winters, there has been another astonishing taste amidst all of the sweet holiday festivities: ashura, or Noah's Pudding.
The word ashura itself means "tenth" in Arabic, and ashura, Noah's pudding, is traditionally cooked on the 10th day of the Islamic month of Muharram. The Islamic calendar is lunar, so the Day of Ashura can vary depending on the observations of the moon. This year, Muharram started on October 13, so the 10th day of Muharrem was October 23.
According to Islamic sources Ashura is also a day of other great historical significance. God granted His special offerings to 10 prophets on this day in different years in history like the creation of the world, the repentance of Adam after his exile from Paradise, the joy of Moses crossing the Red Sea, the wonder of the birth of Jesus...
Making Noah's Pudding is a common practice among Muslims and Christians in the Middle East. To commemorate the Prophet Noah, people make and distribute it to their neighbors and friends. Thus, it has become a symbol of sharing, love, peace and compassion, and a great way to enrich and strengthen neighborliness. Since sharing food offers a way of reaffirming the essential relationship of one human to another regardless of faith, race or color, it is also a very gracious way to develop the unity in one's neighborhood and improve dialogue between cultures.
While everybody is enjoying the holiday spirit, it's a privilege to offer different tastes and aromas to enrich the diversity in the society. It's a great coincidence to have Noah's Pudding rituals right before the holiday season because it's essential during this season to celebrate a variety of holidays so that people -- especially children -- feel valued. It also helps children to build respect for the differences in religious holidays and festivals while also drawing connections on how they are similar as the thematic framework is the same in every religion: peace, gratitude, mercy, compassion. Educating children about different religions is like being multilingual: When you are multilingual, you can connect with more people. If you open your eyes, hearts and minds to all religions, you can understand one another better and your connections with others deepen.
Think about it: Ashura is made of dry legumes, dried fruits, nuts and sugar. By themselves, all those ingredients are good enough to eat, but when they are all put together they still maintain their original taste but become part of a sweet dessert. Just like us. Some are excellent, some are fine and some struggle to remain good. By ourselves we are OK, but when we come together with all the effort to understand one another, to tolerate, love and respect one another, we complement one another, and the world becomes a better place to live. Don't you think it's true? Or is it just a sweet dream?
For more Arzu Kaya-Uranli click
Calling all HuffPost superfans!
Sign up for membership to become a founding member and help shape HuffPost's next chapter