I met my equivalent of Pope Francis at the Gala celebrating the 125th Anniversary of Rock Creek Park in Washington, DC last Saturday night, Sept. 26.
The feelings of joy and relief that coursed through me all week as I watched the Pope in America offering words of healing and performing acts that remind us of our common humanity grew even more intense when I found myself standing beside the great E. O. Wilson. As members of the Green Ribbon Panel helping to re-envision the future for Rock Creek Park, I was in heaven as I had a chance to talk to my long-admired hero, the originator of the "biophilia" hypothesis.

Dr. E. O. Wilson, (6th from left) stands out in the distinguished Green Ribbon Panel of environmental leaders focused on the future of Rock Creek Park.
Still youthful in his late 80s, the world-renowned sociobiologist, prolific author and lecturer manifests a childlike sense of enthusiasm and wonder which put me in mind of the Pope. To experience these two men - one from afar and one up close - who wear their age so gracefully and whose optimism has not been compromised by the challenges in their lives gave me renewed pleasure in my own life.
It made me feel more confident that I can accomplish my personal goal of helping my fellow Americans wake up to the realization that nature is the expression of the "God" we claim to love, and that we have an urgent responsibility to address the damage we've caused.
Standing next to Dr. Wilson at the reception preceding the Gala at the Sidwell School (where the Obama young ladies are getting their education) I told him how often I've referred to his hypothesis, especially speaking to urban-based communities about our environment.
"Everyone seems to light up when they hear that we need nature not just for recreation, but as you say, because it's in our genes," I told him. "It just seems to make common sense."
Then my husband Frank mentioned that he saw Dr. Wilson on an ESPN special talking about how he's studying our obsession with football as an illustration of our tribal tendencies to think and act in terms of "us" vs. "them."
"You saw that?!" Dr. Wilson chuckled delightedly. "And you know, when they were filming the segment they gave me the football to throw, and I gave it my best shot, and the ball went floppity, flopppity, flop."
"Like a wounded duck?" Frank said.
"Exactly," said Dr. Wilson, and they both roared with laughter.
To see these two American men - both born in Alabama less than 10 years apart, with vastly different experiences as a result of race and class - having such a wonderful spontaneous time together reaffirmed my faith in my adopted country.
Among many other attributes the Pope and Dr. Wilson share, they are both presenting an urgent call to the world to wake up and respond to the peril that we're facing from human caused climate change. They're calling the entire world, not just people of one race, socio-economic group or country - ALL.
Here in America where care for the environment and nature is so often linked to one race, it is heartening indeed to see that African Americans are responding with alacrity to the crisis.
In just a few weeks I've witnessed:
- Among the affluent crowd of approximately 400 gathered at the Gala, the announcement of a $1 million dollar gift to the Conservancy came with the picture of the philanthropist grantor who founded Project Realize in 2010 to "test the hypothesis that successful businesses need access to human capital for continued development and growth."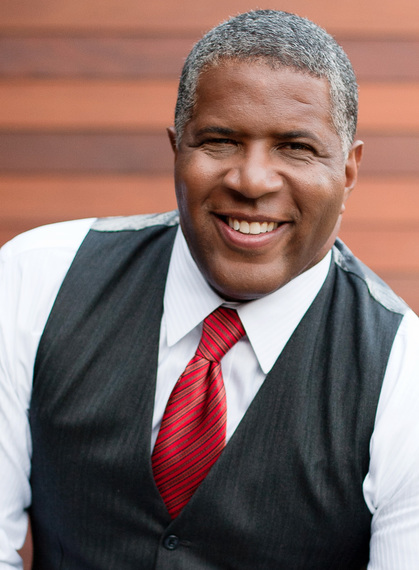 Robert Smith's $1 million grant to Rock Creek Conservancy will be used to connect young people with the park's natural and cultural resources, creating the next generation of park stewards.
- The Congressional Black Caucus 45th Annual Legislative Conference Sept. 16-20 included eight sessions on the environment focused on climate, energy, public lands and sustainability. As a follow up Congressman Alcee Hastings wrote an OpEd in The Hill newspaper championing his colleagues' support for reauthorization of the all-important Land and Water Conservation Fund.
- GirlTrek, a non-profit organization whose mission is to "activate Black women as change makers in their communities, through walking," is making progress toward its goal of one million neighborhood walkers.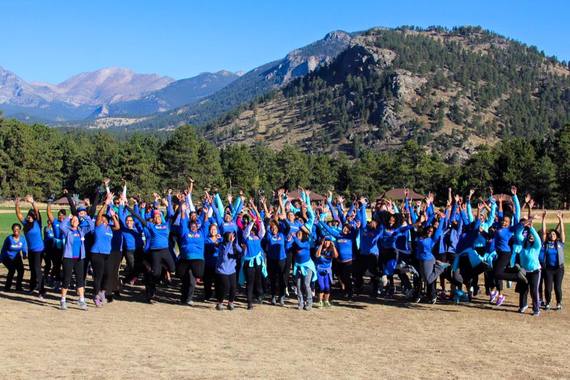 Members of GirlTrek 2015 Service Corps in Rocky Mountains National Park. Bree Grant photo.
- Former NFL player Darryl Haley is teaming with the National Park Service's Healthy Parks Healthy People to present a series of concerts at national parks in Washington, DC, and you can join him Oct. 17 in Rock Creek Park. The concert will benefit trails and the Carter Baron Amphitheater Refurbishing program in the park.
As both the Pope and Dr. Wilson make clear, OUR PLANETARY HOME IS IN DISTRESS!! (You can catch Dr. Wilson in a special on PBS tonight, Sept. 30.) It's up to us to help lead an enlightened response. I'm so happy to see that in the ways I've related and a myriad others, members of the African American community have taken up the charge and are in the forefront of leadership.
Calling all HuffPost superfans!
Sign up for membership to become a founding member and help shape HuffPost's next chapter