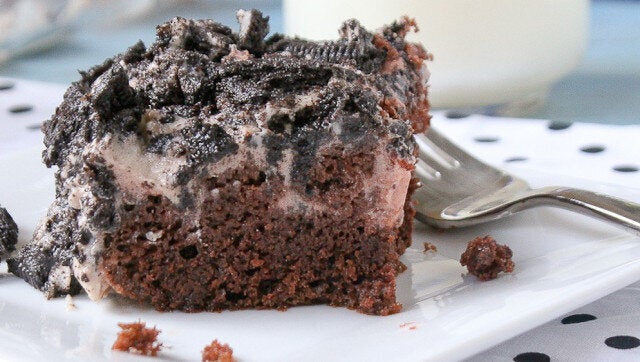 In the now cult-classic Willy Wonka, Gene Wilder played a reclusive genius who simply wanted to be understood for his passion for candy. While Ron Ben-Israel (a.k.a. Chef Ron), host of the Food Network's mega-hit Sweet Genius is neither reclusive nor shy... he is admittedly quirky with just enough of an edge to make us wonder what is he really thinking.
In truth, during a recent sit-down-and-show-me-your-sweet-tooth discussion, Ron was a pure delight with a sense of humor that quickly endeared him to me as well as everyone he meets.
Joshua Estrin: At a time when the battle cry for healthy eating seems to drown out anything decadent... why do you think the sweet tooth prevails?
Ron Ben-Israel: I think it is a simple formula... People do need to stay healthy and eat right to keep the body fit and functioning. But, our sweet tooth is a part of this wonderful machine, so we have to honor it and spoil it from time to time... to time.
JE: We know you as the guru of pastry, cakes and beyond. You are clearly not afraid to push the limits with your creations, but have you ever questioned if you could actually bring a vision to reality?
RBI: Part of the joy in the creative process is figuring out just how I am going to make it happen. I often have clients with grand expectations, and it is not my job to offer excuses as I am the guy they come to for solutions. So, reality is what you make of it, and I just happen to have a knack for making it work with sugar and frosting. I can't think of a better way to bring reality to an entirely new level. The best part? If something doesn't work out the first time... I get to eat the prototype!
JE: You clearly have a refined palate, but do you ever join with mere mortals and eat the hardcore candy that we all know and love?
RBI: Of course! If it comes in a wrapper with chocolate and peanut butter, I am sure to make sure it finds a way into my world.
JE: What do you think is behind the huge success of Sweet Genius?
RBI: Well, I would like to think it is all because of the remarkable host (he laughs). But, in reality it has so many of levels to it that I believe it appeals to a very wide range of viewers. It is partly like a gladiator's ring, and I am just throwing candy to the lions. The contestants play to win and so the competition is definitely real and people connect to that. For the true foodies, the creativity and expertise is remarkable as these chefs spin straw into gold (literally), and I must admit often their creations are inspiring. Of course, the lure of watching someone win $10,000 in less than an hour has a certain attraction to it as well. We don't wait weeks to crown a champion. So, like eating, it is all about the instant gratification.
JE: What do you think is the greatest misconception people have about you?

RBI: Misconception? I imagine I appear very outgoing, and I do enjoy people and parties and being involved in life. I am also a very private person, and I value my quiet time. I think people assume I am just a party animal, and in truth I need to recharge my battery just like everyone else.
World-renowned cake decorator, Ron Ben-Israel, is back for the third season of the whimsical and delicious competition series Sweet Genius, premiering Thursday, October 18th at 10pm ET/PT on Food Network.