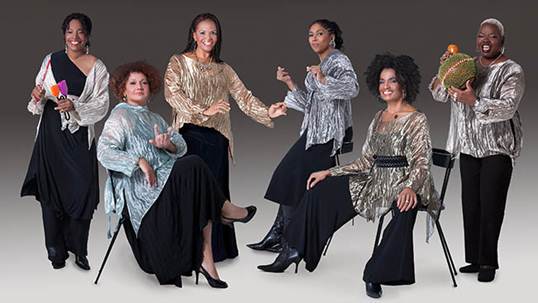 Sweet Honey In The Rock (photo courtesy of Sweet Honey In The Rock)
Sweet Honey In The Rock is coming to B.B. King's on March 5th. It's been 39 years since this all female African-American a cappella group was formed and for four decades the group has been singing out for justice, truth and entertaining, educating and empowering audiences. The only difference between now and 40 years ago is that the present audiences now include three family generations.
"Their genres of music have expanded," says Dr. Ysaye Barnwell, singer, composer, arranger, author and master teacher who has been with the group for 34 years. "The subject matter has also expanded as individual members and the group seek to articulate what is important: domestic violence, immigration, hazards of work, greed, education, HIV/AIDS, respect for elders and ancestors, issues of growing up, spirituality and racism, for example."
I recently caught up with Dr. Ysaye Barnwell, whom I'd met a couple of years ago at an Omega Institute singing workshop. Fortunately, she had enough time to answer a few questions.
Can you name two or three songs that you will be singing at B.B. King's next week?
"Sabumoya" (Miriam Makeba), "Come Ye" (Nina Simone), "Another Man Done Gone" (Odetta) and a medley of songs from the Abbey Lincoln repertoire.
Is there a difference when you play in a smaller venue as opposed to a huge house?
We enjoy the intimacy of smaller venues and they work well for the tribute shows.
Do you think Sweet Honey in the Rock has been able to effect change in peoples' attitudes?
I can only answer based on individual responses from audience members. What they have reported includes comments like: I didn't know about a particular issue or person; I came feeling down and left uplifted; I'm going to vote, etc. People often talk about feeling affirmed by the music, feeling as if we have articulated their position on particular issues.
You sing a cappella, but you also play a number of hand percussion instruments. Are they all African? How do they enhance the music?
They are not all African but they give rhythmic authenticity to what we are singing.
Are you as well-known abroad as you are here in the States?
There has been a bit of an hiatus in which we did not tour internationally but we are getting back in the stream with upcoming concerts in London, Ghent, Oman and three cities in Australia and we're currently booking more international venues.
On stage, you always have an interpreter who "signs" for the hearing impaired. When and why did you decide to have a "signer," and have you had a signer with the group since its inception?
When I came into the group I was (among other things) an interpreter training to be certified. During the 70s, the women's movement took the lead on accessibility, wanting child care during concerts, sign language interpreters for events, wheel chair access and seating, etc. Bernice Johnson Reagon, a Sweet Honey founder, asked me to audition for the group after seeing me sing and sign during a church service. Because it is not possible to interpret for a group of five singers like Sweet Honey and sing as well, I recommended Shirley Childress who has been our interpreter since 1980.
Are you the only group to have a signer?
Several groups have had interpreters but none consistently for as long as Sweet Honey. Sweet Honey's audience and community come from diverse backgrounds and cultures throughout the United States and around the world and includes people of all ages, economic, educational, political persuasions, religious affiliations, sexual preferences and differing abilities. We committed to working with a sign language interpreter and to advocating for access as a matter of practice.
Is there a recent defining moment for Sweet Honey?
Well, we are about to celebrate 40 years in the fall of 2013, but I will be retiring from the group at the end of May 2013. The group has had 23 members and I was number 15. I'm excited to see who will be number 24.
I was sorry to hear that Ysaye Barnwell is leaving, but at least I'll have a chance to hear her along with the other Sweet Honey in the Rock members: Nitanju Bolade Casel, Aisha Kahlil, Carol Maillard, Louise Robinson, and Shirley Childress Saxton (sign language interpreter).
Calling all HuffPost superfans!
Sign up for membership to become a founding member and help shape HuffPost's next chapter