The Urban Dictionary defines "meet-cute" as "a scenario in which two individuals are brought together in some unlikely, zany, destined-to-fall-in-love-and-be-together-forever sort of way (the more unusual, the better)." While the initial premise often seems delicious, complications are what provide the situation with added drama. If real life is messy; love can be even messier.
Although many of these stories are marketed to the public for the upswing of the story cycle (when two people meet and start to feel all tingly about each other), they often fail to mention the downside of the story. That's when the sweet high of infatuation evaporates and its bubble of giddy delight bursts as a result of meddling by jealous friends or the brutal facts of real life.
Are you the kind of person who is always up for the ride? Or have you become sufficiently jaded to wait and see if a romance will really pan out and mature into the real-life challenges of commitment, cohabiting, and maybe even (God forbid) honoring the traditional vows of marriage.
Sometimes the truth comes as a big surprise to young lovers. Although the sex may be great and their hearts might be in the clouds, they might just be better off letting the latest love of their life become a treasured friend, instead.
Someone who cares enough about their dreams to help them come true.
Someone who will try to save them from bouts of self-destructive behavior
Someone who will actually look out for their best interests.
During the 2007 San Francisco International Film Festival, the newly-appointed executive director of the San Francisco Film Society, Graham Leggat, enthusiastically introduced an independent film from Ireland that he claimed had touched him like no other film he'd seen in his life. Written and directed by John Carney and made on a shoestring budget of approximately $160,000, Once starred Glen Hansard and Markéta Irglová as two Dubliners down on their luck. The Guy was a busker who (when he wasn't playing guitar and performing his songs on Grafton Street) repaired vacuum cleaners at his father's appliance shop. The Girl was a Czech immigrant who sold flowers and played piano in a music store.
Following its theatrical release, the movie's hit song, "Falling Slowly," won the 2007 Academy Award for Best Original Song. Once also won the 2008 Independent Spirit Award for Best Foreign Film.
The film's two stars became romantically involved during the North American promotional tour for Once and settled into Hansard's Dublin flat. They eventually separated and moved on to a different type of relationship (touring for several years as a folk rock duo named The Swell Season).
A stage adaptation of Once had its world premiere in 2011 at the American Repertory Theater in Cambridge, Massachusetts. The show opened on Broadway in 2012, was nominated for 11 Tony Awards and won eight (including Best Musical). Subsequent productions have been staged in Dublin, London, and Melbourne, Australia. As with the film, the stage version has developed a loyal following.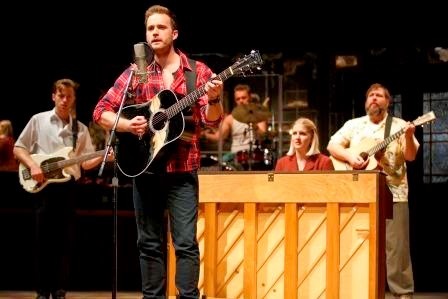 Stuart Ward as the Guy in Once (Photo by: Joan Marcus)
The U.S. national tour of Once (which began in Providence, Rhode Island) recently landed at the Curran Theatre in San Francisco. As someone who had been severely underwhelmed by the movie when I saw it at the 2007 San Francisco International Film Festival, I was curious to see how the story would work onstage. Much to my surprise and delight, I found it to be a vastly improved experience. Although the basic material still seems slight, live theatre can sometimes be a much more conducive medium for a dangerously thin love story than a low-budget film.
Working with a libretto by Enda Walsh, director John Tiffany has dramatically altered the storytelling process for Once (and for all). Prior to the show, audience members are given a chance to come up onstage and order drinks from the bar at the back of Bob Crowley's unit set for a Dublin pub. As Tiffany explains:
"My dad used to play in a brass band back in Yorkshire. He would take me to very drunken evenings with him and his band mates. They would go on competitions and then we would go back to the band room and everyone would do their song. There was something about the way working class men could communicate through music in a way that they couldn't in words. That's where I came up with the idea of having a bar onstage, the actors singing songs as the audience arrived, and the audience being able to go onstage and get a drink from the bar."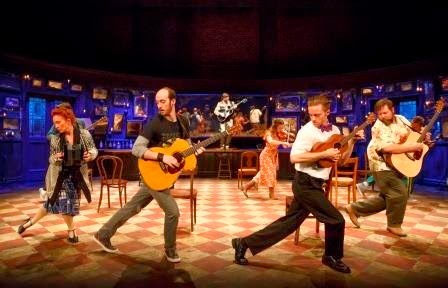 A scene from Once (Photo by: Joan Marcus)
This simple gimmick of breaking down the fourth wall gives the audience a greater sense of emotional buy-in to what follows. It allows people to feel as if they're looking in at "their" pub with a sense of ownership. It also allows them to occasionally feel as if they are attending a concert, rather than a drama.
Crowley's inclusion of a space above the bar for digital Surtitles (which are used to translate the Czech spoken by various actors) works as well in the Curran as it has in opera houses since Lotfi Mansouri introduced the technology at the Canadian Opera Company in Toronto during its January 1983 production of Elektra.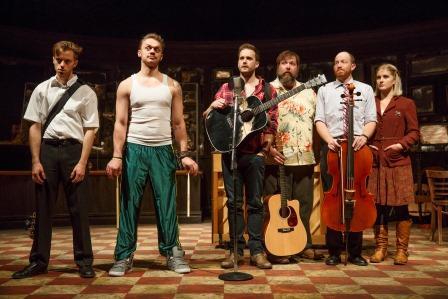 Members of the Once ensemble (Photo by: Joan Marcus)
Once the performance begins, an ensemble of multi-talented musicians (the kind that were once called "triple threat" performers) becomes a singing, dancing, acting, and music-making storytelling unit. Thanks to the powerful contribution of movement coach Steven Hoggett (who has obviously worked with the cast to develop specific bits of body language for each character) and Tiffany's masterful economy of action in moving props around the stage (as well as the audience's focus), this version of Once does a splendid job of reaping a great deal more entertainment from a small amount of source material than the film did.
Raymond Bokhour drew empathy as the Guy's soft-hearted father, with Benjamin Magnuson scoring points as a bank manager with musical aspirations and Evan Harrington charming the audience as Billy (the manager of the music store where the Girl plays the piano). Among the ensemble, I was particularly impressed with Matt DeAngelis as the pugnacious Svec; Alex Nee as Andrej (the burger boy who anticipates being promoted to a managerial position); and Claire Wellen as the Girl's mother, Reza.
At its heart, Once might seem like a meet-cute love story. Deeper down, however, it is the tale of one musician being able to recognize the manifestation of another musician's insecurities bubbling to the surface and help him overcome his doubts and self-loathing in order to achieve his personal and professional goals. Songs such as "Leave," "Broken Hearted Hoover Fixer Sucker Guy," and "When Your Mind's Made Up" hold a powerful grip on the audience. Thankfully, the show's hit song, "Falling Slowly" does not feel like quite the cloying ear worm it did in the film.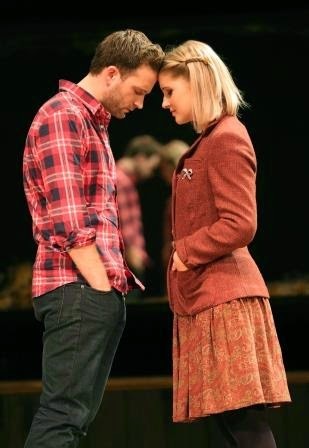 Stuart Ward and Dani de Waal fall in love in Once
(Photo by: Joan Marcus)
The bulk of the evening rests on the shoulders of Stuart Ward and Dani de Waal as the two musicians who fall in love and slowly come to realize that tending to the responsibilities of their previous relationships is more important than consummating their current romance. Both have strong appeal and are excellent in their roles, with Ms. de Waal adding a particularly dry and blunt kind of humor to the evening as a "very serious" Czech. Here's the trailer:
Coming-of-age stories come in all sizes and flavors. Brazilian filmmaker Daniel Ribeiro (You, Me and Him) has come up with a new and emotionally charged permutation. In many ways, the protagonist of his film (The Way He Looks) is a typical teenager.
Leonardo (Ghilherme Lobo) is curious.
Leonardo has a loving relationship with his grandmother.
Leonardo has grown up with a best friend, Giovana (Tess Amorim), with whom he shares his secrets.
Leonardo is constantly pushing back against his overprotective mother, Laura (Lucia Romano).
Leonardo craves his independence.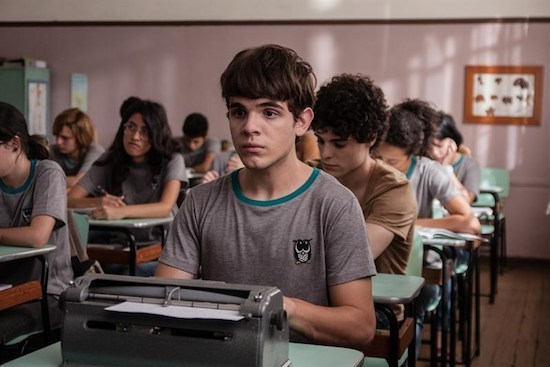 Ghilherme Lobo stars as a blind teenager in The Way He Looks
The big difference is that Leonardo is blind. Even without being able to see his fellow schoolmates, he is slowly starting to realize that he is also gay.
At his high school in Sao Paolo, Leo is frequently teased and bullied by assholes like Fabio and Guilherme (Victor Filgueiras). Giovana often runs interference for him and helps Leo when he needs special assistance (like getting information on a student exchange program that might help him spend some time in another country, far away from his helicopter parents).
One day, after their teacher has sent Guilherme to the principal's office, a new student arrives from a rural town. After Gabriel (Fabio Audi) is assigned to the seat behind Leo, the possibility of making a new friend is intoxicating to the blind student. Giovana, however, is also attracted to Gabriel.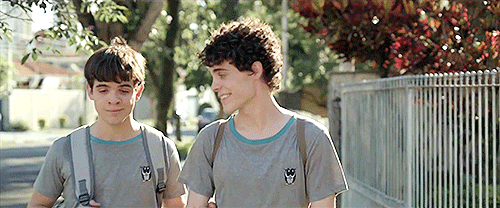 Ghilherme Lobo (Leonardo) and Fabio Audi (Gabriel)
in a scene from The Way He Looks
As the two boys start to bond, Giovana begins to feel as if she is being ignored by Leo. The more jealous she becomes, the more she starts to act out, eventually giving her best friend the silent treatment for some perceived insult that neither Leo nor Gabriel can comprehend.
When Gabriel and Leo get paired up to work on a school project (and Gabriel is welcomed into Leo's home with open arms), Giovana feels even more alienated. As he becomes better able to understand Leo's needs, Gabriel inadvertently helps Leo push past previously unchallenged boundaries. He introduces Leo (who only likes classical music) to some popular songs by his favorite band - Belle and Sebastian - and also teaches Leo how to dance.
However, when Gabriel convinces Leo to come to a class party, tensions quickly erupt. Just as Leo and Gabriel start to dance, another girl in their class, Karina (Isabel Guasco), pulls Gabriel away. Later that evening, when the kids at the party play "Spin the Bottle," Fabio mischievously substitutes Karina's pet bulldog for the girl Leo is supposed to kiss. Although still angry at Leo, Giovana rushes to rescue her friend from potential humiliation.
Later, when a slightly inebriated Gabriel unexpectedly plants a kiss on Leo's lips, it rocks the blind boy's world. Several days later, when Fabio and his friends start teasing Leo as he leaves school with his hand resting on Gabriel's arm for guidance, Leo's response comes as a rude shock.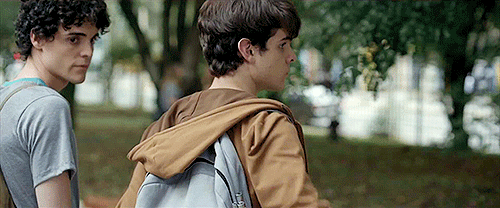 Fabio Audi (Gabriel) and Ghilherme Lobo (Leonardo)
in a scene from The Way He Looks
One night, Gabriel even convinces Leo to sneak out of his home so the two can watch the lunar eclipse and go for a late-night spin on his bicycle. When Leo gets parental permission to join his classmates on a camping trip, not only does he end up with a terrible cold, the tensions between him, Giovana, and Gabriel intensify.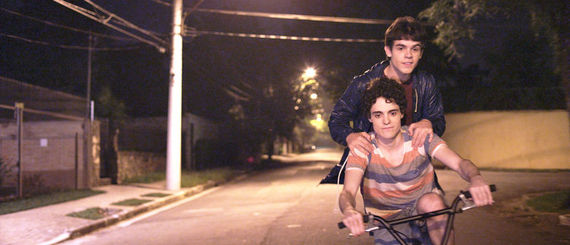 Fabio Audi (Gabriel) and Ghilherme Lobo (Leonardo)
in a scene from The Way He Looks
In the following video, Ribeiro and his lead actors discuss some of the challenges they faced in filming The Way He Looks (one can't help but notice how much Ghilherme Lobo looks like a teenage version of Matt Damon).
One of Ribeiro's best touches offers a new twist on the traditional locker room shower scene. Gabriel convinces Leo (who always showers alone at home) to take a shower at school. What Leo can't see is the reaction after he drops his towel and Gabriel springs a boner. To cover for his embarrassment, Gabriel tells Leo that he's done showering and has to go dry off.
While Ribeiro's film is anchored by Ghilherme Lobo's powerful performance as Leo, it offers audiences an endearingly provocative combination of coming-of-age and coming-out stories filled with tenderness, vulnerability, teenage angst, and a new awareness of what it must be like to be young, gay, and blind.
The Way He Looks had its world premiere at the 64th Berlin International Film Festival, where it received a FIPRESCI Prize as well as the Teddy Award for Best LGBT film. It's a hands-down triumph for Ribeiro and his cast. Here's the trailer:
REAL LIFE. REAL NEWS. REAL VOICES.
Help us tell more of the stories that matter from voices that too often remain unheard.