Laura Sawicki is a pastry chef, but she's also a creative artist. This year, she received a coveted James Beard recognition, and that doesn't happen in the pastry world unless you're using dessert as your canvas. She has an artist's obsessiveness, too. "My creative process is somewhat involved," she told Texas Monthly earlier this year. "I do a lot of reading, sketching, obsessing, overanalyzing and recipe testing. Then, I toss all that work out the window and start from scratch."
Sawicki's elegant, creative, modernist desserts are perfect for Austin, Texas' quirky, experimental food scene, a creative laboratory where eccentric chefs shine. For several years, she teamed up with acclaimed chef Rene Ortiz, first at La Condesa, an outstanding Mexican restaurant, and then at the groundbreaking Thai fusion joint Sway. Earlier this year, Sawicki and Ortiz parted ways with those restaurants and are planning to open their own place next year that will include, among many other delights, Szechuan takeout and Sawicki serving up ice cream "by the scoop." This is a dream made real for her.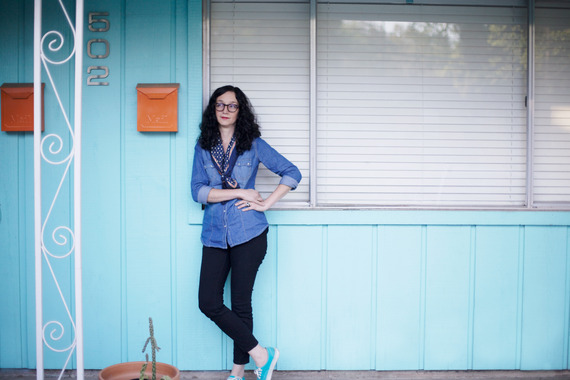 "I eat strawberry ice cream for breakfast," Sawicki told Zagat earlier this year. "This is strange, but I like to taste my ice cream first thing in the morning, when my palate is completely uninhibited. So I pull out all the ice creams and taste them at 7 o'clock in the morning. There's that freshness because I haven't had anything else to eat yet, and there's nothing getting in the way of sheer flavor."
Sawicki got her inspiration to become a pastry chef while flipping through a copy of Gourmet magazine at a doctor's office. She was working as an administrative assistant at an art gallery, feeling unfulfilled. Within a few years, she worked her way to the top of the field, pulling endlessly brutal 12- to 15-hour days.
A career in pastry "isn't for everyone," Sawicki told Austin Woman magazine this summer. "It's not the romantic stuff you see on television; it's definitely sensationalized and painted in a very glamorous fashion." At the same time, she says, the hard work of cooking can lead to the greatest joys imaginable. "There is that simple pleasure that we get feeding other people -- that connectedness to a community, to friends, to family. Food is ultimately a conversation. Whether they're strangers or loved ones, it really just unites people."
Popular in the Community