Sweet or savory? Is that like sugar or spice? We'll take spice every time, though a little sugar can help sweeten the deal. Savory ice cream flavors are sweeping the nation as part of a trend that we at Eat Drink Lucky are very happy to embrace.
Here are some of our editors' top savory picks across the country. Get prepared to do some licking.
Salt & Straw, Portland, OR and Los Angeles, CA
At the top of our list are the offerings at Salt & Straw. This scoop shop carries noteworthy flavors like black olive brittle goat cheese. Through August, check out the vegetable flavor series for scoops like green fennel and maple, tomato water and Ojai olive oil sherbet and garam masala and cinnamon cauliflower.
Lick Honest Ice Creams, Austin, TX
Lick Honest Ice Creams goes seasonal and local with an ice cream made with Pure Luck Creamery goat cheese, honey from Austin Honey Co., and fresh local thyme. The carrots and tarragon flavor made with sweet caramelized carrots from Johnson's Backyard Garden is another great savory choice.
2032 S Lamar Blvd.
Kurt Farm Shop, Seattle, WA
Salted plum ice cream anyone? Or tomato jam? Those are just two of the offerings at recently opened Kurt Farm Shop in the Chophouse Row building on Capitol Hill in Seattle. Here you see tomato jam paired with bay leaf.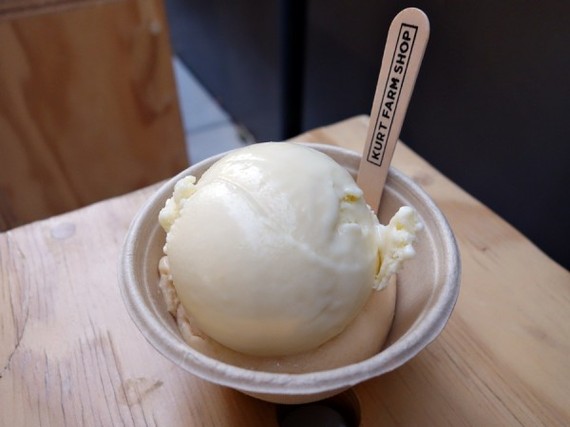 Photo by Jay Friedman
1424 11th Ave.
Milk Cult, Washington D.C.
The Bangkok Brothel at Milk Cult, made with coconut milk, Thai basil, cilantro, lemon zest and chili pepper, tops the list of our editor's D.C. savory picks. It's refreshing and bonus -- vegan.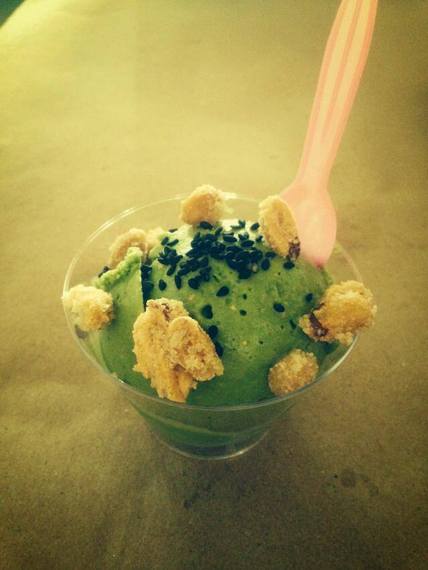 Union Market, 1110 Congress St. NE
Toscanini's, Cambridge, MA
With 32 flavors to choose from, this Boston ice cream institution offers many traditional (and delicious!) flavors in addition to savory ice creams like salted saffron and green tea.
899 Main St.
Humphry Slocombe, San Francisco, CA
Humphry Slocombe recently brought back their jalapeno cornbread ice cream and our SF editor is still dreaming about their bacon ice cream sandwich mash up with Bacon Bacon.
1 Ferry Building, and 2790 Harrison St.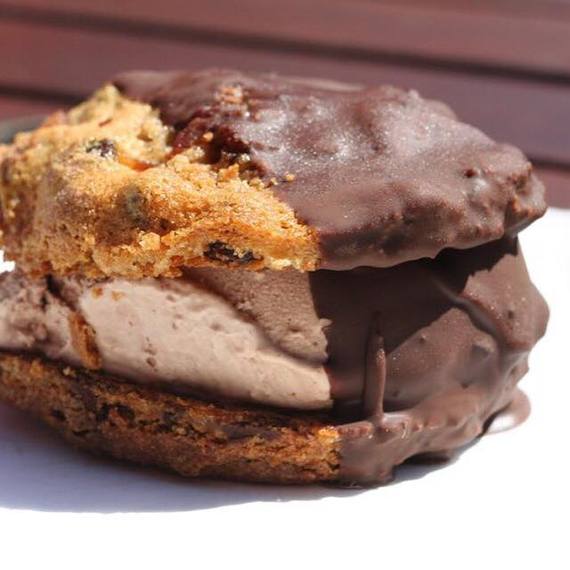 Sweet Action Ice Cream, Denver, CO
Sweet Action Ice Cream features many Colorado-sourced ingredients. This summer, cheese has been a popular theme, with offerings like goat cheese beet swirl, maple ricotta and honey goat cheese. Other savory treats include Colorado sweet corn, avocado and honey cornbread.
52 Broadway St.
Mount Desert Island Ice Cream, Portland and Bar Harbor, ME
We're pretty sure that President Obama would have gone for the beet ginger sorbet, or the apple parsley perhaps, if he hadn't gone for the coconut ice cream at this popular Maine ice cream eatery. Eat Drink Lucky editors love nothing more than to get a scoop and walk down to the water to sit in the summer sun. We're waiting for Mr. President to join us later this summer.
In the meantime, let us know where your favorite savory ice creams can be found. And sign up for Eat Drink Lucky for more food, drink and fun.