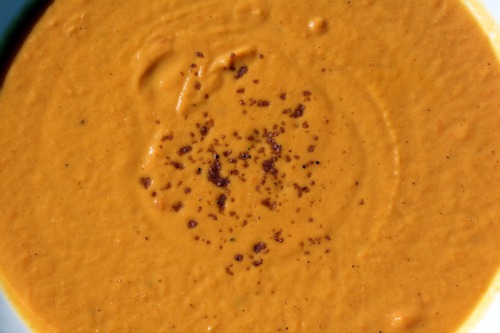 I love sweet potato fries. Because they are salty. And crispy. And what's not to love? You could deep fry and salt anything and I'd put it in my mouth. Deep-frying sweet potatoes took away their stigma: they weren't good for me anymore. But otherwise, I never liked sweet potatoes. Dietetic versions of their better Idaho brother. And let's face it: I'd always loved the bad boy. It wasn't until very recently that I ever went for a potato, or a boy, that was any good for me.
It wasn't until college that I discovered how versatile a sweet potato could be, how much it could handle. I was getting pizza late one night in the student center, and I saw a bunch of the guys working behind the counter digging into a slice of pie.
"Is that pumpkin pie!?" I cried, turning orange in envy. I had been writing for hours, and wasn't above demanding a slice of pumpkin rather than pizza pie.
"Sweet potato pie," one of them grinned, and pulled a bite off his fork with his lips.
I was confused. "What's that?"
All three of them turned to me. "Where are you from?" they demanded in disbelief.
Now that I think of it, they were probably asking whether I was from Mars. But they seemed southern, so I answered "Florida." I had grown up on both sides of the Mason-Dixon line, and I trotted out the more convenient of the two.
"And you've never had sweet potato pie?"
I genuinely had not only never had it; I'd never heard of it. I wasn't surprised since I'd spent my entire life devotedly devouring key lime pies, which seemed much more Floridian to me. And in my family, fresh off boat and plane from Europe, getting pumpkin and apple pies into the house was enough of a battle. "Why have a pie when you could have a tart?" was their general mantra. I'm pretty sure sweet potato would have been too much to handle. And I'm pretty sure that's how pie got to be my favorite dessert.
The sweet potato pie probably wasn't any better for me than the fries. But I learned that night that sweet potatoes didn't have to be salty, or crispy, to be good. It was the warmth of the spices, the nutmeg, the ginger, that made them suddenly so appealing.
This soup proves that sweet potatoes, or other pleasures, don't have to be bad for you to be good. See, I learned something in college after all. I boil sweet potatoes and carrots with vegetable stock and the French spice blend quatre épices: ginger, nutmeg, clove, and black pepper. Purée and stir in cream (optionally) for a velvety smooth soup that is as comforting, and reminiscent, as sweet potato pie. With enough Vitamin A to give you X-ray vision. Bon app.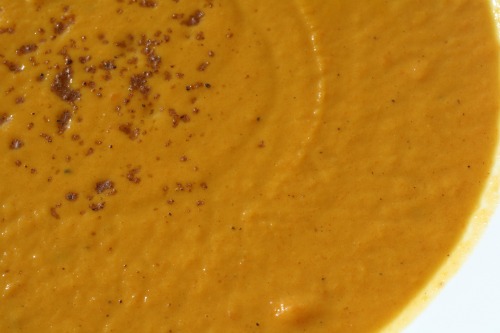 SWEET POTATO AND CARROT VELOUTÉ WITH QUATRE EPICES
serves 4 to 6
INGREDIENTS
1 tablespoon unsalted butter
1 medium yellow onion, finely diced
¾ teaspoon quatre épices (make your own by mixing equal parts ground black pepper, ginger, nutmeg, and clove)
1 pound of sweet potato, peeled and cut into 1-inch cubes
1 pound of carrots, peeled and cut into 1-inch cubes
1 quart of vegetable broth or water
Fine sea salt
Freshly cracked black pepper
⅓ cup heavy cream (optional)
PROCEDURE
In a large heavy-bottomed stockpot, melt the butter over medium-low heat. Add the onions, and sauté, stirring often, until translucent and fragrant, about 3 minutes. Add the quatre épices, and stir in, cooking an addition 20 seconds. Add the sweet potato and carrot, and cover with vegetable stock or water. Salt and pepper the mixture, stir everything together, and bring to a boil over high heat. Cover, and reduce heat to low. Simmer, covered for 30 minutes, at which time the carrots and sweet potato should be very tender. Shut off the heat. Use an immersion blender to puree the soup. Stir in the cream, and serve. A great garnish would be sweet potato or carrot chips, instead of croutons or crackers.
REAL LIFE. REAL NEWS. REAL VOICES.
Help us tell more of the stories that matter from voices that too often remain unheard.