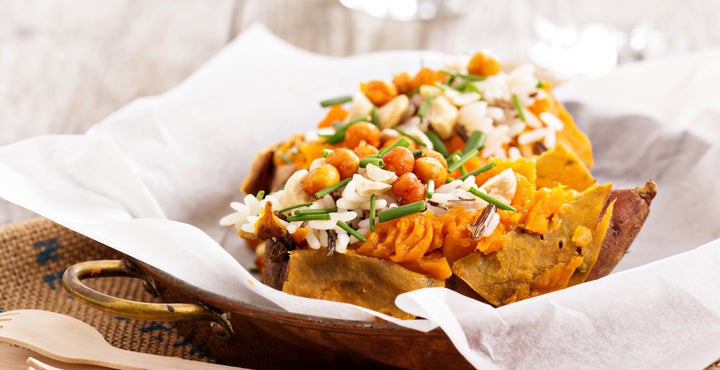 But a baked sweet potato also has twice the glycemic index of a raw sweet potato.
Before you panic, don't. Baked sweet potatoes' glycemic index is still not very high, and they're still recommended as a healthier alternative to white potatoes. However, if you're diabetic, you need to regulate your insulin levels for any reason or you're just looking to cut back on sugars, you may want to rethink the way you eat sweet potatoes.
The good news: there are simple ways to prepare sweet potatoes that can produce a dramatically lower GI, compared to baking them.
We'll show you how to do that, but first, let's get to the root of this to understand what happens when you eat a baked sweet potato.
What is a glycemic index, and why should we care about it?
A glycemic index (GI) is a way of ranking carbohydrate-containing foods according to their immediate effects on blood sugar levels. Carbs with a low GI (which are considered to be the most diabetic-friendly) are more slowly digested, causing a slower rise in insulin levels, whereas foods with a high GI, such as white bread and table sugar, are quickly digested and make our insulin levels skyrocket.
That means foods with a high GI are also way more likely to make you hangry.
A low GI is defined as 55 and under, intermediate is 56 to 69, and high is 70 and above.
In the case of tubers like potatoes and sweet potatoes, we often overlook their incredible potential to convert from starch to sugar. Sweet potatoes may not be sold in a bakery box, but they still contain chains of glucose like other sugary foods ― the difference is that a sweet potato's glucose comes packaged in a plant, not in a cookie or cake.
As health journalist Max Lugavere explains in his book Genius Foods, our bodies can turn starch into sugar molecules with ridiculous ease. This conversion process begins even before you swallow your food, when an enzyme in your saliva called amylase begins to break down starch. But your body isn't the only thing that converts starch to sugar. Cooking does it, too.
How cooking affects a sweet potato
The nutrition facts for raw and baked sweet potatoes can be vastly different. One cup of raw sweet potato may contain 114 calories, 26.8 grams of carbs and 5.6 g sugar, whereas one cup of baked sweet potato may contain 180 calories, 41.4 g carbs and 16.9 g sugar. That's a big increase in carbs and sugars. But why?
Here's the scientific explanation: Heat breaks down starch granules, which allows amylopectin and amylose (the two polysaccharides that form starch) to be more readily digested by pancreatic amylase (an enzyme), which turns starch into maltose (a sugar).
Here's the layperson's explanation: Heat breaks down the starch in sweet potatoes in a way that allows your body to easily convert that starch into sugar, which spikes your blood sugar levels.
So what does that specifically mean in the case of sweet potatoes?
A study conducted in 2016 subjected 11 types of sweet potatoes to three different cooking methods ― baking, microwaving and steaming ― to determine each method's effect on the food's glycemic index. And the differences were notable.
Baking vs. microwaving
The longer a sweet potato is exposed to heat, the study found, the more its GI is likely to increase.
The sweet potatoes were baked in a conventional oven for 60-90 minutes at 180-220°C ― which is much longer than they would be microwaved or steamed. Researchers concluded that the longer cooking time at high temperatures "resulted in the highest sugar formation."
Baking also employs dry heat, which dehydrates the sweet potato, degrades its starches, concentrates its sugars and therefore increases the sugar content and glycemic index.
Conversely, the microwave exposed the food to heat for the shortest amount of time and increased the sweet potato's GI the least. The study cited the technique's "rapid heating mechanism" as being responsible for actually deactivating part of the process that turns starch into sugar.
No matter how you cook a sweet potato, it's important to note that there are numerous varieties with different GIs. A 2012 study published in The Open Nutrition Journal, titled "Glycemic index of sweet potato as affected by cooking methods," worked with the popular Beauregard variety, which has a raw GI of 32. The earlier study found that cooking a sweet potato approximately doubles the GI.
Here's what you can do at home
According to the 2016 findings, if you want sweet potatoes with the lowest GI, you should basically do anything but bake them.
Don't run off, however, and eat a bunch of sweet potatoes raw. The reason we cook them in the first place is to make them easier to digest. When heating breaks down those starch granules, it prevents you from experiencing certain embarrassing digestive issues.
These are a few ways to cook and enjoy sweet potatoes, in order from lowest GI to highest:
Now that everything's been explained, just remember not to freak out about eating baked sweet potatoes if you don't have issues with your blood sugar. Even baked sweet potatoes still have a lower GI than a lot of other foods we consider to be healthy, such as instant oatmeal, brown rice, watermelon or rice milk. And they're still seriously good for you in so many other ways.
Here are some of our favorite ways to cook them:
Maple And Brown Sugar Oatmeal With Sweet Potato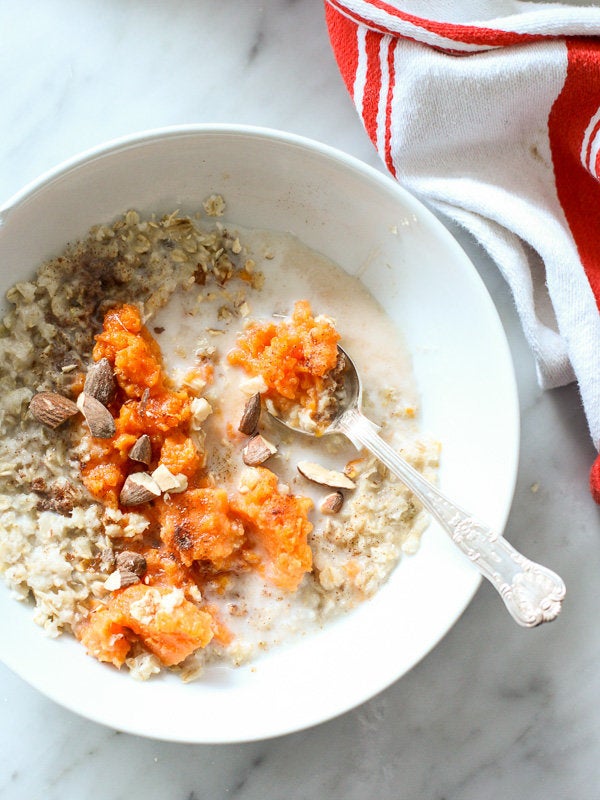 Skinny Tandoori Butter Sweet Potato Fries With Creamy Baked Harissa Feta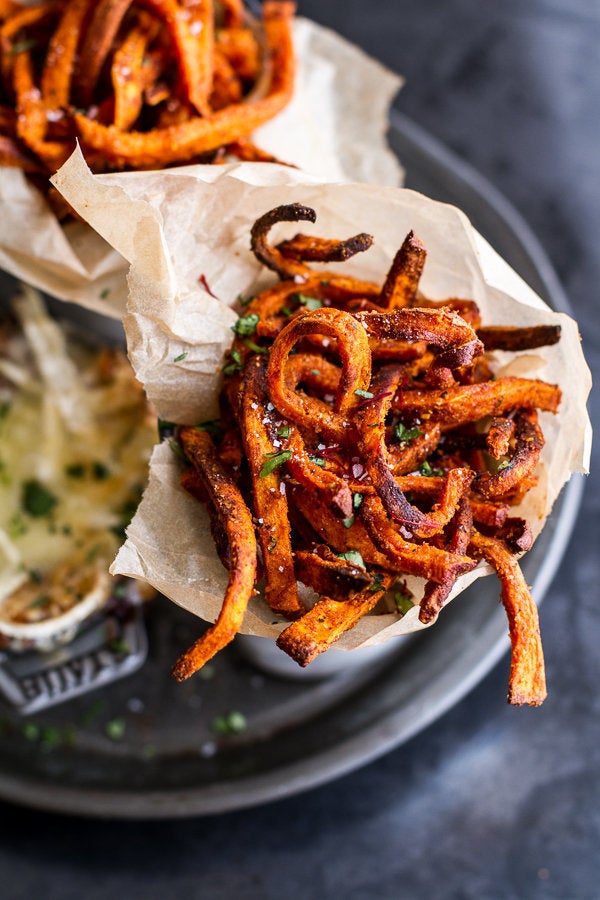 Veggie Fajita Stuffed Sweet Potato With A Chipotle Drizzle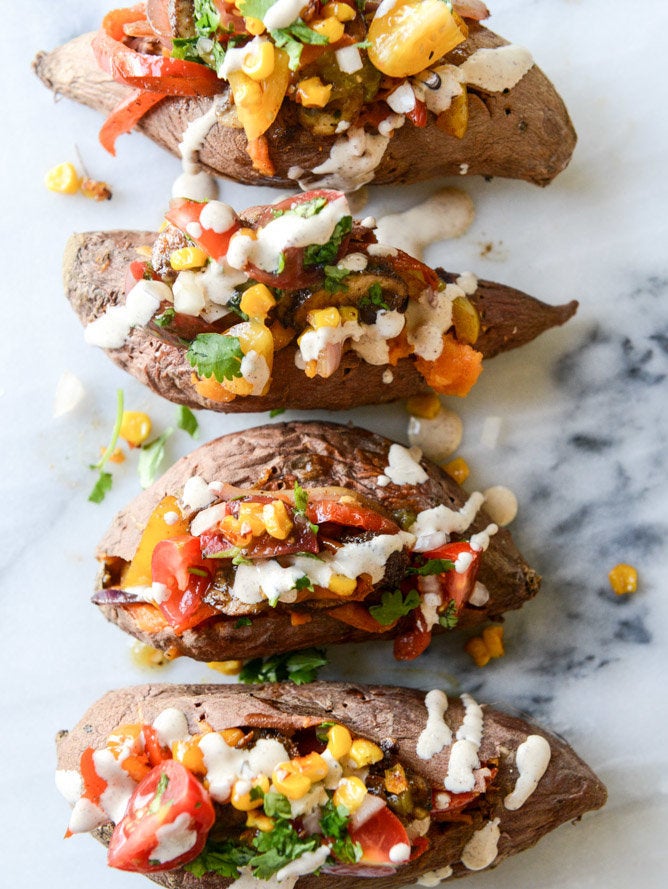 Sweet Potato, Brie And Bacon Grilled Cheese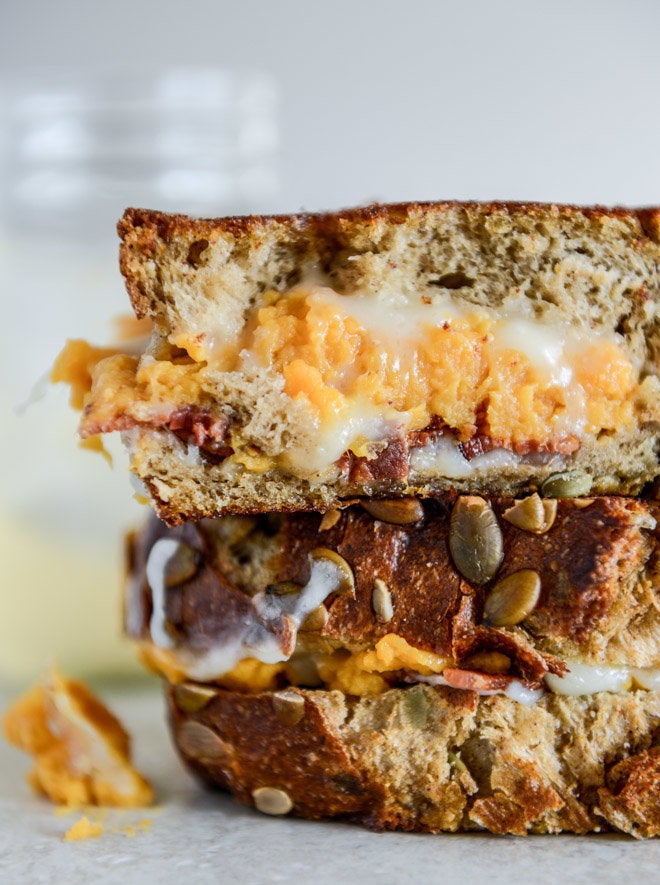 Southwestern Kale Power Salad With Sweet Potato, Quinoa And Avocado Sauce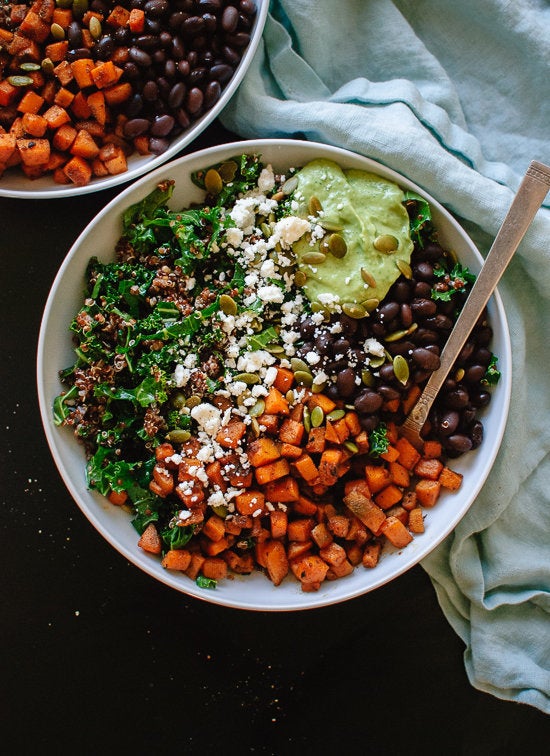 Thai Sweet Potato Soup With Lemongrass And Ginger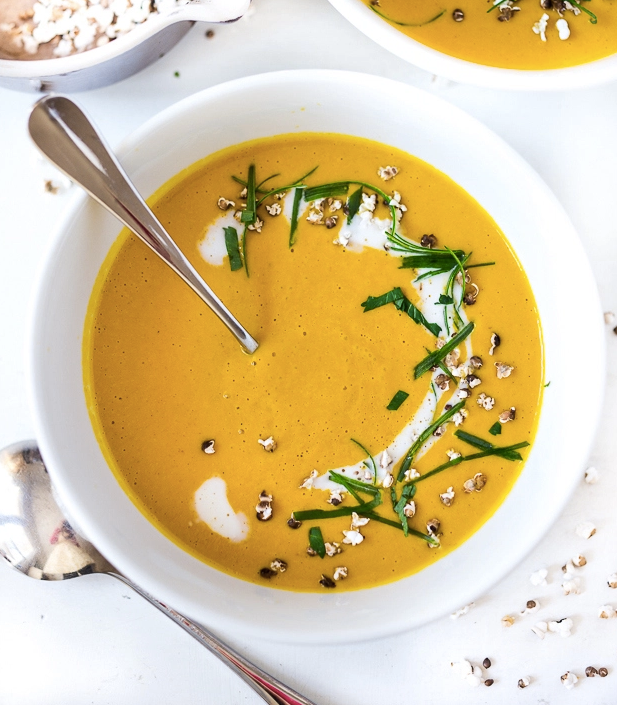 Winter Chopped Salad With Roasted Sweet Potato And Blood Orange Vinaigrette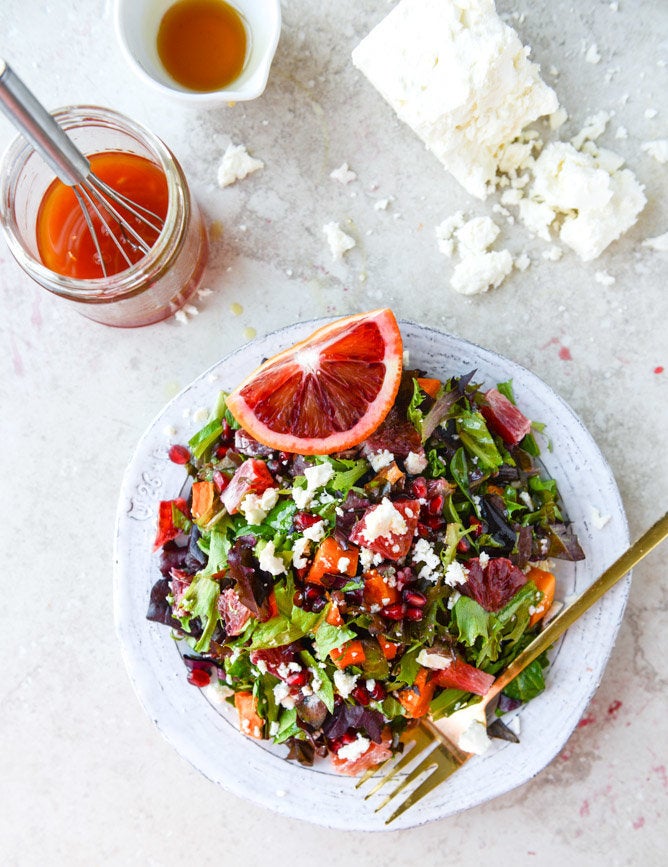 Sweet Potato Hash With Poached Eggs And Harissa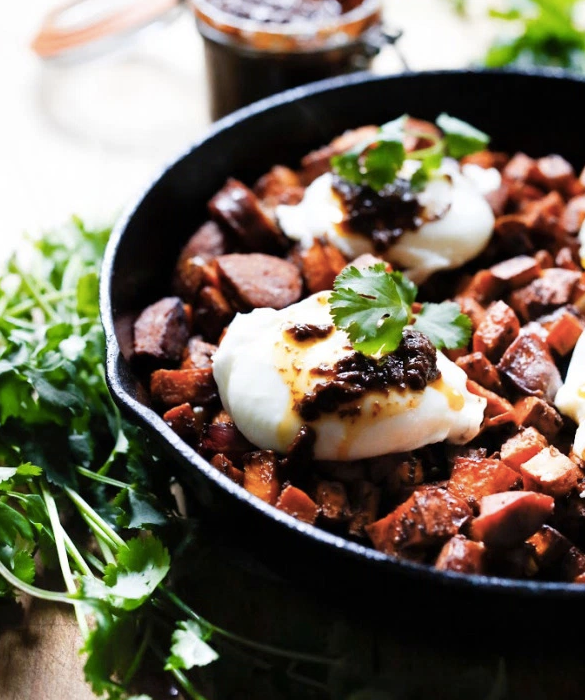 Baked Sweet Potato Chips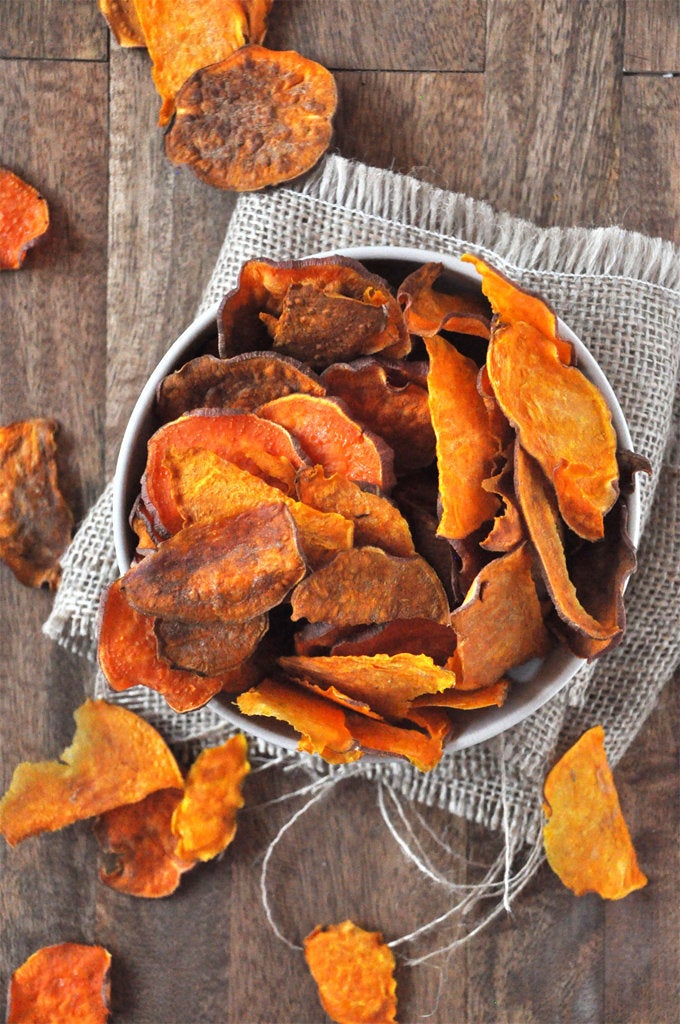 Sweet Potato Enchiladas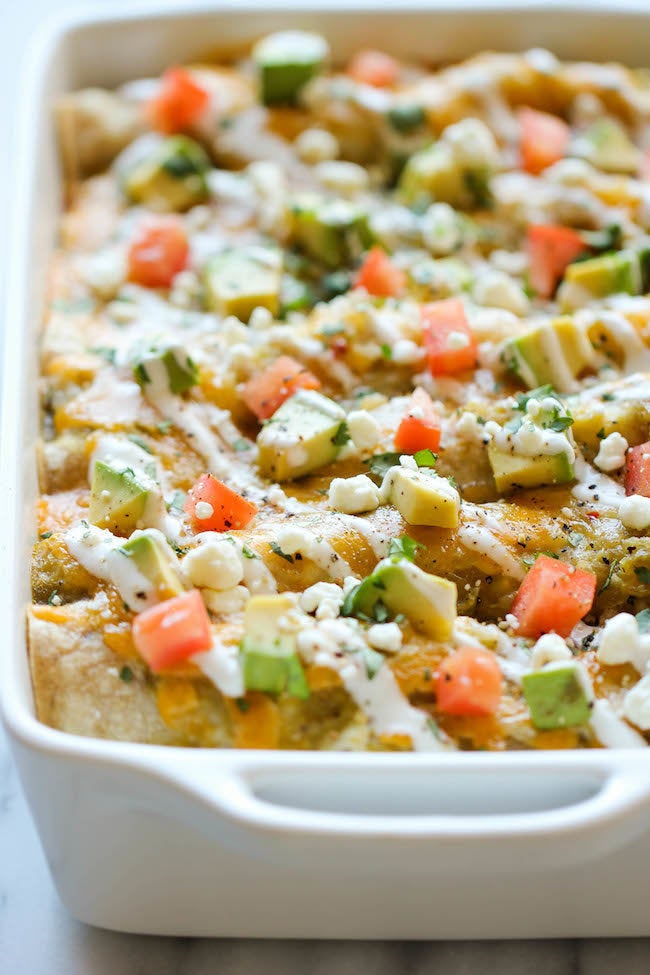 Baked Sweet Potato Tater Tots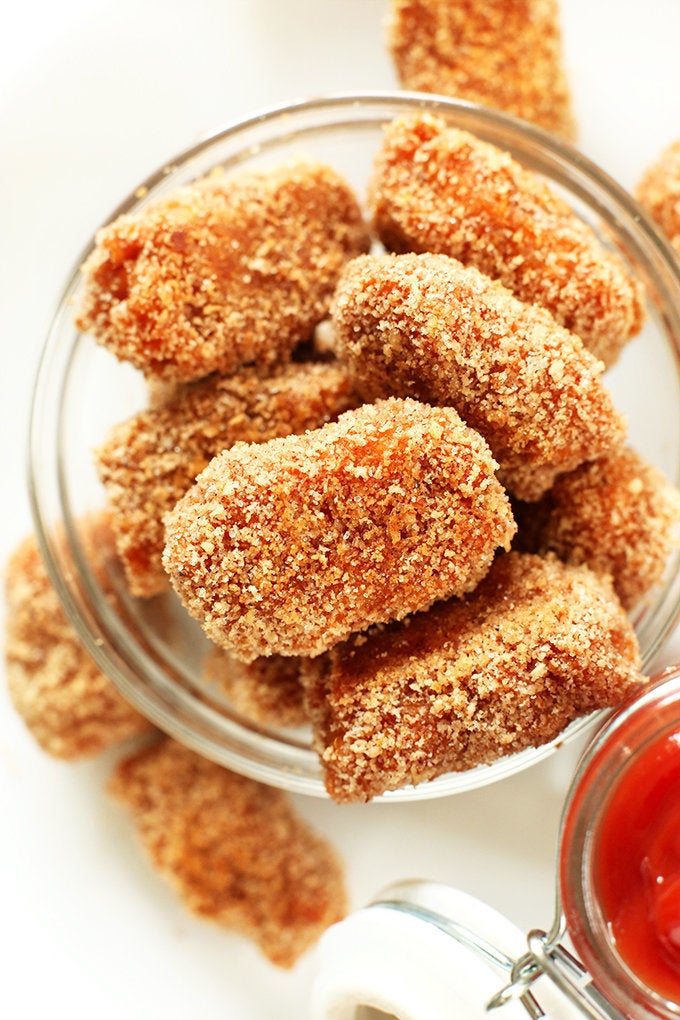 Simple Salty Sweet Potato Skin Chips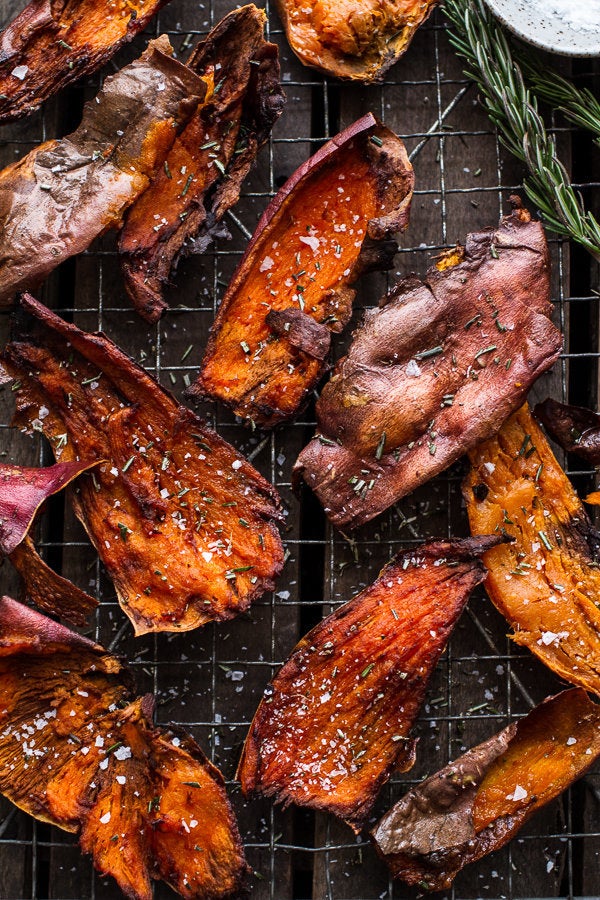 Garlic-Herb Roasted Sweet Potatoes With Parmesan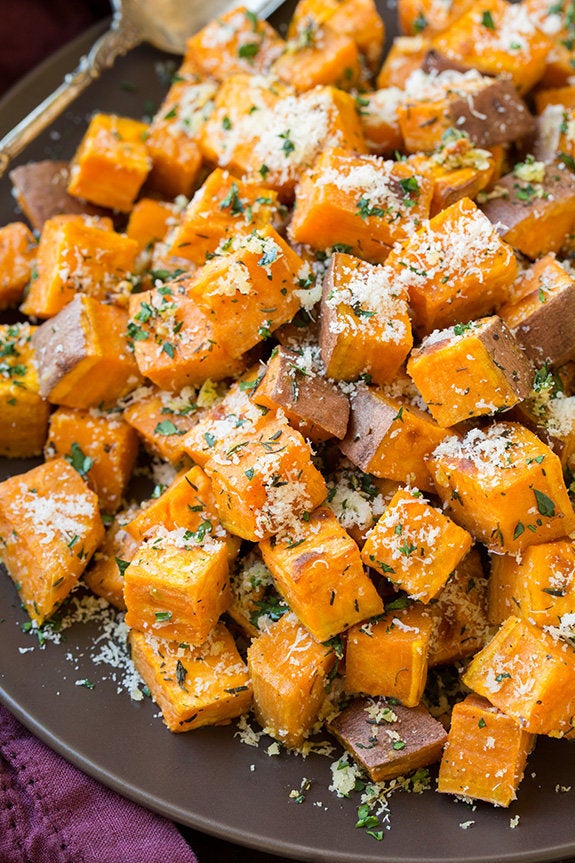 Sweet Potato and Black Bean Burrito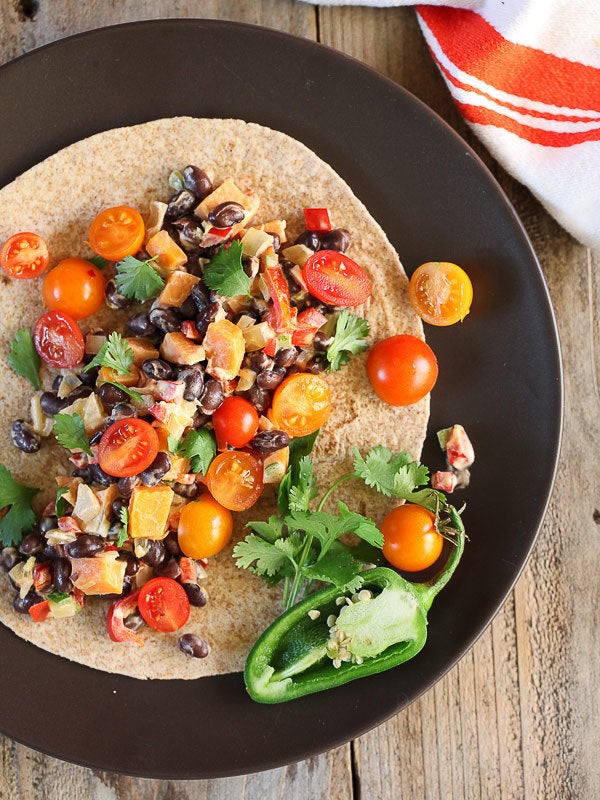 Sweet Potato Almond Butter Muffins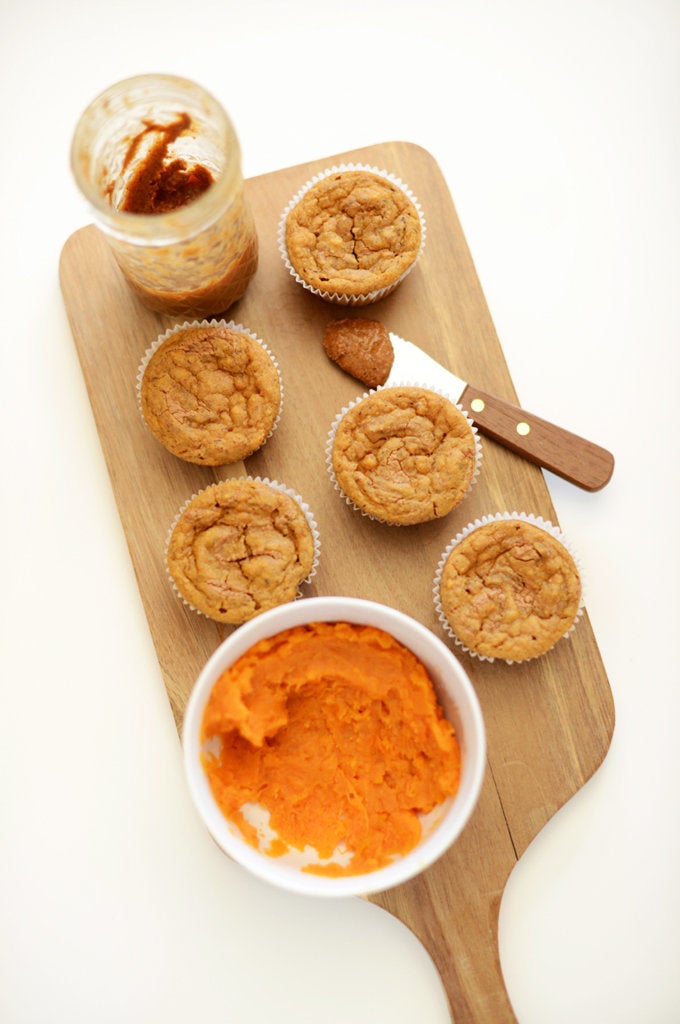 Brazilian Steak And Grilled Sweet Potato Fry Quinoa Bowl With Spicy Coconut Tomato Sauce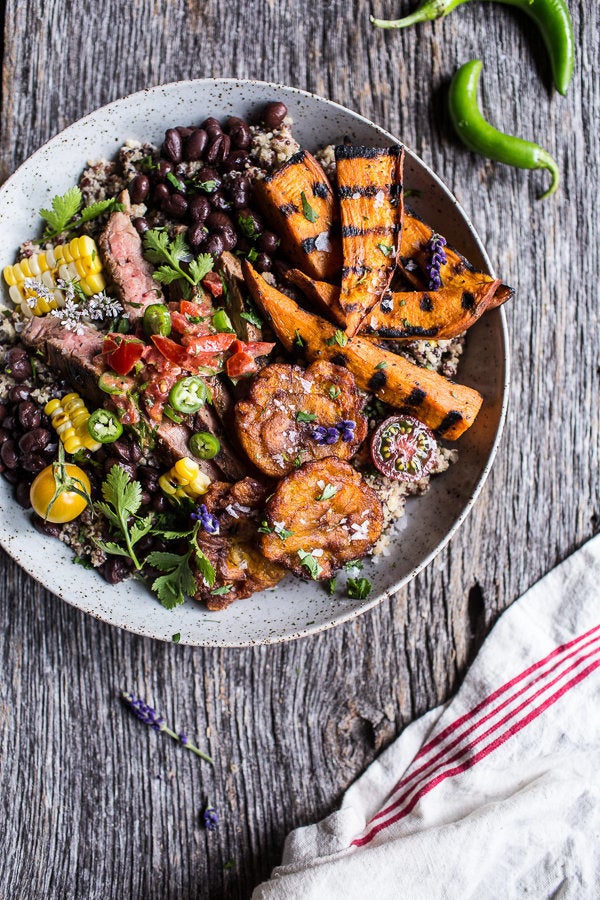 Sweet Potato Chili Cheese Rounds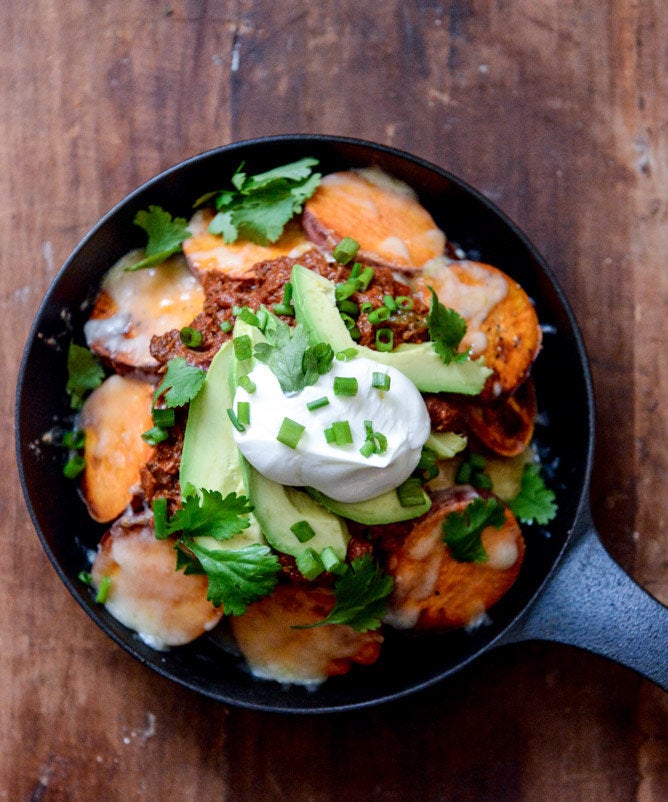 Sweet Potato And Black Bean Tacos With Avocado-Pepita Dip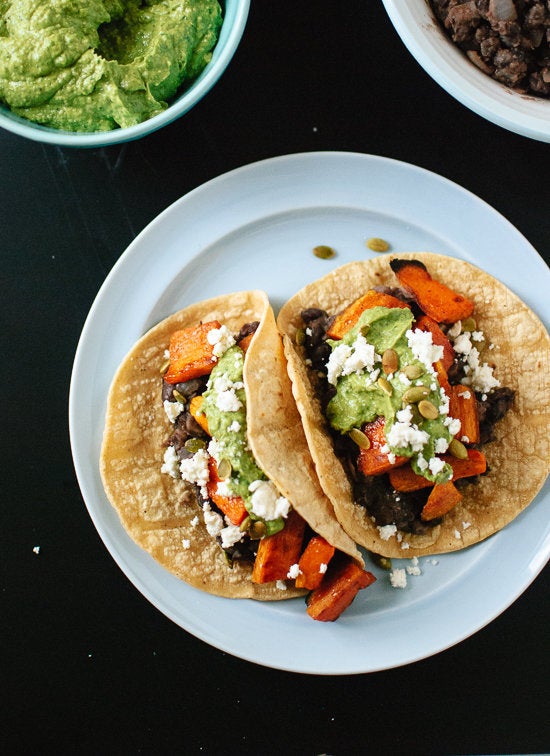 Sweet Potato and Caramelized Onion Pizza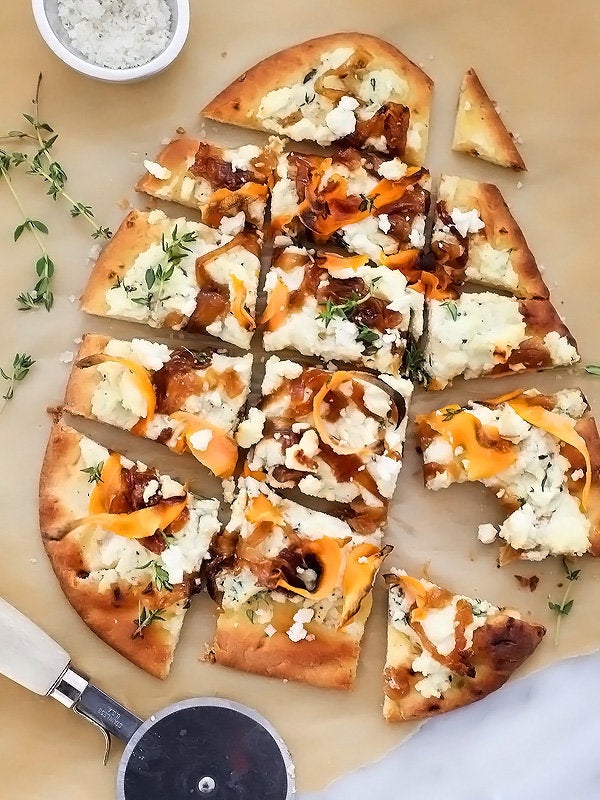 5-Ingredient Sweet Potato And Black Bean Chili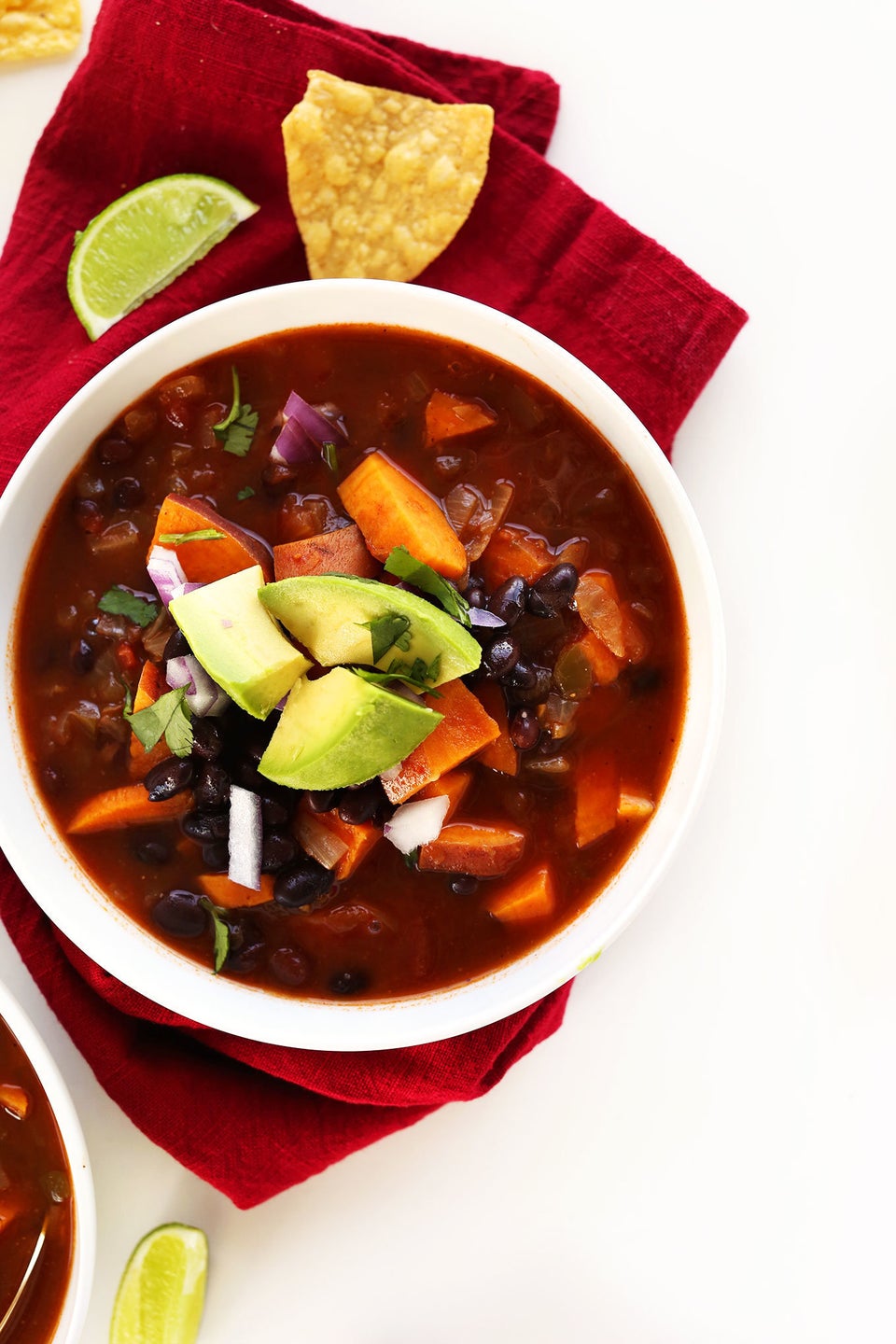 Buttermilk Sweet Potato Pancakes With Coconut Whipped Cream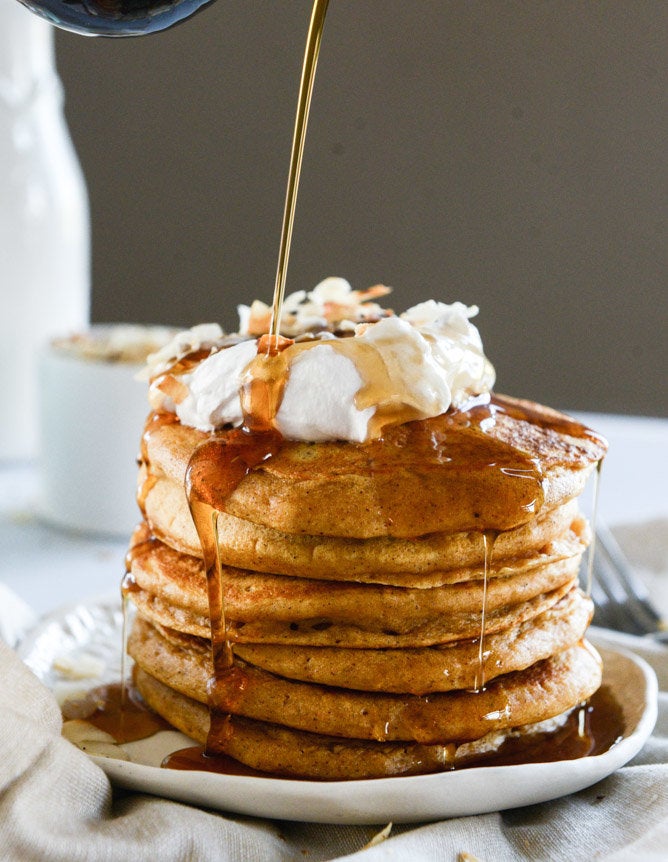 Superfood Sweet Potato Dessert Fries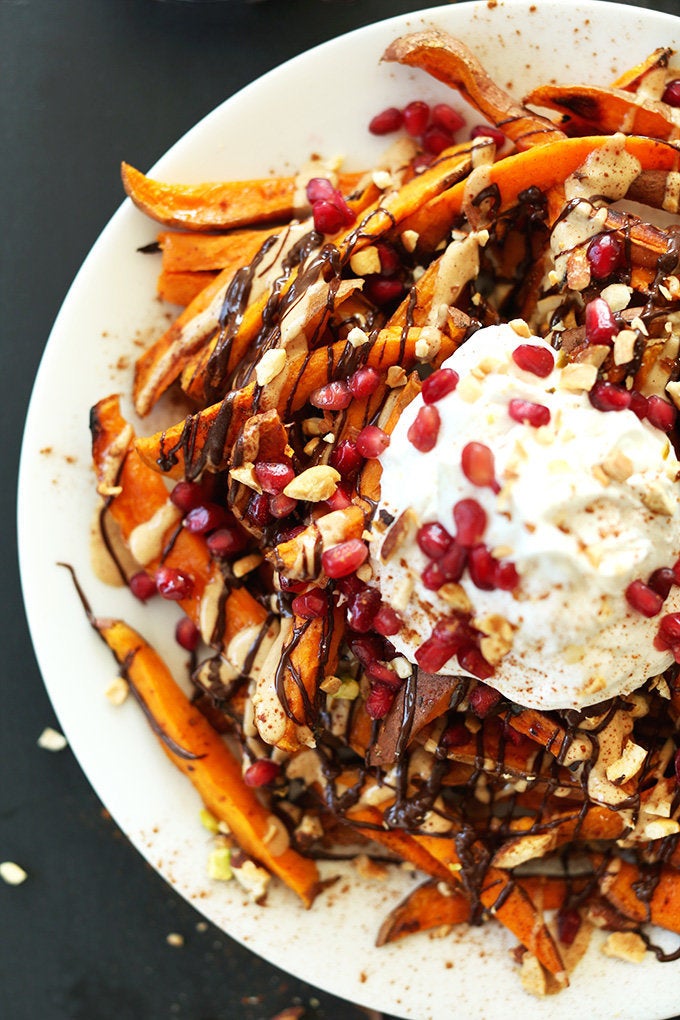 Before You Go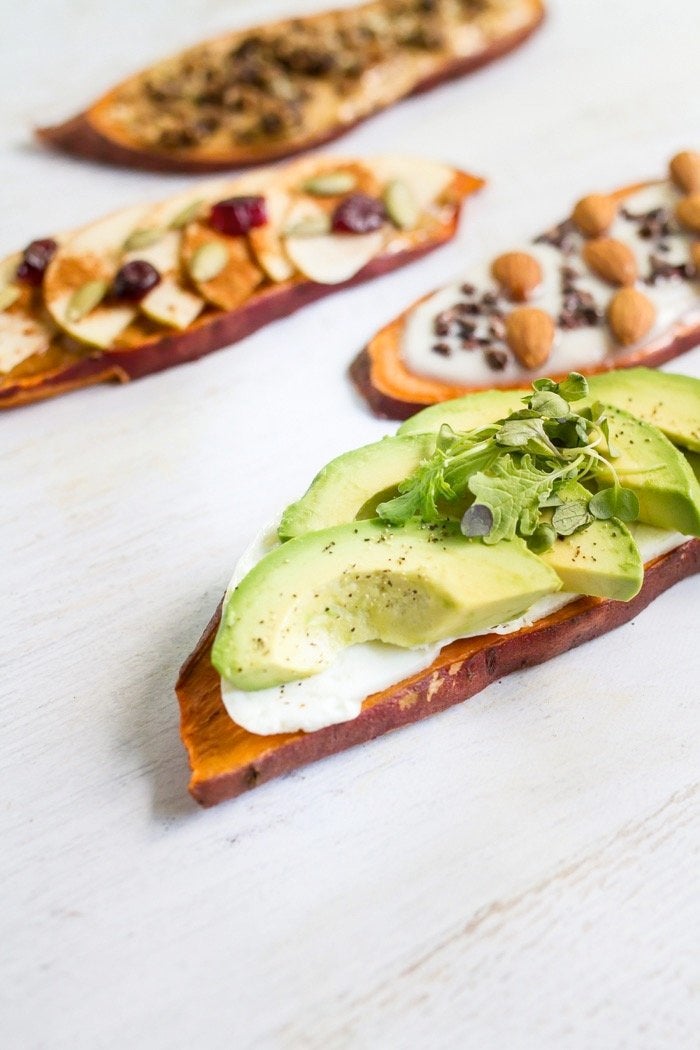 Sweet Potato Toast