When it comes to creating a nutritious meal that is also packed with flavor, I love stuffing sweet potatoes. Not only are they loaded with vitamins and nutrients, but they make the perfect edible bowl for anything from turkey chili to the spicy black bean salsa that I'm sharing here today.
Whether you are a strict vegetarian, a vegan or simply want to incorporate more meatless meals into your family's diet, my Sweet Potatoes Stuffed with Spicy Black Bean Salsa are kid-friendly and packed with protein.
If you want to lower the heat level, skip the jalapeno. Prefer it on the spicy side? Leave the ribs and seeds in tact when mincing -- that's where the heat lives. As always, this recipe is more of a method than a strict set of guidelines. Feel free to use whatever beans and veggies you have on hand to make it your own.
Throwing a party? Create a toppings bar and let your guests garnish their sweet potatoes with anything from cilantro to lime wedges to Greek yogurt.

The options are endless and so are the flavor opportunities. No one will have any idea they are filling their bodies with hefty dose of fiber, potassium, vitamin C, beta-carotene and more.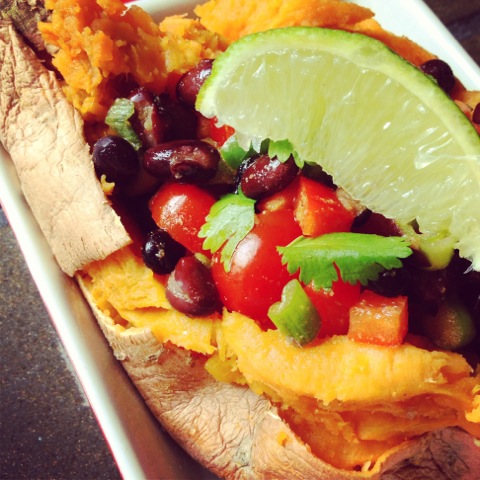 Sweet Potatoes Stuffed with Spicy Black Bean Salsa
4 medium sweet potatoes
14 oz can black beans - drained and rinsed
1 red pepper - seeded and diced
2 scallions - minced
ᅡᄐ cup cilantro - minced
Juice and zest of one lime
2 tablespoons minced jalapeno
1 garlic clove - grated
1 teaspoon cumin
1 teaspoon smoked paprika
salt and pepper to taste
Pierce the skin of each sweet potato two to three times then microwave on a large plate for six minutes or until fork-tender.
While sweet potatoes are cooking, combine all remaining ingredients in a small bowl (black beans through smoked paprika.) Check for seasoning and add salt and pepper to taste.
When sweet potatoes are cool enough to handle, slice them open vertically to create a nice little opening.
Mound each sweet potato with equal portions of the black bean salsa. Serve with lime wedges and cilantro.

Nutritional Information: 253 calories; .9 g fat; .1 g sat fat; 0mg cholesterol; 454 mg sodium; 56.2 g carbohydrate; 12.3 g fiber; 10.7 g protein.