As September comes to a close, I'd like to note its gifts that keep on remembering.
Last week the Museum of Tolerance in Los Angeles, a Simon Wiesenthal Museum named in honor of the Holocaust survivor, remembered the talents and efforts of children in LA's BEST After School Enrichment Program -- a program that is very dear to me and which helps 28,000 children in need. It came in a unique way.
The museum remembered the collaborative project between LA's BEST and the Consulate General of Israel in Los Angeles that began in 2010, culminating in an astonishing mural for the Museum of Tolerance called the Doves of Peace, a masterpiece designed by LA artist Jake Hooper and covered in paper doves by LA's BEST students. The museum chose that art to symbolize unity, strength and peace in its New Year's card for 2015.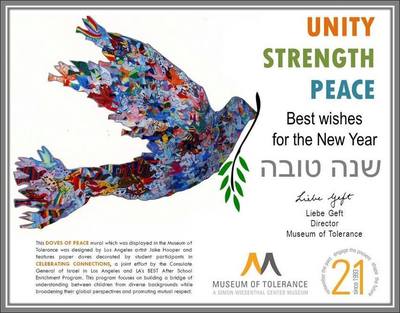 As a member of LA's BEST board of governors, I believe that honor resonates on a far deeper level than just an appreciation for the incredible talent of the children whose hands crafted those doves. They have been profoundly affected by both the museum's mission dedicated to the memory of those who died, suffered and survived the Holocaust and their involvement in the 2010 joint effort called CELEBRATING CONNECTIONS. A first of its kind, it brought together students from the after school program and local Jewish day schools to build a bridge of understanding between children of very diverse communities in Los Angeles that would teach them mutual respect, broaden their perspectives and enrich their lives.
Consul General of Israel Jacob Dayan has said it is the diversity that strengthens our dynamic communities and teaching children how to embrace that by working and living together and learning from each other "is the secret to empowering future generations." LA's BEST president ans CEO, Carla Sanger, expects this goodwill partnership "will reap benefits for years to come."
To give you a better sense of its mission, the nonprofit LA's BEST (Better Educated Students for Tomorrow) provides a safe and supervised after school education, enrichment and recreation program for elementary school children ages to 12. It helps the children with their homework and offers learning activities that boost their reading and math skills. In discussing the critical need for programs like LA's BEST, Sanger recently told Youth Today "never before in the history of this country has there been so few adults at home after school. Nobody's home to help kids grow, and I think that if we're looking at a democracy and preserving democracy -- which to me is the primary goal of education -- we're going to lose our way if we don't understand how important it is to keep kids after school."
The museum wasn't the only entity remembering the children involved in this program this month. L.A.-based TOMS Shoes chose LA's BEST as its giving partner, making sure every child enrolled was given a new pair of TOMS' athletic style shoes to start the school year. They complement the program's agenda, encouraging healthy living through physical activity and nutritious food. Under its One for One® model, every pair of TOMS Shoes purchased means TOMS donates a pair of shoes to a child in need.
Since LA's BEST was formed in 1988, it has grown from 10 schools operating on a $1 million budget to 195 schools thriving on a $40 million budget today. That growth was shepherded by its fearless leader Carla Sanger. Sadly for LA's BEST but wonderful for her, she is retiring. How she will be missed.
Calling all HuffPost superfans!
Sign up for membership to become a founding member and help shape HuffPost's next chapter