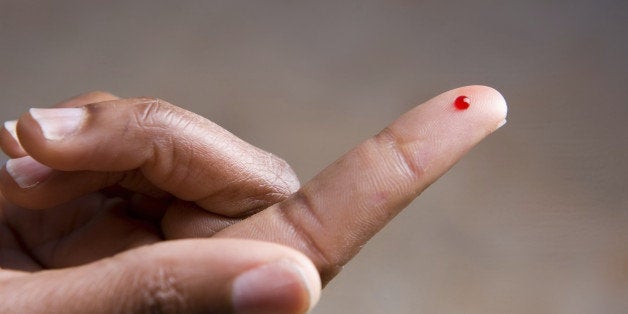 Moved by the work of the American Diabetes Association and the alarming ratio of people affected or living with Diabetes, Shani Faure, CMP, began raising funds and awareness through the annual NYC Step Out Walk in 2009. As a special events and publicity aficionado, naming her team Sweet Steps was just a taste of her wellness-inspired mission.
Although Shani has been living with Diabetes for over a decade, a disease that nine of 10 people are affected by (either living with it, a caregiver, or it runs in their family), it didn't stop her from becoming an awareness advocate for it.
In March 2013 & 2015, Shani traveled to Washington, DC, to talk to lawmakers about the special Diabetes Program which was started for Native Americans. A memorable victory, the program was later approved and extended for two years and funded. After recently becoming a part of the planning committee for the NYC Step Out Walk and an official speaker for the July 2015 launch event, Shani was interviewed on Bondfire Radio who also sponsored her 2015 walk team.
An avid builder and tireless supporter of health, Shani launched DJ's for Diabetes, a campaign including notorious music personalities as spokespersons: DJ Mannyfaces of Birthplace Magazine & BondfireRadio, Mr. Walt & Evil Dee of the Beatminerz, DJ Snap of the Union and DJ Blue Steel who performed at local community events.
What many can't help but wonder is what the best foods to eat for Diabetics are which inspired Shani to develop the Dining for Diabetes series with New Orleans own Chef Airis. A portion of the proceeds for Dining for Diabetes goes to the American Diabetes Association. Guests enjoy healthy meals with Chef Airis original spice blends.
Dance for Diabetes, the next in succession to the ongoing campaign, is a meditation and Zumba dance event in partnership with Elizabeth Allen (aka Zumba Liz) to get people active and raise awareness and funds. Bringing the cause full circle was the driving force that also inspired the Courtyard by Marriott LaGuardia to go blue on National Diabetes Day, November 14, 2015. Shani spearheaded the Courtyard Cares community event series at the Courtyard by Marriott LaGuardia where she implemented the 'Wall of Hope' where guests were invited to donate in exchange for a hand in honor or memory of someone with Diabetes.
Friends and family have commented on Shani's courage share her real feelings about aspects on her personal struggles with the illness such as not having health insurance, depression, and weight fluctuations. Making friends along the way have helped Shani cross the finish link year after year like Kerri at the ADA and Ron Faison (because he is also in the entertainment industry and among the few minority men telling their Diabetes story). Old friendships with common purpose only strengthen over time such as her endocrinologist, Dr. Lorber, who she sees every two years at Call to Congress in Washington.
Shani began by reaching out in her network to enliven the movement to favors being returned ten fold. Since the time she was diagnosed, Shani has become certified as a life coach supporting others with chronic illnesses. In 'Soultitude', as Shani says, syncing the mind, body and spirit, and encouraging clients to be first to achieve optimal health is a mile marker that continues to light her way and those who choose to march to the beat of a healthier drum or join her across the finish line to celebrate sweet steps of success.
Popular in the Community