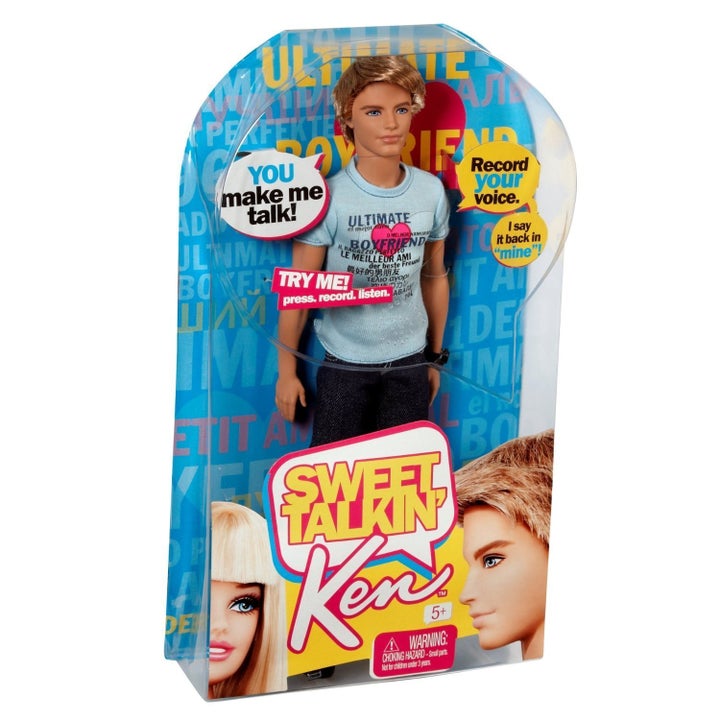 With piercing blue eyes and Bieber-esque blonde hair, he's "the ultimate boyfriend." In fact, he even wears a t-shirt that says Ultimate Boyfriend (in multiple languages). No, I'm not talking about the man of your daydreams, I'm talking about the "Sweet Talkin' Ken Doll" -- marketed to your 5-year-old.
He's the ultimate boyfriend for every occasion. Why? Because this handsome Ken doll says whatever you want him to say! Just press the button on his chest to record your own voice for up to five seconds. Then play it back in a high, normal, or low pitch. Sweet!
Sweet is right ... or is it? Ken is by no means new to controversy -- he went through a tragic divorce with Barbie in 2004 and reconciled with her earlier this year. But I'll admit when I first heard the name of the "Sweet Talkin' Ken Doll," I was a little bit horrified. Blogger Carla Birnberg over at Shine, had a similar initial reaction: "Barbie dolls are injurious enough to our girls' self-esteem, but a 'sweet talking' male they're supposed to long to own so he can sweet talk them -- I lost my mother-mind," she writes.
I imagined that Ken's sound bites would be pre-recorded -- something along the lines of "Come on Barbie, let's go party," or "Let's go live in our white picket dream house with 2.5 children, while you stay in the kitchen." Instead, the doll's owner gets to record Ken's voice by pressing a little heart on Ken's t-shirt and speaking into a microphone built into his chiseled abs. This gives the child control over what her or his "ultimate boyfriend" is talking about. Aha! This not only makes the doll more interactive, but it also says this Ken doll doesn't have to be a surfer dude or a groom.
Which may mean the problematic aspect of the doll isn't what it does, but how it's marketed. Why couldn't "Sweet Talkin' Ken Doll" be "Smart Talkin' Ken Doll?" Why is he the ultimate boyfriend rather than the ultimate friend? Do kids ages 5 to 10 really need a romantic, significant other to pump up their self-esteem?
"Sweet Talkin' Ken" isn't the most offensive toy of the year -- who can forget August's t-shirt-gate? -- but it doesn't seem to have any real, positive value for a young child. And frankly, Ken's sweet-talkin' doesn't even sound so sweet ... it actually sounds kind of creepy. Check out this video from Toy Fair 2011 and tell us what you think: