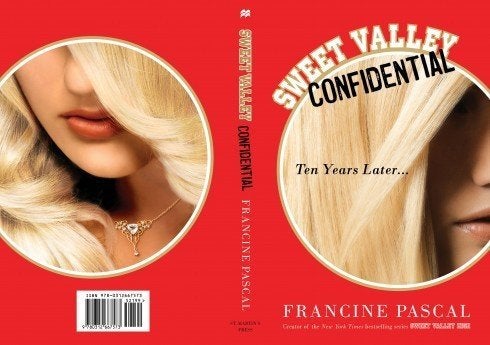 "Excuse me, do you have the new Sweet Valley book?"
The last time I asked this question, I was 12. My social life revolved around babysitting the brats down the street, slumber parties and riding my rusty Schwinn with my girlfriend to the closest neighborhood bookstore in my Detroit suburb. My monthly high-op mission: Find out if the latest edition of my favorite series had arrived.
"You mean that book right over there?"
I turn around in the sterile Barnes & Noble superstore on New York City's Upper East Side, convinced this customer service woman doesn't have a clue. This is the floor devoted to salespeople hawking electronic Nooks and its shiny crannies. All the books have been banished to the basement, except for that token shelf right over.... OMG, there it is! A siren-red hardcover. Ok, that's a switch from the soft pastel paperbacks. Wait, who's that shadowy woman on the front, and why does she look so stressed? But that title -- and that cheery block lettering -- is unmistakable. Sweet Valley. . . Confidential.
Look. You can take your Twilight teens and It List cliques and Pretty Little Liars and Hunger Games. And I will raise your YA escapism with a pair of close-knit, popular, beauty-pageant gorgeous, California twin sisters named Jessica and Elizabeth Wakefield. They, like, totally ruled Sweet Valley High. Jessica, the head cheerleader, could make a Porsche-driving stud like Bruce Patman drool with a single twirl of her sun-kissed blond hair. Wholesome Elizabeth was the writer who snagged Todd Wilkins, a basketball star with a friggin' motorcycle. Devouring the Wakefields' super-fun escapades in this best-selling series enabled me, along with millions of other gawky adolescents, to have an instant portal to Coolsville.
I grew up and moved on to higher-brow literature, like Flowers in the Attic. But the Wakefield sisters stayed 16-years-old forever, bickering with each other in their red Fiat.
Until now. The new Sweet Valley Confidential, written by creator Francine Pascal, marks the series' first entrée into adult fare. (Though the first SVH book, Double Love, was published in 1984, the girls are only 27 here.) It's genius marketing. For 12 year olds, the book is an opportunity to press fast-forward and get a taste of their favorite characters' R-rated world. For 30-somethings like myself, staring down the barrel of middle age? It's time to recapture that comforting pre-teen innocence.
It worked. As soon as I returned to my apartment, I plopped on my couch with my new possession and flipped to Page 1.
Elizabeth described her orgasm on Page 7. Whoa. When did this goody-goody turn into Carrie Bradshaw? Then she let loose with vile language that would make Charlie Sheen wince. And as if there were any doubt that the lipglossed, acid-washed jeans era were over, she also quoted Beyonce and Justin Timberlake in the first chapter. Facebook, Twitter and Perez Hilton all get not-so-seamlessly dropped into the narrative as well.
By the time Jessica plotted revenge against her creepy French ex-husband, I began to wonder why Pascal didn't title this book The Girls With The Dragon-Lady 'Tudes. My favorite twins had turned into obnoxious and duplicitous adults. And while their longtime friends make appearances, almost all of them sputter in adulthood. Except for the one guy who strikes gold in a dot-com deal. And promptly dies.
It's funny. Though I amassed a fully stocked Sweet Valley High collection in the '80s, it always bugged me that Jessica and Elizabeth stayed the same age with the same friends in the same town. I even wrote Pascal a letter, begging her to title a future book "Happy Birthday." (I received a cordial response, encouraging me to read her new kiddie series, Sweet Valley Twins.) I stand corrected. Nostalgia has is merits, but some youthful classics aren't destined to age with me. This is why eating Lucky Charms now gives me indigestion. Why I dread the New Kids on the Block/Backstreet Boys tour. And why I fear the inevitable day when I read about a new series in which Harriet the Spy runs the CIA.
Yet I don't regret my trip back to Sweet Valley. After all, I can't remember the last time I ignored my cell phone, my DVR backlog and my emails (something about a Reese Witherspoon wedding?) to read a book -- an actual book! -- cover to cover. For one lovely Saturday afternoon in late March, it was a joy to unplug from my life and excitedly catch up with a few old friends. Pure love. Actually, make that double love.

Popular in the Community