"There is stuff happening out there and no one is doing anything about it," sorority-girl-turned-masked-vigilante Jules says during the premiere episode of MTV's "Sweet/Vicious." "People are just getting away with awful things. I'm trying to make some of that right."
Oh that we could make so many awful things right in 2016. On the precipice of America's first grab-'em-by-the-pussy president, there's a whole lot to be righteously angry about. Enter "Sweet/Vicious," MTV's new (and shockingly timely) comedy-drama. The show, created by 28-year-old Jennifer Kaytin Robinson, explores what would happen if two ballsy college students ― sorority darling Jules and stoner tech whiz Ophelia ― decided to take on campus sexual assault, one abuser at time.
In the age of Donald Trump, "Sweet/Vicious" plays like an extended, satisfying revenge fantasy for women who feel increasingly unsafe and unheard in their own country.
Jules, who is herself a survivor of rape, has become a masked, ass-kicking vigilante before the show even begins. (The opening scene finds her beating the crap out of a male college student who assaulted a girl named Beth. "Please, please no," he whimpers as a masked Jules punches him in the face. "I'm sorry, I thought no meant yes," she responds.) Ophelia, a directionless but wealthy and brilliant weed dealer, stumbles into Jules' punishing path during the first episode. Through a series of unfortunate circumstances, and one brilliant rendition of "Defying Gravity," the women are thrown together, eventually deciding to combine forces on a shared mission.
Robinson told The Huffington Post that she conceived of "vigilante-esque female characters" before she decided exactly what they would be fighting, but the epidemic of campus sexual assault felt like a meaningful fit. According to the CDC, nearly 1 in 5 women report experiencing rape in their lifetimes, and 19 percent of undergraduate college women say they have experienced "attempted or completed sexual assault" during their college years.
Once Robinson decided that "Sweet/Vicious" would be centered around sexual assault, she wanted to make sure that the show was made first and foremost for survivors. She worked with organizations like End Campus Rape and RAINN when crafting the first season of the show, and continues to speak with women and men who have been impacted by sexual violence through social media. MTV and RAINN even teamed up for a "Sweet/Vicious" viewing party contest, meant to raise funds for the anti-sexual violence organization.
"I made this show because I wanted women ― survivors of any kind of trauma ― to feel like they belonged," Robinson told HuffPost. "And then as we started to research and I started to speak with survivors, it became even more important to me to make the show for the survivor, and make sure that they felt heard and did not feel exploited."
"Sweet/Vicious" is fun and daring and satisfying to watch. It uses a tamer version of Quentin Tarantino-style violence to explore the lasting traces of trauma that sexual assault leaves on those who experience it. I watched the first few episodes of the season before the presidential election took place, and then again after Donald Trump, a man who has been publicly accused of sexually assaulting more than a dozen women, became the president-elect. The show felt different the second time around ― more cathartic, more necessary, more of the moment.
The show effectively toes the line between using violence as a storytelling tool to explore deeper themes of trauma, and appearing to endorse it as a real-world solution. "We want [Jules and Ophelia's world] to feel larger than life so that it doesn't feel like we're saying, 'Hey get out there and kick a rapist's ass,'" said Robinson. "You can't do that. That's not how the real world works."
It's not how the real world works, but just like any superhero story, it's pretty damn satisfying to watch Jules and Ophelia hunt down the "bad guys" ― in this case, those who commit assault and perpetuate rape culture ― and beat the ever-loving crap out of them. It's a revenge fantasy ― one that is complicated as the season progresses ― but a fantasy nonetheless.
"Sweet/Vicious" offers one small entertaining funnel for that righteous rage. And Robinson hopes that as more people see the show, they will be inspired to become their own real-world versions of Jules and Ophelia.
"The biggest thing that I hope people take away is that you have to fight injustice and you have to stand up," said Robinson. "And I'm not saying kick someone's ass. When you see something happening, you have to speak up and you have to become part of the movement. In the wake of this election, I hope this show gets people riled up to the point where they want to enact change."
Related
Before You Go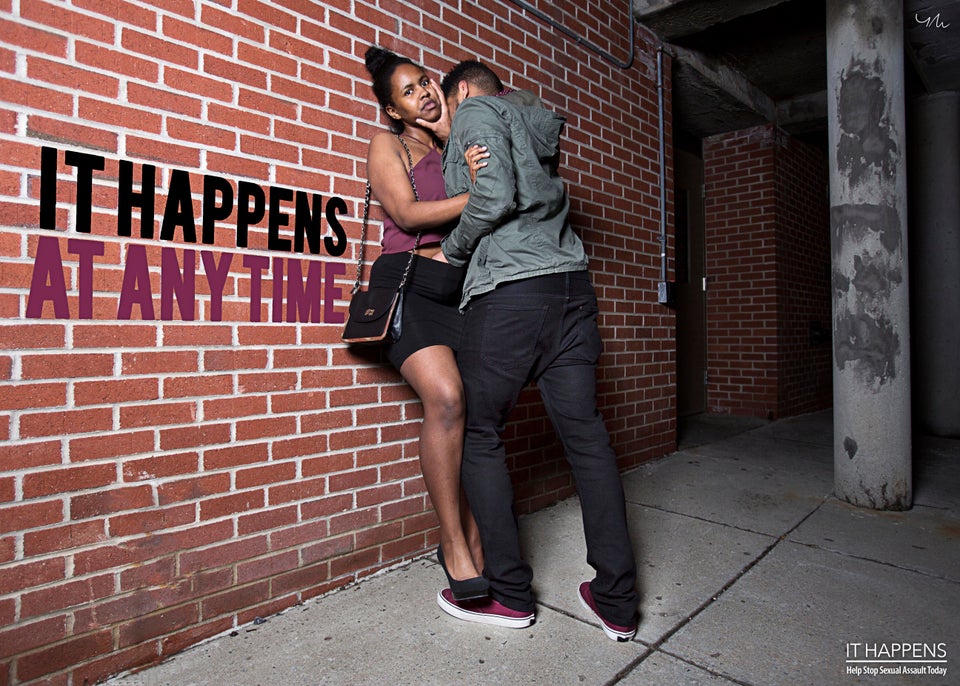 'It Happens' Sexual Assault Series by Yana Mazurkevich
Popular in the Community