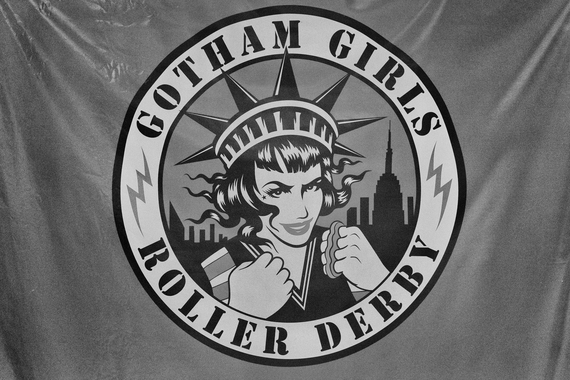 This past Saturday night, City College hosted the Gotham Girls Roller Derby City Wide Championship, featuring the QUEENS OF PAIN vs. MANHATTAN MAYHEM.
I've never been to roller derby before. So I decided to go in blind. Actually, I went in with a "strippers-meets-WWE" bias. I figured I'd score some cheap spectacle shots of hot ladies, hamming it up for my NYC photoblog, ALL THE LONELY PEOPLE (Instagram, Facebook)
I stand corrected. (And validated. Gratefully.)
This sport is hard to play, exciting to watch and these are VERY serious athletes. Having played high school and college football, I was immediately struck by the physicality of the match -- it was shockingly violent at times. Once you get beyond the visceral nature of the sport, you realize the strategic intensity is just as high. I am smitten.
And if all that wasn't cool enough... did I also mention they wear totally hot uniforms? The team's stories and uniforms (Manhattan Mayhem were Jailhouse Convicts, and Queens of Pain were Dominatrices) were awesomely campy, and their athletic prowess was a total turn-on. All this, combined with cheerleaders, mascots, a rabid crowd of loyal fans and no alcohol made for a strangely sweet and vicious night out. My favorite was meeting several of the player's moms. (Special shout-out to J-Rod's mom, email me -- I have pictures as promised!)

Check out the photo-essay below and totally make it to Gotham Girls match next season.
Related
Popular in the Community