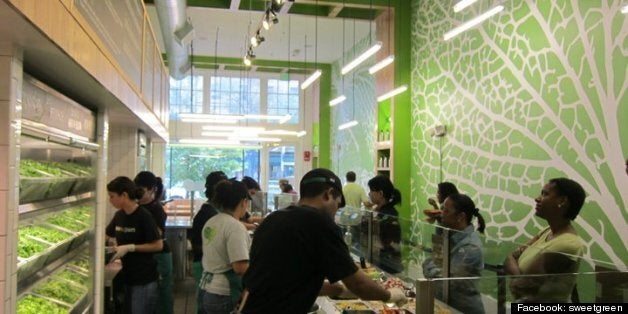 When the first outpost of D.C.-based salad chain Sweetgreen opened in a 500-square-foot storefront on M Street, it was 2007 and the city's restaurant scene was at a crossroads. D.C. had historically lagged behind the rich culinary landscapes of New York City, Chicago and San Francisco -- here, steak and potato joints reigned and "fast casual" was nearly unheard of. Healthy lunchtime options? Forget it.
The year prior, Nicolas Jammet, Nathaniel Ru and Jonathan Neman had been frustrated. The three friends, then at the start of their senior year at Georgetown University, together planned to do something about it. "We were very sick of the food options around D.C.," Neman told The Huffington Post recently. "We wanted to create something, not just go back to school and class."
Inspired by well-balanced, tasty foods they'd enjoyed abroad and on the West Coast, they began developing the concept of what would become Sweetgreen, a fast-casual eatery offering salads, wraps and yogurt.
Since the opening of the M Street location, Sweetgreen's mini-empire has grown to 16 total stores in D.C., Virginia, Maryland and Philadelphia. The company also holds an annual food and music festival, Sweetlife, which in the past has attracted headliners the likes of The Strokes, Phoenix, Passion Pit and Yeah Yeah Yeahs. Sweetgreen plans to open stores in New York City and Boston this summer and fall.
The Sweetgreen team's success may now seem a forgone conclusion to those familiar with the company, but the threesome's enthusiasm was initially met with skepticism from their peers and professors at Georgetown. Students and teachers alike predicted that a company run by untested college kids would inevitably crash and burn.
But with majors in finance and business management between them, the trio forged ahead and developed a business plan to present to a Georgetown University finance professor. He told them he didn't want to feel responsible should the nascent company fail. "'I advise you to make mistakes on someone else's dime first,'" the professor warned, Neman recalled.
The team was unswayed. Jammet, Neman and Rueach all were raised by entrepreneurial families, and they believed such doubts are par for the course. "I just knew I wanted to create my own business and work for myself," Jammet said. "Becoming a banker freaked us all out."
Jammet's family history is checkered with notable names and establishments. For two decades, his parents owned and operated the famous Manhattan French eatery La Caravelle, which closed in 2004 after a 43-year run. "From its beginning, La Caravelle was to the Kennedys what Le Cirque became to the Nixons and Reagans, a clubhouse," reads a New York Times article that announced its closing. That year, it was nominated for a prestigious James Beard award, the equivalent of an Oscar in the food world. Today, Jammet's parents sell a line of champagnes.
Previous Jammet generations have impressive résumés, too. Jammet's grandfather was a long-time owner of the five-star Hôtel Le Bristol Paris beginning in the 1920s; his son was born in one of the rooms. Jammet's grandfather's brother also owned and operated Dublin's Restaurant Jammet for more than 60 years beginning in 1901. (Michelin-starred chef Richard Corrigan once called it the "most famous and possibly the best restaurant in Ireland.") Nearly a century earlier, in 1792, Jammet's family owned Le Bœuf à la Mode, one of only a few restaurants in all of France at the time.
"The hospitality gene kind of runs in our family," Jammet said.
Neman and Ru also were raised against a business backdrop. Neman's family, Persian Jews from Iran who emigrated to the U.S. after the 1979 revolution, ran textile and real estate companies in Los Angeles. Ru, born to a Mexican mother and a Taiwanese father, grew up around his family's manufacturing and import businesses.
"All our parents moved here and had to start fresh, and all started family businesses," Neman said. "I learned a lot from watching my dad working with his two brothers ... it's very reminiscent of Nic, Nate and I."
All agree that a lack of ego has allowed for Sweetgreen's continued success. The three entrepreneurs are close -- Neman and Ru live together, and Jammet lives next door with his twin brother. Together, the Sweetgreen partners do yoga in the mornings at Jammet's apartment and then commute to work together. They travel together on weekends. "Most people would hate each other, but it's really strengthened our bond," Jammet said, laughing.
Their natural partnership and inherited business savvy perhaps helped them ignore the initial push-back from Georgetown, which Neman said doesn't encourage its graduates to pursue small business. "When we were there, you were either a consultant or a banker. Which one do you want to be?" he recalled. But, he allowed, "Georgetown has come a long way since then."
One teacher did see promise in the Sweetgreen project: Georgetown entrepreneurship professor William Finnerty, who offered a great deal of initial guidance and went so far as to introduce the team to investors and to put up his own money for Sweetgreen's second and third restaurants.
Neman, who took Finnerty's class his senior year, believes the professor's lessons had a huge impact on the Sweetgreen brand and what he termed "conscious capitalism." "You can make more money by being good to the world," Neman said, recalling a Finnerty lesson.
Sweetgreen is nothing if not conscious in the realms of health, social responsibility and branding. The store's offerings are wholesome (salads, wraps and yogurt are made with fresh, organic and often local ingredients) and the business aims to have as small an ecological footprint as possible. Neman says its staff is close-knit.
It all plays into Sweetgreen's emerging identity as a lifestyle brand, which exudes a hipness enjoyed by few other companies in D.C. Its sleek storefronts, done up in organic hues of green, white and brown, are draped in wood panels and boast a decidedly modern aesthetic. The stores are especially popular with millennials, perhaps due to the company's active presence on social networking sites like Facebook, Twitter and Instagram. And the chain's success has been further buoyed by the Sweetlife festival, which this year expects to welcome 20,000 concertgoers to Merriweather Post Pavilion in Columbia, Md.
The festival is now in its fourth year, and will feature other eateries: D.C. food trucks; restaurant visitors from New York City, like Bushwick favorite Roberta's; and other outfits, including Luke's Lobster, oyster purveyor Rappahannock, DC Brau, Flying Dog, Mountain State Brewing Co., Peak Organic Brewery, Chocolate City Beer and Boordy Wines. Chefs RJ Cooper and Erik Bruner-Yang, of Rogue24 and Toki Underground, respectively, will also be on hand crafting food and drink offerings.
How Sweetgreen's planned locations for New York City (at 1164 Broadway, adjacent to the NoMad Hotel) and Boston (659 Boylston St.) fare could foretell the brand's future. Each city's Sweetgreen stores will have their own character, Neman said -- New York's will offer beer and wine, a first for Sweetgreen -- and the company hopes to open several more locations in the coming months.
This suggests Sweetgreen is eyeing a transformation, from local business to mainstream chain. Neman and Jammet were mum on the subject, however. "I think our product will be accepted in both cities," was all Jammet offered.
Much of the ethos will remain the same, though the team has sought out new local purveyors to source its ingredients. Jammet says the company is "treating them as their own communities" and "everything will be quite regionalized."
Like its D.C. locations, Jammet said, Sweetgreen will remain "not just a place to get a healthy salad."
Calling all HuffPost superfans!
Sign up for membership to become a founding member and help shape HuffPost's next chapter
BEFORE YOU GO
PHOTO GALLERY
Dinner Salads