For culture vultures, those rare moments when everything comes together can be like an out-of-body experience. Mae West knew what she was talking about when she purred "Too much of a good thing can be wonderful."
Certain lengthy performances unravel on stage and screen with a seemingly endless supply of awesomeness -- experiences whose aural and visual elements have been so magnificently crafted that it often feels as if the creative team is warming up the audience with a perverse kind of artistic foreplay that accelerates toward an explosive climax. Minus a genuine orgasm, this is what it feels like inside one's heart.
What do you learn when you experience something for the first time and feel like you've been launched out of your seat on a rocket? Those are moments to be treasured. Late in 2015 (a year filled with artistic highs), two performances sent me through the ceiling when I least expected it. The element of surprise (especially when you think you know what's coming down the pike) often provides a bracing reminder of the power of live performance.

* * * * * * * * * *
I had no idea what to expect from Marcel L'Herbier's 1924 silent film, L'Inhumaine. Some of the black-and-white photos of the sets looked like a celebration of Art Deco furniture and incredibly luxurious interiors. Some of the costumes by Paul Poiret could have set many a drag queen's heart aflutter.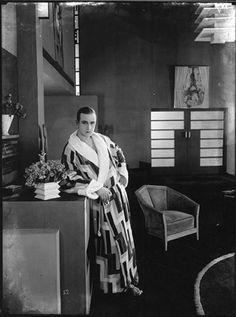 Jaque Catelain as Einar Norsen in in 1924's L'Inhumaine
Although L'Inhumaine may have been a fabulous flop when it was first released, one can hardly ignore the design elements in the mad scientist's laboratory created by Fernand Léger, the magnificently geometric dining hall designed by Alberto Cavalcanti for Claire's dinner party (with its U-shaped table set on an island in the middle of a pool which allows ducks to swim around the guests), or the winter garden and funeral vault designed by Claude Autant-Lara.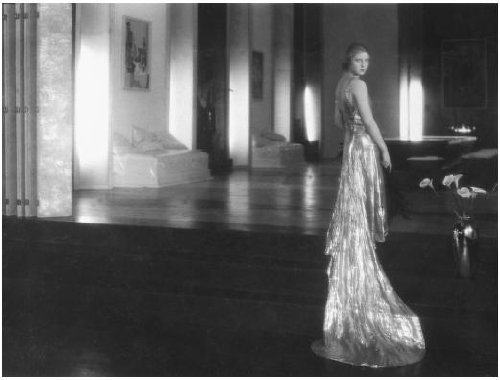 Georgette Leblanc (as Claire Lescot) wears one of
Paul Poiret's gowns in a scene from 1924's L'Inhumaine
The last thing I was expecting was for L'Herbier's film to veer off into the territory of a mad scientist trying to bring someone back to life (a la Victor Frankenstein Goes to Paris). Not to mention a crowd scene filmed in the 1900-seat Théâtre des Champs-Élysées during which the extras in the audience supposedly included such luminaries as composer Erik Satie, artist Pablo Picasso, famed Surrealist and Dada artist Man Ray, French politician Léon Blum, writer James Joyce, poet Ezra Pound, and Louis II, Prince of Monaco!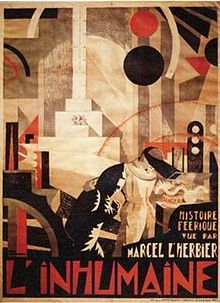 Poster art for 1924's L'Inhumaine
As part of December's one day mini-festival entitled A Day of Silents, the San Francisco Silent Film Festival presented the Bay area premiere of an exquisitely-restored print of L'Inhumaine. The protagonist is an internationally famous diva named Claire Lescot (Georgette Leblanc) who is adored by the public and chased after by such wealthy men as Wladimir Kranine (Léonid Walter de Malte), Frank Mahler (Fred Kellerman), and a dangerously jealous maharajah named Djorah de Nopur (Philippe Hériat). Having pretty much done it all, Claire is planning to take a year off to travel around the world alone "unless something else comes up." Quelque chose, indeed!
In her program note, Monica Nolan writes:
"At its Paris premiere, the audience greeted the film with a near riot, destroying theater seats to express their displeasure. Much of the negative reaction to L'Inhumaine seems to stem from disappointed expectations. A ball-busting heroine and a plot that mixes old-fashioned melodrama with science fiction settings were not blockbuster material even in 1924."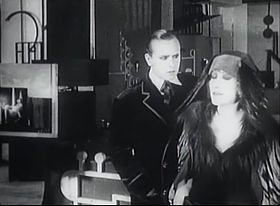 Jaque Catelain as Einar Norsen and Georgette Leblanc
as Claire Lescot in a scene from 1924's L'Inhumaine
"Yet it is the wacky combination (especially when decked out with L'Herbier's avant-garde pyrotechnics) that makes the film such a pleasure once we brush away the cobwebs of past biases that cling to it. It has everything: spurned lovers, suicide, and poisonous snakes; speeding cars and a fantastical lab (designed by painter Fernand Léger) with incomprehensible equipment labeled Danger of Death. Claire's living room is worthy of a James Bond villain and her guests are served by footmen wearing pumpkin-sized fake heads with painted smiles."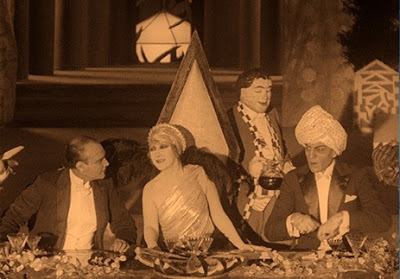 Claire (Georgette Leblanc) entertains dinner guests (including
a jealous maharajah) in a scene from L'Inhumaine
Utterly devoid of subtlety, L'Inhumaine is not a film for the faint of heart. I'll admit that it took my eyes about a half hour to get used to the lighting in the restored print that was screened at the Castro Theatre. Even though my eyes tire easily these days, it was not as much a problem as I might have expected. In fact, there was a hidden benefit.
The Alloy Orchestra (which accompanied this screening with its phenomenal new score for L'Inhumaine) did the kind of knockout job that makes you feel as if your head will explode. As a result, it's possible to close your eyes for several minutes, not feel compelled to watch the film, and be consumed by a tsunami of sound while experiencing a royal mindfuck well suited to L'Herbier's film. After approximately 130 minutes of L'Inhumaine, many in the audience turned to their friends and gasped "What the fuck?" as they shook their heads in wonder at what they had just seen and heard.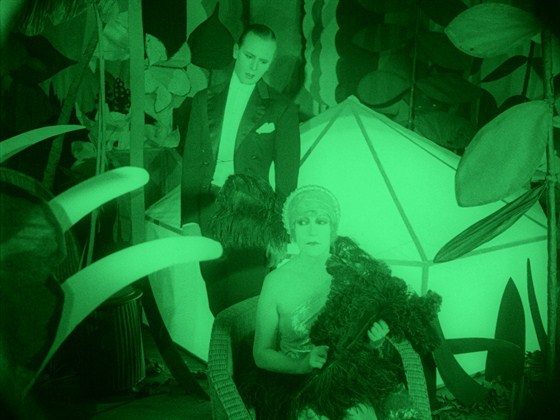 Jaque Catelain as Einar Norsen and Georgette Leblanc
as Claire Lescot in a scene from L'Inhumaine
Here's Serge Bromberg introducing the film's restoration, which was made possible in large part through the work of his company, Lobster Films. Even if you don't speak French, it's worth watching for the tinted film clips from L'Inhumaine.
As one gets older, time seems to pass more quickly. It's hard to believe that three decades had elapsed between the last time I saw a fully-staged performance of Richard Wagner's only comedy (Die Meistersinger von Nurnberg) and the San Francisco Opera's splendid 2015 staging of this mammoth work.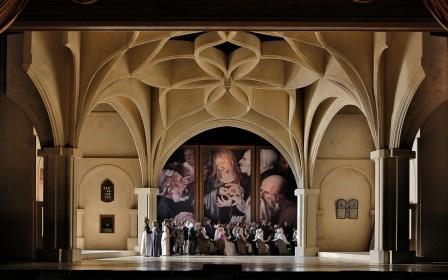 The opening scene from the San Francisco Opera's 2015 production of
Die Meistersinger von Nurnberg (Photo by: Cory Weaver)
The use of Supertitles, which we often take for granted, makes Wagner's excessively talky opera much easier to follow (as well as clarifying the more subtle humorous moments of bickering and humiliation. In his program note, director David McVicar explains that:
"It's important to find Wagner's funny side, rather than taking him too solemnly. We mustn't think of him as a stern German moralist -- he was a Leipzig urchin to the end of his days. He loved pranks and practical jokes, extremes of joy, and he climbed trees in his sixties. He was impossible, a monster, but with a wonderful sense of humor. Nothing is more hideous to me than when you get to the Ländler [in Act III] and on come the dancing girls, with the chorus just standing there watching. At Glyndebourne every cast member, chorister, real ballet dancer, and supernumerary took part. Once you do that, the whole thing brims with joy and becomes a true expression of that music. The choreography shouldn't be too sophisticated; you should feel almost anyone could do it. This is the community dancing, with every single burgher in Nuremberg letting their hair down in whatever way they can."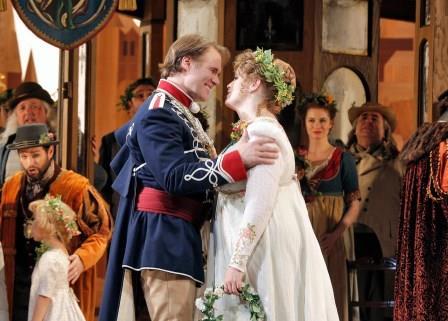 Count Walther von Stolzing (Brandon Jovanovich) and Eva Pogner
(Rachel Willis-Sorenson) embrace in Die Meistersinger von Nurnberg
(Photo by: Cory Weaver)
"Ultimately the opera says that community matters, and that art matters to the community. That's a very relevant message for our present western world, where the arts are so undervalued and dumbed down. Here is a community that nurtures and cares for art, and believes that great art has something profound to say to people. For me, that is the overwhelmingly positive message of Meistersinger."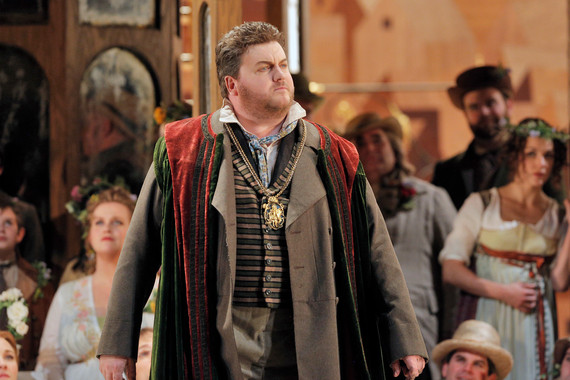 James Rutherford as Hans Sachs in a scene from
Die Meistersinger von Nurnberg (Photo by: Cory Weaver)
Clocking in at approximately 5-1/2 hours (with two intermissions), Meistersinger is very much an acquired taste (this ain't no Phantom of the Opera). I must admit that there are many moments in the score -- beautifully rendered passages of music -- that a person appreciates much more as he ages and revisits Wagner's opera.
Getting a production of Die Meistersinger onstage is a huge task, not only in terms of rehearsal time, but often due to more physical constraints. From start to finish, this co-production with the Glyndebourne Festival Opera and Lyric Opera of Chicago (handsomely designed by Vicki Mortimer) is remarkably adept at providing a sense of architectural grandeur, framing moments of introspection and intimate passions, as well as capturing the sheer ebullience of Nurnberg's open-air celebration of its artists.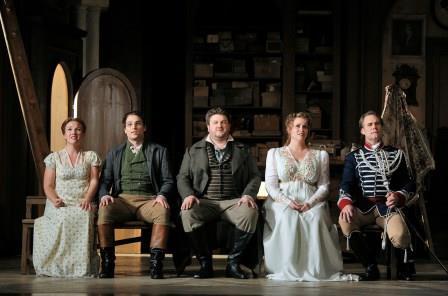 Magdalene (Sasha Cooke), David (Alek Shrader), Hans Sachs
(James Rutherford), Eva (Rachel Willis-Sorenson) and Walther
(Brandon Jovanovich) perform the Act III quintet in
Die Meistersinger von Nurnberg (Photo by: Cory Weaver)
During the 2015 season, the San Francisco Opera has allowed the audience to witness many set changes while responding to questions received via Twitter. In the following clip, you can watch stagehands converting the set from Act II to Act III, Scene I of Wagner's opera.
For those who think the arts have no place in education -- or have grown weary of the term "meritocracy" -- Die Meistersinger offers a refreshing lesson in how to win someone's love.
Eva (Rachel Willis-Sørensen) is a beautiful young woman who could easily win the heart of any young suitor. However, her father, Veit Pogner (Ain Anger), belongs to a guild of master singers whose talent pool has been dwindling. In order to attract new talent to the guild, he has offered his daughter as the prize to whoever wins the guild's upcoming contest (as long as the winner is a master singer).
Count Walther von Stolzing (Brandon Jovanovich) is a bright young knight who has recently sold his family's estate in Franconia and fallen in love with Eva at first sight. With no training in the skills required to create a prize-winning art song, he must work fast to hone whatever talent he has in order to qualify as a master singer. Although his nobility would normally be his trump card, Walther is determined to win Eva's love the old fashioned way (by earning it).
Hans Sachs (James Rutherford) is one of the most beloved members of the master singers' guild. Widowed at an early age, he watched Eva grow up and may well have imagined her to be an ideal second wife.
Sixtus Beckmesser (Martin Gantner) is the designated "marker" for the prize contest. He is also a petty fool with no sense of humor who is utterly lacking in social graces. Although deeply impressed with himself, he is not the slightest bit appealing to Eva (who is determined to elope with Walther if Herr Beckmesser wins the contest).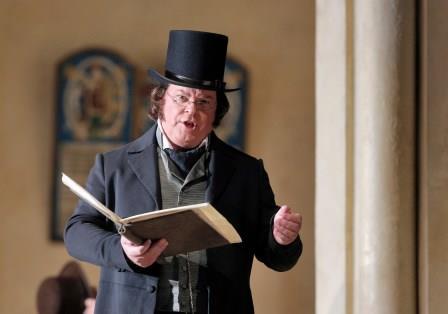 Martin Gantner as Sixtus Beckmesser in a scene from
Die Meistersinger von Nurnberg (Photo by: Cory Weaver)
The singing contest which is the climax of the opera helps to showcase the art of song while demonstrating the difference between a newcomer whose passion is matched by his innate talent and an old ham who is, at best, a hack musician. Under McVicar's direction, Wagner's opera was transformed into an intensely human story whose supporting characters (Sasha Cooke as Eva's nurse, Magdalene, and Alek Shrader as Hans Sachs's apprentice, David) offer a delightful comic foil to the more serious romantic problems of Eva and the studly Count Stolzing.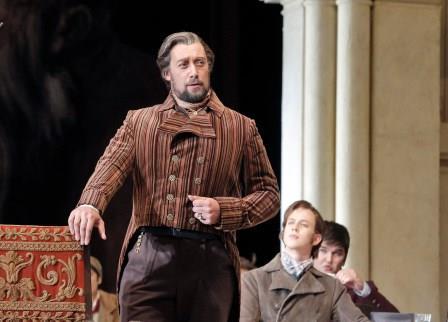 Ain Anger as Viet Pogner in the San Francisco Opera's production
of Die Meistersinger von Nurnberg (Photo by: Cory Weaver)
Whereas most people focus on the role of Hans Sachs, I was especially taken by the singing of Ain Anger as the goldsmith, Viet Pogner. Tenor Brandon Jovanovich (a San Francisco Opera favorite) was every bit the embodiment of a handsome, young knight and, as always, sang with great warmth and ardor. As Eva, Rachel Willis-Sorenson was a model of vocal health.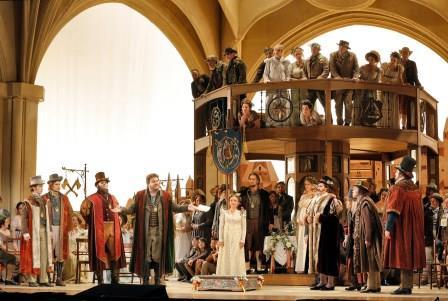 The final scene from the San Francisco Opera's production of
Die Meistersinger von Nurnberg (Photo by: Cory Weaver)
The true hero of the evening was conductor Mark Elder who (aided by chorus director Ian Robertson) led from a position of love and strength. Under Elder's baton, the audience gained renewed appreciation not just for Wagner's talent as a composer, but also for his skill as an orchestrator. Some especially nice [and earthy] touches to this production were added by choreographer Andrew George.
Among the many members of the master singers' guild were Philip Horst as Fritz Kothner, AJ Glueckert as Kunz Vogelgesang, Joel Sorensen as Balthasar Zorn, Corey Bix as Augustin Moser, Joseph Hu as Ulrich Eisslinger, Sam Handley as Konrad Nachtigall, Anthony Reed as Hans Schwarz, Edward Nelson as Hermann Ortel, and Matthew Stump as Hans Foltz. Andrea Silvestrelli enjoyed some comic moments as Nuremberg's night watchman. Here's some footage from the production.
Calling all HuffPost superfans!
Sign up for membership to become a founding member and help shape HuffPost's next chapter