Emerge With Clear Skin
Video produced by Ratan Mehta
When I returned from Iceland's Blue Lagoon, a geothermal spa and one of the country's most visited attractions, my mother couldn't stop complimenting me on how smooth and clear my skin looked. If your holiday trip includes a long layover in Iceland, don't pass up the chance to relax in water temperatures reaching 102 °F. When you travel via Icelandair, you have the flexibility to stay up to seven days as a layover at no extra charge, either before your destination or return trip.
The Blue Lagoon is recognized as one of National Geographic's "25 Wonders of the World" and more than 700,000 people flock to these warm waters each year. Located in an 800-year-old lava field of black volcanic rocks, the lagoon is only a 20-minute drive from Keflavik International Airport and a 50-minute drive from the capital, Reykjavik. Roundtrip transportation is easy as there are bus transfers to and from the airport: 35 euros ($36.58) for adults; 17.50 euros ($18.29) for teens; and free for children. I highly suggest checking with your hotel or hostel to get a discount rate.
On my return trip home to Denver, I had a 17.5-hour layover in Iceland. I arrived at 11:15 p.m. and just missed sunset. It was both strange and exhilarating to see a dusk sky at that time of day. I really wanted to see Reykjavik and booked a room at Reykjavík Downtown Hostel on Airbnb for $56 a night. Getting there, however, was no picnic. It took over an hour between two bus transfers in the cold. I slept maybe two hours after dragging my large suitcase upstairs along with a mini carry-on full of gifts. If you are staying less than 24 hours, I recommend choosing a hotel closer to the airport and save Reykjavik for a longer stay. I had very little time to wander around downtown, which was deserted on a July morning.
After breakfast, I hopped on my hostel's shuttle to the Blue Lagoon. When you arrive, don't forget to drop off your luggage in a secure holding room located in the parking lot. The price is roughly $5.
Advance purchase is both required and necessary as tickets sell out fast. Arrive an hour before your ticket's scheduled entry to prepare for the long lines. Although your purchase is for a one-hour block, it does not mean you must leave after an hour. No one is monitoring how long you've been in the water. After you've scanned your ticket, you'll be given a waterproof electronic wristband that allows you to lock your personal items in a personal locker and charge purchases at the bar and restaurant, which you pay for when you exit the lagoon.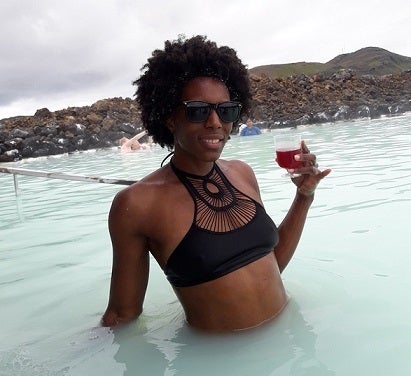 There are four spa packages to choose from and prices vary in winter and summer, starting at $42. I chose the "comfort" package, which includes entrance to the lagoon, algae and silica mud masks, a towel, and a free drink of choice at the in-water beverage bar. It was the facial masks that left my skin feeling soft and with a glow lasting for days. The lagoon's natural minerals are believed to aide in healing psoriasis.
After you've done the mask treatments, head over to the sauna and steam rooms carved into lava rock. Or sit under the waterfall for a shoulder and back massage. You won't want to leave.
I was worried the spa would be too crowded for comfort but there was plenty of room to wander the lagoon without bumping into people. I even found an area that felt secluded with few people around. The water was so blue and warm. I found a cozy spot near the lava rocks, closed my eyes and floated. It was the most relaxing way to end my three-week Euro trip.
Monique Antonette Lewis has visited 14 countries and 26 U.S. states. She is the founder of At The Inkwell, a New York City-based organization that hosts reading series across major US cities and in London. She is an editor for Mergermarket, a global financial news service. Monique lives in Denver. Follow her on Twitter, Facebook and Instagram.
REAL LIFE. REAL NEWS. REAL VOICES.
Help us tell more of the stories that matter from voices that too often remain unheard.
This post was published on the now-closed HuffPost Contributor platform. Contributors control their own work and posted freely to our site. If you need to flag this entry as abusive,
send us an email
.