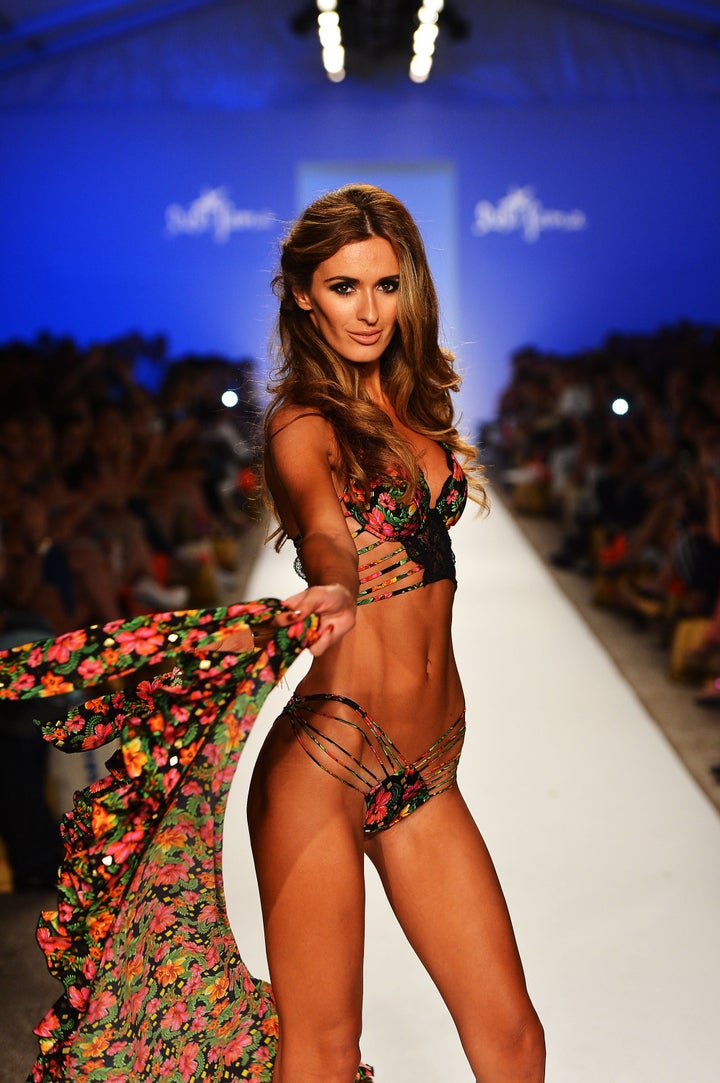 Flirty 'Cosmo Summer Splash' Finale Walk at Soho Beach House. Photo credit: Alberto Tamargo
Cut-out monokinis, bustiers paired with high-waisted bottoms, and bikini tops adorned with exaggerated ruffles were all swimwear trends that emerged during Swim Week 2013 in Miami Beach. But perhaps the biggest trend on Glitter Beach was the omnipresent fashion blogger.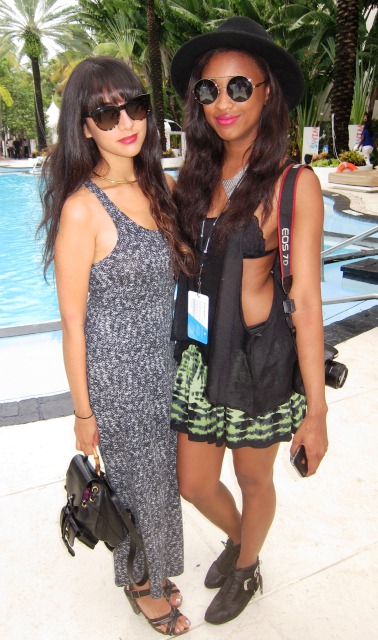 California-based blogger Natalie Alcala and local blogger Ria Michelle at The Raleigh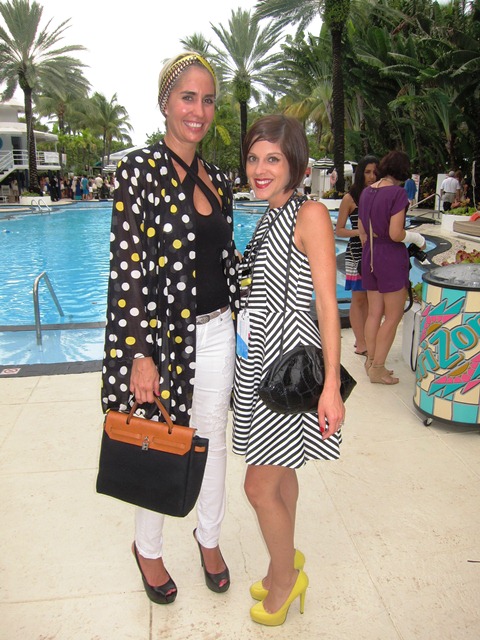 Miami Art Museum's Marcella Novela and Daily Candy Miami editor Ginger Harris, creator of Electric Blogarella, at The Raleigh
Whereas only a handful of Miami-based bloggers were present at Swim Week last July, this year the number rose meteorically to 500, with bloggers coming from points around the globe -- Rio de Janeiro, London, Paris, Mexico City, Bangladesh, Dubai.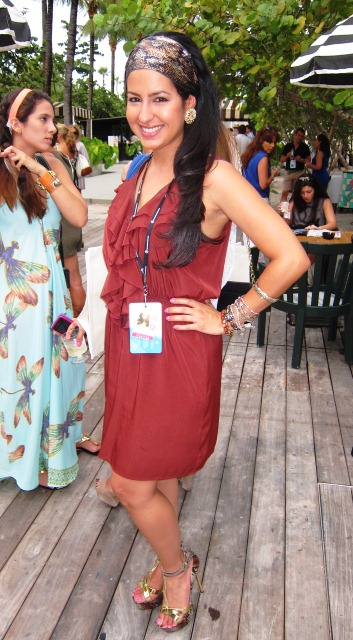 Miami blogger Susset Cabrera of Miami Beats and Sazon
Mercedes-Benz Fashion Week Swim has been one of the most highly anticipated and well-attended events in the IMG Fashion portfolio since its inception in Miami Beach eight years ago. Prior to IMG's involvement, Swim Week in Miami functioned primarily as a trade event going back to 1982, when the Swimwear Association of Florida debuted its annual convention.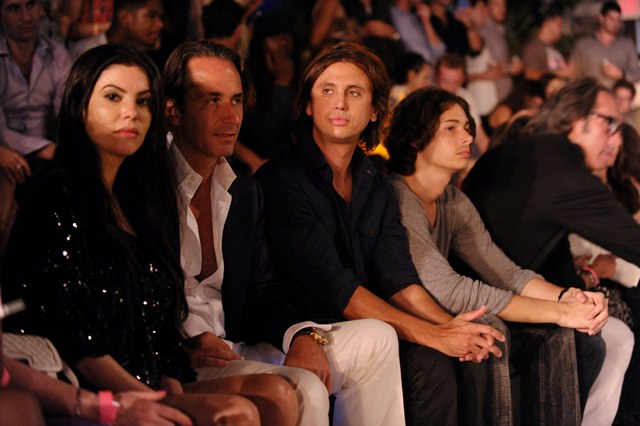 Jonathan Cheban at Chloe 2013 runway show, Soho Beach House. Photo credit: Seth Browarnik/ WorldRedEye.com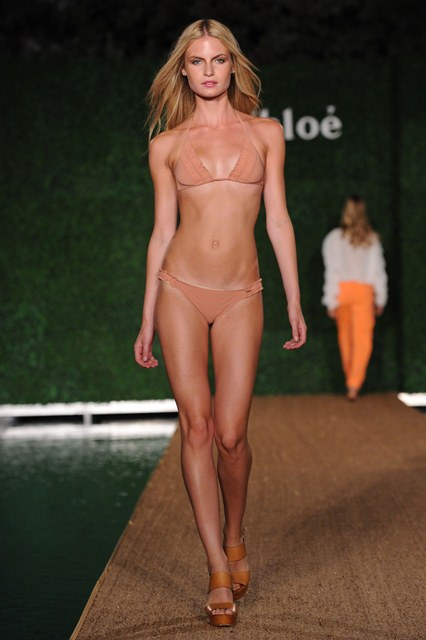 Chloe 2013 nude bikini at Soho Beach House. Photo credit: Seth Browarnik/ WorldRedEye.com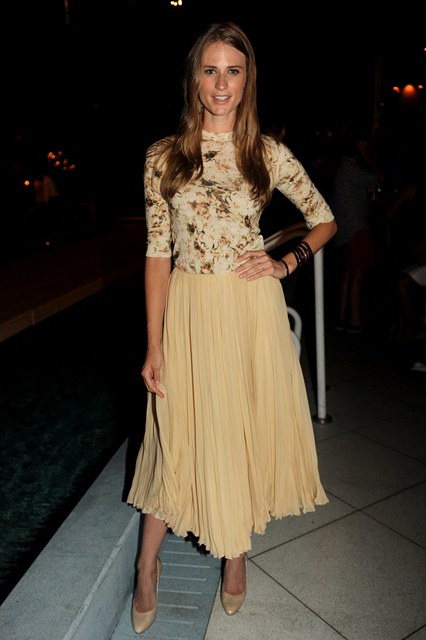 Supermodel Julie Henderson at Chloe resort 2013 runway show, Soho Beach House. Photo credit: Seth Browarnik/ WorldRedEye.com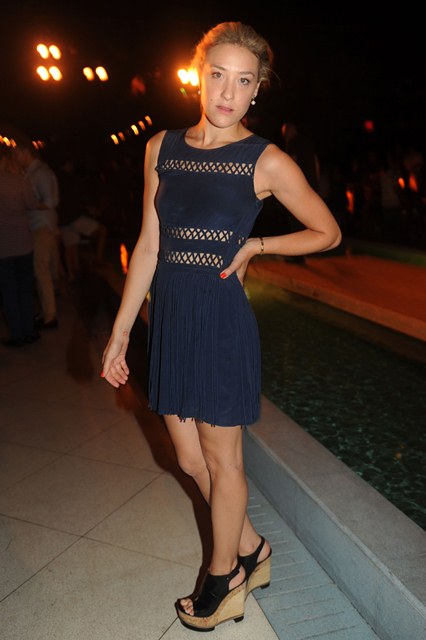 DJ darling Mia Moretti at Chloe 2013 runway show, Soho Beach House. Photo credit: Seth Browarnik/ WorldRedEye.com
From July 19 to 23, 2012, more than 30 swim and resort wear designers, from the esteemed (Chloe, Mara Hoffman Swim, L*SPACE by Monica Wise, Red Carter, Anna Kosturova) to the emerging (Agua Bendita, Keva l J, Sinesia Karol, Salvage) showed their 2013 collections to more than 10,000 editors, buyers, VIPs and celebs (this year's boldfaced notables included Kimye, Shenae Grimes, Lil Wayne and Brooke Burke), and, yes, bloggers.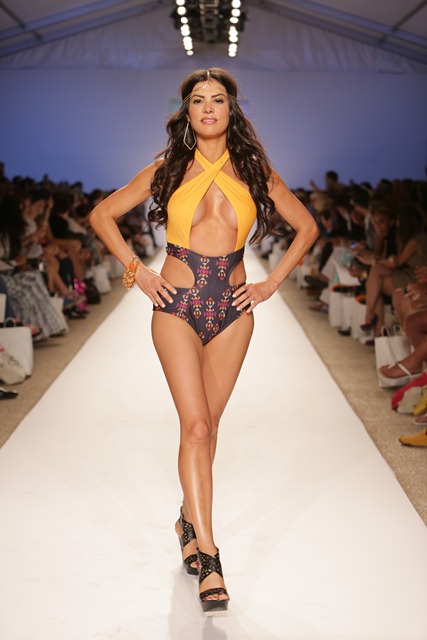 Adriana de Moura of Real Housewives of Miami debuts first look for KEVA l J 2013. Photo credit: Alberto Tamargo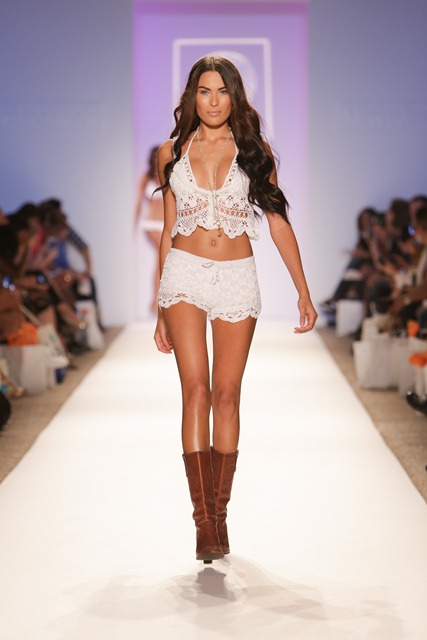 Anna Kosturova hand-crocheted bralet with shorts, 2013 collection. Photo credit: Alberto Tamargo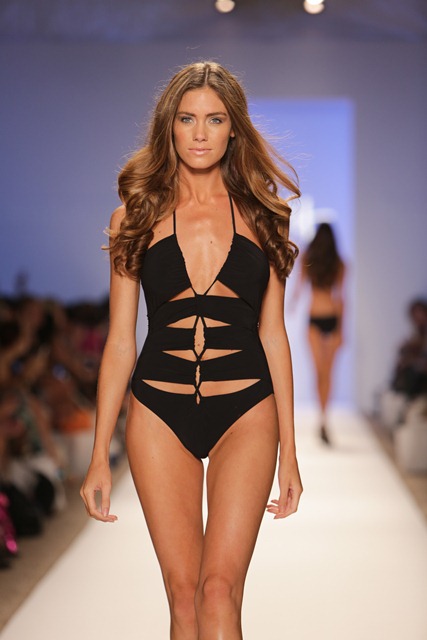 Dorit Swimwear cut-out maillot, 2013 collection. Photo credit: Alberto Tamargo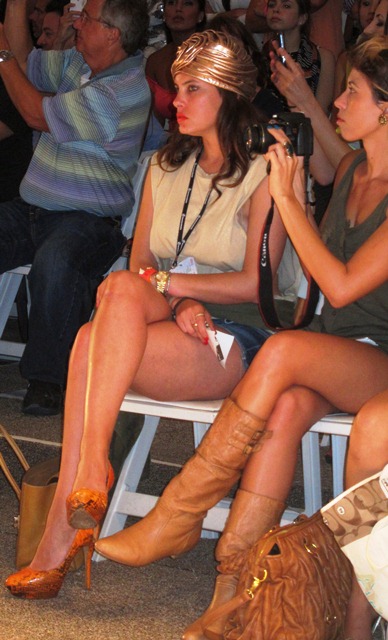 Haute Living National Fashion Director Jilian Sanz rocks a vintage Dior lame turban at L*SPACE 2013 runway show, The Raleigh. Photo credit: Getty Images
Armed with smartphones and accessorized cameras (a Chanel-esque chain on a Lumex, our personal favorite), the bloggers covered Swim Week and were feted at events, including an al fresco luncheon at Soho Beach House hosted by Bal Harbour Shops. (Snaps to organizers In House Ideas for one of the best invites of the week -- a retro-size postcard with a vintage black-and-white photograph of men from The Whitman family -- which owns Bal Harbour Shops -- including patriarch Stanley Whitman, beachside, displaying their handmade surfboards.)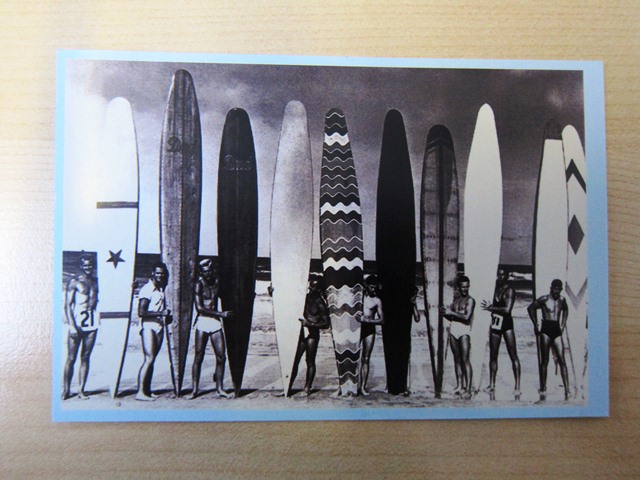 Vintage photo of The Whitman Family with handmade surfboards, courtesy of The Whitmans
Wisely harnessing the power of the blogger were social media entities including Google+ and New York-based Socialyte Collective, the latter of which imported their top five national bloggers for Swim Week. Here, bloggers Krystal Bick, Olivia Lopez, Erika Marie, Laura Ellner and Jenni Radosevich give us their take on summer trends, Miami and style in general.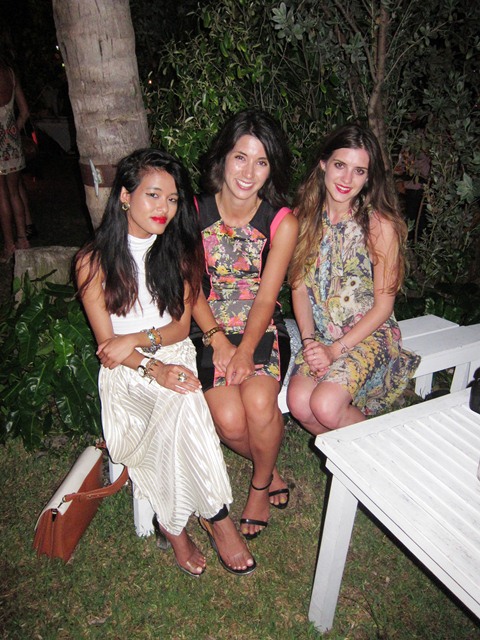 Bloggers Olivia Lopez (Los Angeles), Krystal Bick (San Francisco) and Laura Ellner (New York City) at Soho Beach House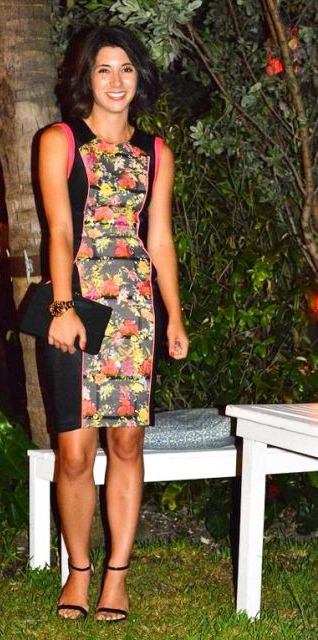 Photo credit: Blake Brysha
What summer fashion trend are you obsessing over, and which do you wish would disappear?
I'm obsessed with cropped bralette tops, especially with pencil skirts. As for what should disappear, I'd have to say floral crowns. Don't get me wrong, I liked them as much as the next Lana Del Rey fan, but I think they might be overdone now.
Your top three style icons?
I usually rotate between the same three style icons -- a hearty helping of Taylor Tomasi Hill, a dash of Miroslava Duma and a pinch of Yasmin Sewell (hello, hair envy!).
Your favorite shops and boutiques in Miami?
This being my first time in Miami, I can't tell you how excited I was to finally check out The Webster -- their selection is just so spot-on. Bal Harbour Shops, which, besides having an oasis-like environment, has such a strong lineup of stores. No wonder I lost track of time there before rushing off to the airport!
Which Swim Week trend are you most excited about?
I'm definitely going to accessorize my swimsuits more in the sense of complete outfits (think lots of jewelry). I'm grabbing some statement necklaces, and even headpieces, before my next poolside jaunt.
Your most memorable Swim Week moment?
Let's just say drinking poolside and watching a runway show unfold literally on water at the Soho Beach House was at the top of my list.
Olivia Lopez, 19
Los Angeles, California; Blogging -- 5 years
Lustt For Life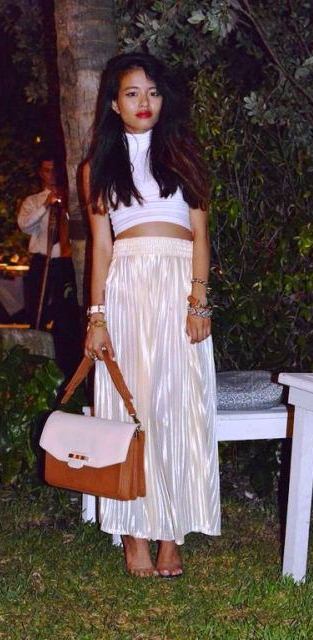 Photo credit: Blake Brysha
Who is killing it in the swim category right now?
Mara Hoffman and L*SPACE have been all over the radar!
Any personal fashion disasters?
My Jeffrey Campbell American Flag Print heels. I wore them once on the Fourth of July, and three other people at the party were wearing the same shoe.
Which Swim Week trends are you most excited about?
The rainbow brights, watercolor prints, and long trails of chiffon from the sheer dusters the models wore have me craving more summer months.
Where do you see yourself in five years?
Living in Berlin, with an escape to warmer climates in the winter; sourcing new vintage wares and furnishings for [the online vintage store] The Caravan; and continuously working on cool projects and meeting new people through Lust for Life.
Most memorable Swim Week moments?
Kicking off Fashion Week at the rooftop at the Soho Beach House; the Tory Burch presentation at the Delano Hotel; and getting a free pair of Chloe sunglasses at the Fashion Week Daily event!
Erika Marie, 26
Raleigh, North Carolina; Blogging -- 4.5 years
Fashion Chalet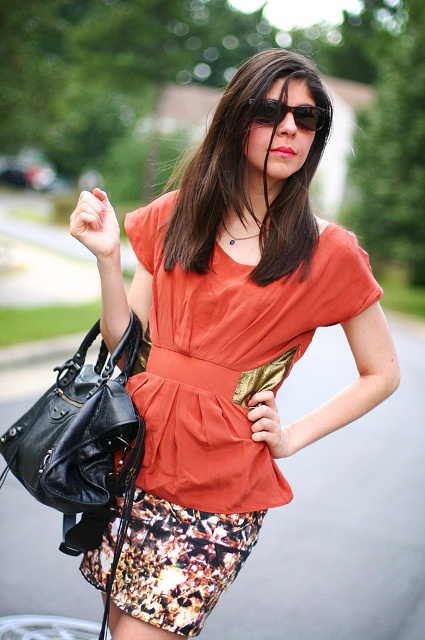 Photo courtesy of Fashion Chalet
Your blog's target audience?
Girls like me, who enjoy test-driving new trends. I'm personally drawn to mixing low and high pieces -- H&M with Balenciaga, for example. Vintage hunting is also a great way to mix things up within your wardrobe.
Which swim brand do you most identify with personally?
Trina Turk. I'm a fan of bright prints and mixing & matching unexpected pieces.
Your favorite shops and boutiques in Miami?
Fly Boutique on Lincoln Road and C. Madeleine's!
Favorite pieces in your closet?
Moschino wedges and my Balenciaga bag.
What do you think of the Miami fashion scene overall?
Laura Ellner, 25
New York, New York; Blogging -- 2.5 years
On The Racks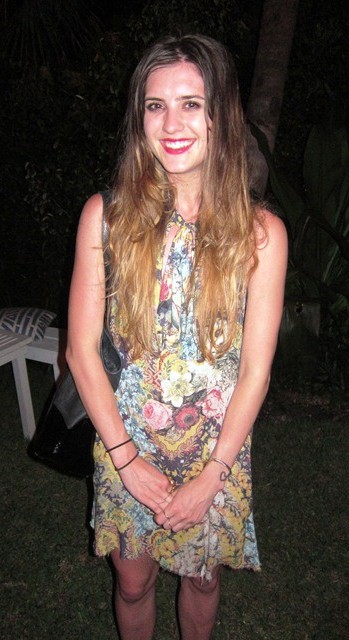 What was your 'a-ha' moment?
It didn't take long for me to realize that there is an incredible community attached to this blogging thing. Going into this, I expected that it would be a fun way to document my own style, and knew there were lots of style blogs out there, but was so pleasantly surprised by the people I started meeting and the friends I made along the way. I have been able to connect with such a supportive, talented and creative group of like-minded people who will be friends for life. That, in itself, has been one of the most rewarding parts of blogging.
What media outlets inspire you?
I check sites like New York Magazine, Refinery29, Huffington Post and Women's Wear Daily each morning. As for personal style blogs, a few of my favorites include Late Afternoon, Atlantic-Pacific, This Time Tomorrow... the list goes on. I guess you could call me a bit of a blogaholic.
Favorite piece in your closet?
A lacy vintage dress I scored at Goodwill for under $15. It is the prettiest blush pink color, and has such intricate detailing -- I think I have received more compliments on this one little number than anything else I own!
Swim Week trends you're most excited about?
I love the high-waisted, retro bikinis. I also saw lots of gorgeous, flow-y cover-ups that could double as a dress, if layered right. And a big sun hat is always a must for swim!
Which swim brands most align with your personal aesthetic?
I have always been a huge fan of Mara Hoffman. The prints get me every time! Some other favorites include Vitamin A, Tory Burch, BCBGMaxazria and Wildfox.
Jenni Radosevich, 29
New York, New York; Blogging -- 3 years
I Spy DIY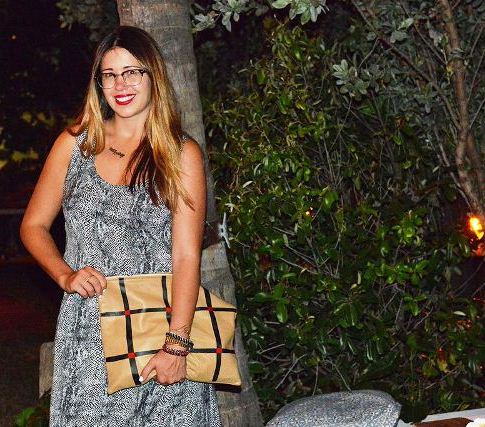 Photo credit: Blake Brysha
What made you decide to start a blog?
Growing up in the Midwest, I was always making my own clothes and thrifting, so, when I moved to New York (on a tight budget), I did the same. While working at InStyle magazine, I pitched a DIY story to them, and it was a huge hit. I turned the idea into a blog, and the magazine asked me to do a monthly DIY column. Now I am working on my site fulltime and promoting my first DIY book, I Spy DIY Style, which came out in April [Random House and Random House Digital].
What media outlets inspire you?
The online DIY community is a huge inspiration. It amazes me what other DIYers create. I have been lucky enough to meet a bunch of them and become great friends! Some of my favorites are HonestyWTF.com, StripesandSequins.com, Swellmayde.com, and apair-andaspare.com. I also get a lot of inspiration from the runway. After each fashion week, I am constantly flipping through style.com and trend-spotting. I also like to look offline. Once you shift your way of thinking from buying to DIYing, everything you see -- from the runway, to a store front, to a 99 cent store -- can spark an idea.
Your biggest fashion splurge?
My 11" Mac book Air. It is the best accessory any fashion blogger can own.
What do you think of the Miami fashion scene overall?
I am enamored with all the bright colors and bold fashion in Miami. The caftans and statement jewelry are stunning. I am truly amazed at how everyone looks so fresh despite the heat!
What has been your most memorable Swim Week moment?
Going to the Trina Turk BBQ, and then the show. It was my first Swim Week event, and it did not disappoint!
Calling all HuffPost superfans!
Sign up for membership to become a founding member and help shape HuffPost's next chapter