MIAMI, LA/MIAMI, FL (October 10th, 2017) – SwimIssue Group today announced that Alexa Collins (@alexacollins) has been named as the first 'Swimissue Angel' and one of the stars of the up and coming SwimIssue TV series, which started production at Miami Swimweek in July, 2017SwimIssue will operate in much the same way as Sports Illustrated or Victoria's Secrets works - by cherry picking a small selection of elite models that become the faces of the company and who make up the swim brand's core family. The brand aims to become an iconic franchise spanning fashion, social media, brand activations, TV and even Movies but where Sports Illustrated sells magazines; SwimIssue will focus on its TV series and Instagram stores - soon to be selling swimwear from the hottest trending designers in the business.
SwimIssue's TV series will help make the company a pop-culture phenomenon and a revered launching pad for models providing successful careers in TV, fashion, business and film for its 'SwimIssue Angels' just as Sports Illustrated launched the careers of Kathy Ireland, Cheryl Tiegs, Tyra Banks, Heidi Klum, Kate Upton and Chrissy Teigen.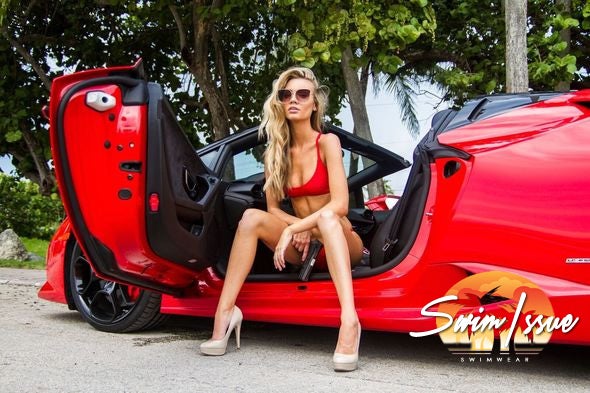 "ALEXA COLLINS in Swimissue's Miami Vice style TV show teaser"
Just as the swimwear industry describes SI Swimsuit as the "Oscars of Swimwear," with an appearance in their magazine being a crowning achievement for swimsuit models. An appearance in the SwimIssue TV series aims to carry a similar accolade for swimwear models, designers and photographers. The angels will be seen in print, TV, ad campaigns, billboards, film and social media; launching their international profiles, adding millions of followers to their profiles and making them globally recognized to better promote merchandise, brands and designers advertised on the show.
SwimIssue, is the brainchild of film director and producer Mr. Tim Burke, who aims to build these models into stars with TV and Movie roles, public appearances, chat shows and Hollywood film premiere attendances (Tim is co-director/creator of PLANET X a big budget, ancient alien, sci-fi epic - slated for late 2018 and owns no.1 Movie investment company MovieFund.com) which in turn builds the SwimIssue brand and ultimately company sales & revenues. With its birthplace in Hollywood, the home of entertainment, it makes sense that SwimIssue would take advantage of the growth in both on-demand TV shows and Instagram influencers and create a highly engaging, cutting edge and insightful TV series following the lives of well-known swimwear models, influencers, designers and photographers at work and play in exotic destinations around the World.
"Snapchat and Instagram's daily video stories have become the new source of entertainment for the masses and the millennials. Influencers and swimwear models are now becoming stars and celebrities in their own right, with millions of followers....It now makes sense to produce an unscripted, televised entertainment program featuring these Instagram stars and models on a main TV network" explains SwimIssue founder; Mr. Burke, who in the past was a successful MTV producer and series director. At the time, his MTV show out-rated The Osbournes and was awarded 5/5 reviews including in The Times and The Telegraph in England.
"Its win, win…the TV Network already has a built-in, fully engaged audience of tens of millions of fans from our influencers' followers and the TV show helps makes stars of its characters which in-turn helps push product sales on our Instagram swimwear stores (Kylie Jenner and family have made over $400MM in sales from her Kyliecosmetics brand). Hotels, brands and designers get much needed exposure in a saturated market and the viewer gets an intriguing, real and in-depth look at their favorite influencers in a television series" comments Taylor Rose, brand and marketing exec. on the SwimIssue show.
The TV series kicks off by introducing the main swimwear designers in the business at the Miami SwimWeek, 2017 where the production has been filming. When asked what Hollywood is looking for in terms of TV entertainment right now, Tim commented; "As you know there has been a huge surge in on-demand scripted TV shows from Netflixs, Amazon, Hulu & HBO. However, few of these on-demand studios have released many unscripted, realty TV series yet. Real-life documentary programming is one of the largest entertainment formats for the youth market and a series following everyone's favorite influencers and swimwear models is the perfect format for this social media generation".
SwimIssue series director; Mr. Tim Burke has always taken an original approach to his work and the SwimIssue TV series is no exception. "I always like to do something different; to be original in anything we do. I personally hate most reality TV series. These shows don't empower woman or show them in a good light. All you see is woman pitted against each other and producers setting up girls (or housewives) to cat fight, argue and bitch about each other. Does this really entertain us and make us happy to watch more…seeing people fight each other? SwimIssue will be different – it will pride itself on female empowerment, female entrepreneurship, female kindness and friendship. It will show woman in control of their own lives and careers; girls having a fun time, supporting each other in unity and business, not like these other reality shows. We want to celebrate beauty, business, sociability and build a great and inspiring swimwear brand and show around those positive ethics. Alongside the tone of the series the shooting style is going to be something that has never been seen before. With my background in feature film production, I wanted to take the cameras we use on film sets, like the ARRI ALEXA and use these rather than your traditional Canon HPX series or XDCam series. My aim is create an unscripted TV series that looks like a movie", he concludes.
I also had time to sit-down with Ms. Alexa Collins who has been chosen ahead of hundreds of models as the company's first-ever 'SwimIssue Cover Girl' or 'Swim Angel'. The company plan to do a summer calendar series and make her one of the lead characters in the series; following her as she brings out her own swim and lingerie line under her own fashion banner 'Alexa Collins'. The company has also asked Alexa to become a co-founder and face of their sister lingerie company; 'IntimateIssue' which operates like SwimIssue but specializing in lingerie, lounge and intimates.
See Alexa in action above as the first SwimAngel in a Charlie's Angel style video for SwimIssue.
So to get to know our first Swim Angel a little better I asked her a series of personal questions:
Alexa, what would you say if your favourite photo so far? - "My favorite photos are from Miami swim week 2017. They show my true colors and they also show how happy I was on that day. I also love our first Charlie's Angel style Video shoot, below."
Whose your favourite swimwear Designer? "I have many. Don't even think I could choose!"
Favourite Lingerie brand? "Intimateissue? Duh! :)"
Which Instagram stores do you use? "I use a lot, but I tend to really love Australian brands. They fit my body type amazing"
Five thinks you like? "Shopping, Food, Music, Cars, and Clothes!"
Five things you don't like? "Bleu Cheese, Country Music, Cold Weather, Rainy Weather, and when people aren't on time."
Your favourite superhero? "Spider-Man"
Favourite Movie kiss? "The Notebook, always a classic."
Favourite Model? "Candice Swanepoel"
Favourite Charity? "ASPCA"
First five things you would if a tidal wave was approaching? "My 2 dogs, My camera, Laptop, Makeup, and Clothes"
High school crush? "Robert Pattinson"
Do you play computer games? "No"
Best action movie? "Never was into action movies :("
Five things to take to the beach? "Water, Snacks, Tanning Oil, Umbrella, and my camera."
Chatup line that works? "I love your Instagram photos"
Chatup lines that don't work? "Anything cheesy, like a pick-up line"
Weirdest thing asked on Instagram? "Can I make a doll that molds your face?" Lol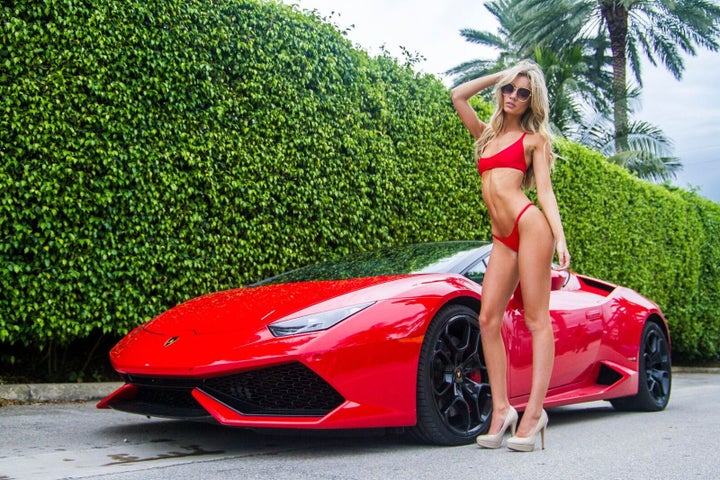 "Given the widespread popularity of Sports Illustrated Swimsuit, it's thrilling to be the first "Swim Angel' and join the SwimIssue family. There is so much I look forward to doing with the company. I like its take on the industry its original, edgy and fresh and I think you have to be to standout in this competitive market" said Alexa Collins, co-founder of IntimateIssue and SwimIssue's first SwimAngel.
"The television series will showcase some of the most exotic models and beautiful places on the planet and my videos for SwimIssue is an amazing way to promote our swimwear designers and bring their brands to life for consumers in a cool, engaging and sexy way", Alexa adds.
Today, SwimIssue (www.swimissue.com) TV series and their combined influencers and models on Instagram will aim to reach more than 80 million US adults and Instagram followers. SwimIssue is currently in talks with a number of partner brands and is currently in Miami holding SwimAngel castings – which will be televised as part of the series – for models, influencers, photographers and designers to become apart of the TV series.
Popular in the Community