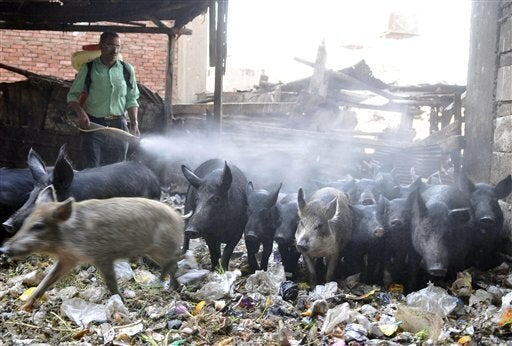 The Egyptian government began slaughtering pigs today as a preventative measure to stop the spread of the swine flu, reports the AP. Over 300,000 pigs will be killed immediately despite no reported cases of the pandemic in the country.
The state news agency MENA reported to AFP yesterday about the passage of the measure in lower parliament:
"The People's Assembly urged the government to immediately start culling pigs and not to relocate pig-breeding farms away from residential areas for fear of the spread of swine flu," MENA said.

Egypt's 80-million population consists mainly of Muslims, whose religion forbids them from eating pork, as well as an estimated six to 10 percent Christian Copts who may eat pig meat.
CNS News explains that the Egyptians are nervous about a possible swine flu outbreak because of another unrelated illness in the country:
The Egyptian parliament wants all pigs in the country - where they cater largely to the non-Muslim minority - to be slaughtered. Egypt already is on edge because of a surge in cases of unrelated bird flu, which last week claimed a 26th fatality.
Related
Popular in the Community