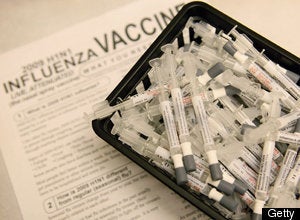 Six free clinics will be opened in Chicago to help combat the H1N1 swine flu pandemic, the city's health department said Tuesday.
Health officials said free clinics will be set up at six City College locations (all except Harold Washington) to administer the two million doses of swine flu vaccine the city expects to get from the federal government. A first shipment of 16,000 nasal-spray vaccines arrived last week and is being administered to the most at-risk. The city expects weekly shipments of between 50,000 to 150,000 doses of the vaccine.
As of October 9th, 19 Illinoisans have died as a result of H1N1, according to the state Department of Public Health. The flu has hit colleges particularly hard. Chicago Public Radio compiled area schools' reported cases here.

Related
Popular in the Community