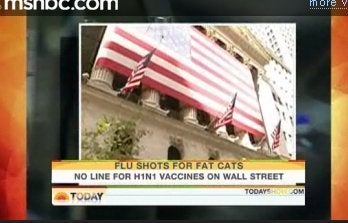 [NOTE: BusinessWeek originally broke the news of Wall Street banks and other large employers receiving early batches of the H1N1 vaccine. Read their entire story here.]

While thousands of at-risk Americans wait, some big Wall Street banks have already secured the hard-to-find H1N1 vaccine for their employees.
Building on a story that BusinessWeek broke, NBC reports that employees at the New York Stock Exchange, bankers at Goldman Sachs and Citigroup, and employees at the Federal Reserve have all received swine flu vaccine doses to administer to their employees.
In particular, NBC reports that Goldman Sachs has received 200 doses of the vaccine -- the same amount as Lenox Hill Hospital in New York. Wall Street banks, like many other companies, put in requests for the vaccine but seem to have had something of a leg up on securing doses.
Dr. Nancy Schnyderman, NBC's chief medical editor, chimed in on this seeming disparity:

"I think they probably played by the rules, there are corporations all over the country who put in there dibs...But, what a sore eye for Wall Street. Wouldn't have been lovely if they had said, look we put it in our dibs, we played by the rules, but we're going to donate our 200 doses."

Some corporations seem to be getting the doses before doctors and hospitals. Here's more from Schnyderman:

"If we know that the distribution is the weak part of this entire thing, why not put doctor's offices and hospitals at the top of the line, and say to corporate America, no matter who you are, you're you're going to have to go through clinics and hospitals like everyone else."

Support HuffPost
The Stakes Have Never Been Higher
Related
Popular in the Community