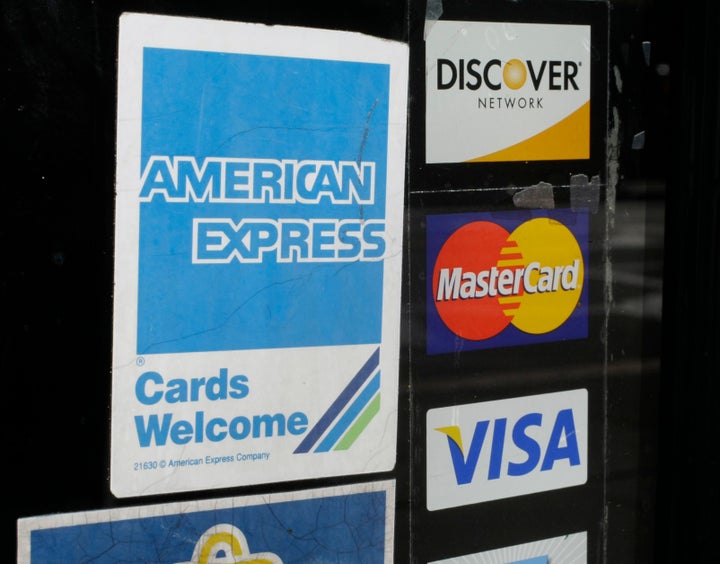 WASHINGTON -- The debit card battle that has engulfed lobbyists and lawmakers in the nation's capital all year will come to a head on Wednesday, with a vote set for 2 p.m.
At stake are roughly $16 billion a year in "swipe fees" that merchants pay to banks for the privilege of allowing their customers to shop with plastic. New federal rules aiming to rein in those fees are slated to take effect on July 21, and as the clock ticks down to a final vote, an already bizarre Washington lobbying scramble is getting weirder and wilder.
Sen. Jon Tester (D-Mont.) has been maneuvering all year to woo the 60 votes he needs for a bill that would delay the new rules. And as of Tuesday, he may finally have done so. But he might still lose -- and not because he doesn't have the votes in the GOP-run House. It's because Tester's amendment is tethered to a bill that is itself unlikely to become law. Congress, in other words, is so broken it can't even pass bank-friendly legislation.
Thus far, it's been an epic lobbying battle pitting Wall Street against Walmart, one so heated that Washington insiders jokingly refer to it as "The K Street Full Employment Act."
The melee features a proxy leadership fight in the Democratic Party that depends heavily on Republican votes. It has major implications for the future of campaign financing for both parties. And it has quietly overwhelmed the schedules of Washington's elite for months, even as the news media jumps from the Donald Trump birther circus to Sarah Palin's bus tour.
Senate Majority Whip Dick Durbin (D-Ill.), who has been the upper chamber's lead champion for retailers and is pushing for the fee overhaul, has congressional dysfunction as an ally.
On Tuesday, HuffPost asked Durbin about Tester's decision to attach his amendment to a legislative vehicle that is running on empty. Durbin responded with a wide, wry smile, relishing the timeworn congressional jiu-jitsu that pinned Tester without the Montana senator even realizing it. "Well," Durbin said, "we haven't had a lot of luck passing bills in both chambers."
Forget near-record gas prices and 9 percent unemployment. For most of 2011, the Senate has been completely absorbed in a debate over swipe fees. On Tuesday, with cable news programming blasting identical Weinergate details on an endless loop, Democrats and Republicans were locked in closed door meetings to debate swipe fees, preparing for the floor vote on the issue.
Durbin and Tester debated before the Democratic caucus. Nearby, Republicans held a "nice, meaningful dialogue," as Sen. Pat Roberts (Kan.) put it, between Sens. Bob Corker (Tenn.) and Mike Enzi (Wyo.), representing the banks and merchants, respectively.
K Street, which has lobbyists representing banks and merchants, wins either way and is grateful to Durbin for the payday, he says. "A friend of mine who is a lobbyist downtown in Washington said, 'Durbin, praise the Lord. Come up with some more ideas. This is a full employment amendment. Everybody who is a lobbyist in Washington is working on this amendment. We just love you to pieces,'" Durbin recounted on the Senate floor Tuesday afternoon. "Well, the sad reality is, it's coming maybe to a close with a vote on this amendment."
As the vote nears, an accurate whip count is hard to come by. Lobbyists on both sides are uncertain. Senators whom The Huffington Post queried generally said they remained undecided -- often a sign that members of the herd were waiting to see which way the voting stampede might be headed. In Congress, the only thing worse than flip-flopping and angering a powerful industry is going to all that trouble for a losing cause.
Both sides publicly expressed confidence. "We aren't taking a single vote for granted, but we will have the votes we need with some room to spare," said Brian Dodge, a lobbyist for the retailers.
"Most people have told me how they're going to vote," Durbin said when HuffPost noted his colleagues hesitation. But then he hedged: "They may change their mind. It isn't over."
"If it's a 60-vote threshold, that's hard to get there," said Sen. Richard Shelby (Ala.), the top Republican on the banking panel and a strong Tester backer. The banks got a major boost this week when Americans for Tax Reform, Grover Norquist's group, designated the issue a "key" vote, meaning that breaking with the banks will count against their tax-hawk bona fides.
Tester, with Corker's help, has been pushing for months for a vote. Durbin said he could have pushed it back but decided not to. "He was going to get a vote and the question was when," said Durbin. "I could have delayed it. It reaches a point where I think the arguments have been made, so now let's have a vote."
Tester and Corker initially proposed delaying the new rules for two years. In May, with Tester short of the 60 votes he needed to override Durbin's plan, the pair shortened that delay to 15 months. Still coming up short, they're now asking for just 12 months, as Sen. Tom Carper (D-Del.) signaled they would in an interview with HuffPost earlier this year. Tester's new bill also allows banks to include more of their costs -- such as executive bonuses -- into the calculus that leads to the maximum swipe fee allowable.
For every month that swipe fee reform is pushed back, banks score $1.35 billion in fees that might otherwise be corralled, according to data from The Nilson Report. But the real strategy for the banks hasn't been delay, it's been to kill the reform outright: First, postpone the rules, then use the extra time to round up votes for a full repeal.
Swipe fee booty comes partly at the expense of consumers, and merchant-funded polling suggests that consumers know it. But Wall Street's swipe fee cashout also comes at the expense of retailers big and small -- otherwise stores wouldn't be flooding Congress with their own lobbyists.
Small businesses have been the public face of the fight for both sides. Although fully half of debit card swipe fee revenue flows to just 10 giant banks, the Wall Street lobby has aggressively courted small banks and credit unions to make the case that they will be hurt by the rules -- even though these small institutions are explicitly exempted from the law.
In his floor speech introducing his bill on Tuesday, Tester claimed the opposite, saying his bill was designed to protect small banks from Wall Street.
"Rural America is what I know. It is where I am from. And as I have watched consolidation in the agriculture industry, I have watched rural America get smaller and smaller," Tester said. "I am not about to let this happen in the financial services industry. Fewer banking options in rural America is a death knell for rural America."
No matter what happens with Tester's bill, any bank or credit union with less than $10 billion in assets can keep charging whatever they want on swipe fees, which currently average about 44 cents per transaction. Last year's financial reform bill required the Federal Reserve to write regulations limiting swipe fees, and on July 21, those rules will go into effect, capping the fees at an average of 12 cents for every transaction.
Despite the fact that the overwhelming majority of credit unions won't be affected by the legislation, the National Association of Federal Credit Unions and the Credit Union National Association -- two big umbrella groups for the industry -- are aggressively lobbying against the Durbin bill. Two of the country's three major credit unions, the Pentagon Federal Credit Union and Navy Federal Credit Union, are behind that effort, which NAFCU CEO Fred Becker acknowledged in a May appearance on CNBC.
"The reason we're against the cap is ... it will in fact impact, today, three credit unions, two of which represent the military that's currently at war serving our country," Becker said. In a subsequent email, Becker said he believes that other credit unions would eventually be hurt, too.
PFCU and NFCU both declined to comment for this report. The other major credit union explicitly affected by the current legislation, the North Carolina State Employees Credit Union has chosen to sit out the debate. SECU has a stellar reputation -- it recently ended its practice of garnishing the wages of debtors out of concern that doing so during a recession amounts to "kicking [people] when they're down."
SECU isn't involved in the swipe fee debate in any way. It isn't even pressuring the credit union trade groups -- NAFCU and CUNA -- to intervene on its behalf.
"We're not taking a position. We'll just wait and see what Congress ends up doing and the Fed ends up and react accordingly," LeAnn Phelps, SECU's senior vice president of card services, told HuffPost. "We don't have any fees on our debit card program and don't intend to add any."
Asked why SECU was not injecting itself into one of the most aggressive lobbying extravaganzas in history, Phelps said, "We don't get out there in the political spotlight. It's just not our culture."
While the vast majority of K Street is cashing in on the swipe fee scuttle, some of the most powerful lobbying forces in Washington have been absent from the debate.
In May, the progressive activist group U.S. Chamber Watch joined the small business associations Main Street Alliance and the American Sustainable Business Council for a conference call with reporters to defend Durbin and the swipe fee crackdown -- and to lambast the U.S. Chamber of Commerce for not taking sides with retailers in the swipe fee debate. The Chamber declined to comment on the matter.
The National Federation of Independent Businesses, a small business lobbying group, has also been sitting out the swipe fee debate even though last year it blasted state legislation in California for protecting "unfair debit card interchange fees" (swipe fees are known as "interchange fees" in the financial world). While bemoaning "enormous" costs to "businesses and consumers," the NFIB suggested that the Visa card network's tremendous market share was allowing the company to engage in anticompetitive behavior that runs afoul of antitrust laws.
The NFIB's critics in the Main Street Alliance contend that the NFIB is more interested in fighting for partisan Republican interests than the bottom line of small retailers. When asked for comment, the NFIB said that it polls its small business members regularly on legislative issues, and that it fights for those issues members identify as priorities -- and that swipe fees haven't met that threshold.
For an issue with only modest implications for most consumers -- one merchant-funded study suggested that households lose a combined $230 per year from swipe fees on credit and debit cards in the form of higher prices -- it's hard to understand why Congress has spent so much of the year embroiled in the debate, given the nation's very serious economic troubles. Campaign contributions associated with the swipe fee scramble may provide some insight as to why that's so.
According to a Huffington Post analysis of Federal Election Commission filings, members of the Electronic Payments Coalition, which represents banks, spent $2.5 million in the swipe fee battle from January to April alone.
Whichever side wins in Wednesday's vote, the lesson from swipe fee reform is clear: big business dominates the congressional agenda. If you want to win in Washington, hitch yourself to a corporate conglomerate or be banished to legislative obscurity.
Paul Blumenthal contributed reporting
Popular in the Community