It's another crystalline day in Crans-Montana, a popular ski resort in the Swiss canton of Valais. That's not surprising since this French-speaking region nestled in the heart of the Alps is often considered the sunniest place in Switzerland. Valai is so sun-kissed, that it is also home to more than 20,000 vineyards, many of which produce some of Switzerland's finest wines. A combination made in après ski heaven.
I pass a few of those vineyards on my way up to this fusion of two towns, posh Crans and more modest Montana, which together comprise one of the more than 70 ski areas in Valais. Among them are some of the world's most famous resorts with iconic names like Saas-Fee, Verbier and Europe's highest, Zermatt, the only resort on the continent where you can ski 365 days a year.
"We are surrounded here by more than 50 mountains higher than 4000 metres," says my guide, Eugenio, the next morning as we ride the gondola to the top of Crans-Montana, a mountain and glacier called Cry d'Er, connected by cable cars from both towns. From the peak, the view over the Rhone Valley is breathtaking, with the muscular Matterhorn towering over Zermatt and the snowy summit of Mount Blanc.
Splayed out beneath us is a tantalizing patchwork of autobahn-wide groomed blue and black slopes that promise fantastic high altitude glacier skiing. On either side, challenging off-piste areas also beckon. As do half-hidden slopes further down that disappear into thick valley forests.
I see those forests up close that evening during a guided snowshoe safari up to a restaurant called Relais de Colombire. Tucked in a high altitude hamlet that for centuries has been home to cattle farmers, Colombire serves up faithful recreations of traditional recipes associated with the region. I fuel up on homemade macaroni, polenta with savory butter and the requisite cheese fondue while old black and white movies of families driving their herds up into the high Alps in summer to graze flicker on the cement walls.
The extra ballast I put on at dinner comes in handy, slowing my velocity during an exhilarating midnight kamikaze carpet ride down the same winding trail aboard a tiny wooden sledge (a sled on runners). Gravel and ice shavings sting my face as I dig in my heels to steer around a series of high speed hairpin turns. The zigzagging route is illuminated only by the full moon and my headlamp. And the terror of hurtling off the sides is very real. By the time I reach the bottom I feel like I've been shooting an action scene from a Bond film.
That's not too far off the mark, as it turns out, since I later learn that scenes from 1981's For Your Eyes Only were filmed in these rarified parts. Then 007 Roger Moore so loved the area that he made Crans-Montana his home shortly afterward. For the rest of my brief time here, I'm on the lookout for the actor with a license to kill.
A big reason Moore is said to have settled here is the quality of Crans-Montana's French Swiss style cuisine. There are close to 30 restaurants here, including Chetzeron, set on a spacious terrace a short ski from Cry d'Er. After dining on a Valasian spread of cheese and cured meat, mountain trout on a potato waffle and poached pear with vanilla ice-cream, I lounge on a fur-lined deck chair and admire the view of the Matterhorn as Euro-pop from the restaurant's rooftop sound system wafts across this heavenly valley.
According to most ski resort operators in the Alps, you're virtually guaranteed to find enough snow to ski if you go above 6000 feet. My next stop, German speaking Riederalp (permanent population 200), more than qualifies. There's no shortage of white stuff in this traffic-free, family-friendly village about 90 minutes by train from Crans-Montana, one of several economical resorts perched on a sunny, south-facing terrace below the 15 mile long Aletsch glacier, Europe's largest. Riederalp and its neighbouring resorts of Bettmeralp and Fiescheralp overlook the Rhone Valley and are linked together by snowfields and lifts.
Built around a 400 year old church, postcard pretty Riederalp is accessible only by funicular cable cars from the valley. Its rustic dark wood ski-in-ski-out chalets and hotels have been the vacation homes of locals for generations. There isn't a Gucci or Prada outlet in sight and not much of an après ski scene to speak of. But there's plenty of fresh air, sunny southern exposure and superb skiing terrain in the heart of the Jungfrau-Aletsch UNESCO World Heritage Site
.
Historic Runs
True to its sunny reputation, Riederalp, also serves up cloudless azure skies. Since Europe's mightiest glacier is hidden behind a ridge and not visible from the village, Eugenio and I first ride the gondola up to the Moosfluh ridge for a peek at this gargantuan river of ice. He tells me that its wrinkled surface is actually skiable under optimal conditions, and then only with a certified guide. Beneath us are well over 100 kilometres of mostly intermediate slopes, including one 3,300 ft. descent back to the village from the summit of the Eggishorn above neighbouring Fiescheralp.
Our longest run that day takes us alongside the glacier toward another of Riederalp's unique attractions - Aletsch Forest, a nature reserve where Switzerland's oldest stone pine trees grow. The reserve's headquarters is Villa Cassel, the erstwhile summer residence of an English banker. This 25-room castle hosted many famous and influential guests from the worlds of politics and high finance. A young Winston Churchill is said to have stayed there on numerous occasions while writing his father's biography. Villa Cassel also houses a natural history exhibition and marks the starting point of several guided high altitude hikes in the Aletsch region that you can take year-round.
Toward the end of yet another bluebird day in Valais, Eugenio and I stop again near Cassel's fairytale alpine retreat to share a plate of Hobel Cheese and a bottle of Valais wine. As the setting sun casts a golden glow over those magnificent mountains across the Rhone Valley, I take in the same unforgettable view as the legendary British Prime Minister once did as a guest at Villa Cassel. And count us both lucky to have found ourselves sunny side up high in the heart of the Swiss Alps.
Swiss International Air Lines offers daily flights to Zurich from North America. The ski resorts mentioned are about three hours' train ride from Zurich (including connections).
An adult first-class, eight-day continuous Swiss Pass starts from 549 Swiss francs and offers unlimited travel on the Swiss Travel System network of trains, buses and boats.
In Crans-Montana, Hotel Valaisia offers modest rooms, some with mountain views.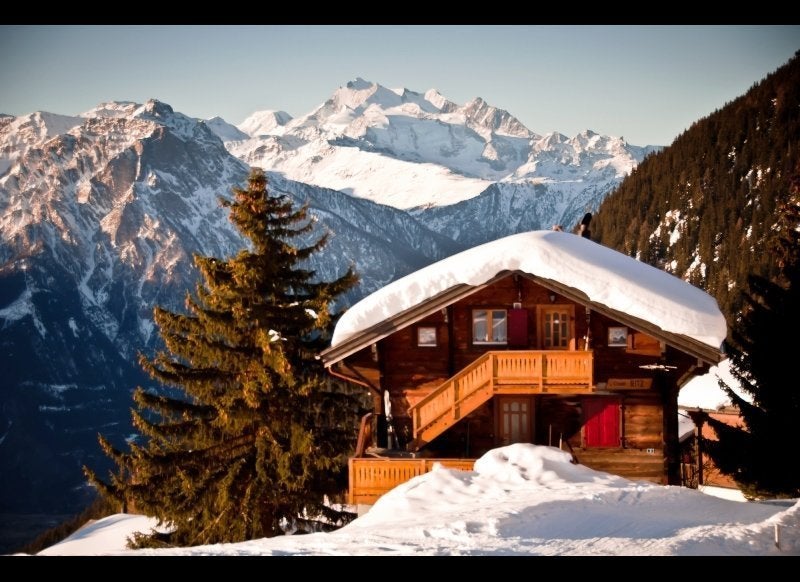 Winter fun at the Swiss alpine resorts of Crans-Montana and Riederalp