"Switcheroo" is a portrait series by Hana Pesut featuring two subjects photographed once in their own clothing and then again after swapping outfits.
Including a variety of individuals on an international scale, the photos extend from subjects in Pesut's home of Vancouver, Canada to Japan, where several of the photos were shot in Tokyo and featured in the magazine "Ginza."
Pesut told The Huffington Post that photographing each pair of subjects was a different experience and generated varying reactions. Some people were quite uncomfortable in their partner's clothing and wanted her to be quick with the process, whereas others wanted to walk around even after they finished shooting.
"I think the project shows how far we've come in regards to what is acceptable for men and women to wear," Pesut told The Huffington Post. "My mom recently told me that when she was in high school she had to wear to a skirt or dress and wasn't allowed to wear pants and now it seems that almost anything goes. With several of the shoots I noticed that a man could be wearing a dress and heels in a public place (or a woman in a suit and tie) and no one thinks that it is strange -- people barely even stop to look. People should be able to wear what they want to wear, not what they are allowed or expected to."
Before You Go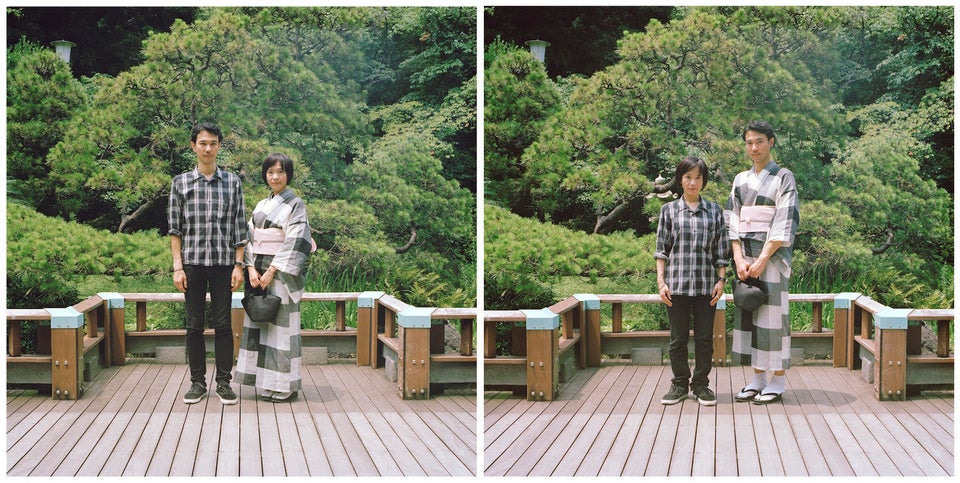 Switcheroo
Popular in the Community