BOSTON - (April 17, 2017) - The elevator door swung open on the fifth floor of the Sheraton Boston hotel and Kathrine Switzer, age 70, strode down the hallway with a purpose. With an adidas rolling bag behind her, she walked quickly as there were people to see and interviews to do. Her schedule resembled that of the the busiest executive on State St. or maybe, even, a Head of State like the Queen of England. On this week, leading into the 121st running of the Boston Marathon, Switzer was celebrating and being celebrated for her historic efforts 50 years ago. For the past week, Kathrine Switzer was the popular Queen of Boston.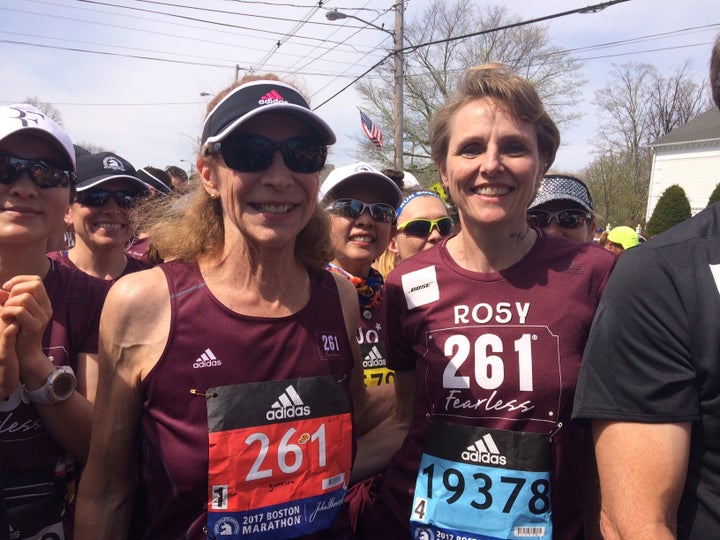 As it's been chronicled so thoroughly this week, Switzer signed up for the 1967 Boston Marathon as K.V. Switzer at a time female participants were not welcome to run. When race director Jock Semple caught wind of the fact he'd overlooked the entry from the first woman to ever "successfully" register for the grueling road race. When old Jock saw the woman in full stride, he hopped off a press bus and accosted her, attempting to rip off her race bib No. 261. A few of the male runners alongside Switzer, including her big, burly then-boyfriend, former Syracuse All-American football and track man "Big Tom" Miller body-blocked the angry race official as he was shouting at Switzer.
The rest is history, as they say, but it's a history that Switzer prefers to project to the present and the short and longterm future.
She settled into a conference room at the hotel and calmly opened her bag, itself a rolling office and work station, all week, for her 261 Fearless organization. She casually opened an old plastic shopping bag and out came original copies of the newspapers of Thursday, April 20th, 1967, the day after the race and carefully laid-out the Boston Globe and Record-American, among a few others, the edges frayed and yellowing. Dressed in her 261 Fearless running gear which was more Harvard Crimson than Syracuse Orange, she sat down with ARD-TV of Germany to begin a full day of interviews and appearances in Boston.
Only two weeks ago, Switzer was conducting interviews and conference calls from her New Zealand residence where she spends half the year before moving the operation to New Paltz, New York. Very capably and professionally, Switzer's 261 Feaarless CEO, Edith Zuschmann, was orchestrating plans from Austria. Switzer's small, buttoned-up organization, just recently launched, was prepping to hit a springboard at and around the events in Boston this month. It would vault her organization to truly global standing and stature, all in a purpose to create a different kind of not-for-profit in the running industry. The 261 Fearless mantra is all about encouragement and inclusion. It's not about time and performance rates. Rather, Switzer is sending some mojo and a message to (mostly) women, but also to few good men to symbolize the assist Miller gave to her back in the spring of '67, and the message is one of hope and determination, along with instructions to simply RUN.
She wants people to run for their lives. Not in a fight or fright kind of way, but rather in a mind-clearing, healthy, change your life for the better kind of way.
Too often, the running industry stresses the improvement of time or the increase of distance, rather than the life-changing Rx of a simple run. Too often, runners are told to buy the most advanced shoe or hook-up a wearable to gauge time, distance and heart rate. Maybe, the serenity of a run might be more beneficial if you could blend in some camaraderie and sheer fun? It sounds too simple, but in an age of constant competition and a human culture to always ask 'What's next," a run with some friends and feeling the right way simply being part of a welcoming group of fellow 261ers, might just be the right remedy for what is ailing so many of us in this ever increasing stressful world in which we live.
Switzer sat down with dozens, if not hundreds of journalists and television crews to recall memories of 50 years ago, all amazingly vivid to her. She answer questions about 'The Incident," and generally celebrate women's running and the extension to women's sports. The enthusiasm began to shine through, speaking first to ARD's Ole Zeisler who had flown in from Hamburg to conduct the nearly hour long sit-down. Afterward, leaving her prized newspaper stash with a producer she had just met, Switzer and Zeisler headed out from the hotel to Boylston Street, to take in the final stretch of the marathon route and film some candids and cut-aways. They ended up on the finish line, chatting it up like old friends.
Soon, she was off to an official press function conducted by the Boston Athletic Association. At that event, the BAA announced that they were "officially retiring" Race Bib No. 261. Later, phone calls were made to Runner's World for a podcast, to Running Magazine in Germany, to the Daily Telegraph in England, to WBUR-Radio the public station which seerves Boston and to its parent, NPR in DC and a lengthy list of others fell into place, like clockwork. In-depth interviews were done with CBS This Morning and CNN. She found time for Syracuse University, her alma later and for an old friend, Cristina Mitre who flew in from Spain to conduct a more "fashion than sports" photography shoot, calling on Ms. Mitre's experience at Elle. That was done at the AT&T Store on Boylston where Switzer signed copies of her book, "Marathon Woman," before grabbing a 10-minute rest on a comfy couch, exhausted but not deterred.
Some members of the 261 Fearless team passed along some nutritious concoction of nuts and who knows what to fuel her still-sleek-after-all-these-years body. Zuschmann sat down quietly next to her colleague and they ran through the agenda for a special event on the second floor loft of the AT&T Store, hosted by sponsors adidas and Bose after her healthy hand-off from Boston Magazine's marketing team. Switzer's husband, Roger Robinson, emcee'd an hour-long, story-telling reenactment of the famed incident, with first-hand anecdotes from Frank Litsky, the New York Times reporter on the press truck that day, John Leonard, the last surviving member of the Syracuse track team of '67 and Dave McKenzie of New Zealand, the race champion that April day.
The hectic pace continued all weekend, with Switzer joining her old friend Amby Burfoot, the 1968 Boston champion who will follow Switzer's experience and celebrate the 50th anniversary of his win a year from now. Burfoot, the longtime editor-at-large at Runner's World magazine, is running today as a member of the 261 Fearless team, in support of his friend.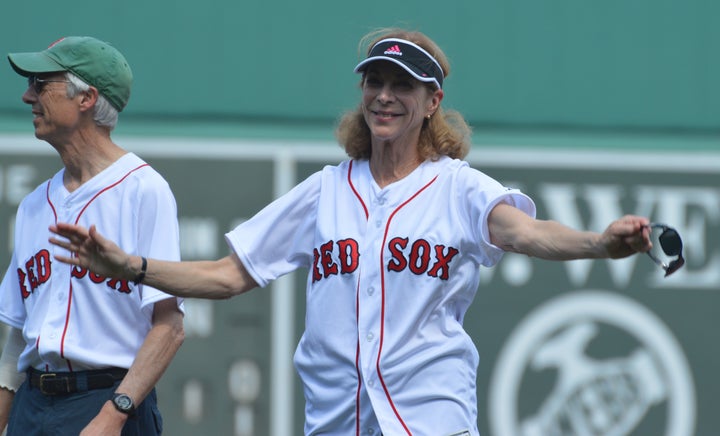 Switzer lined up for the Marathon, conducted a slew of other interviews for the BAA at the Hopkinton starting line, then performed an honor reserved for the best of the best by sending the "elite" women's runners off on their quest to win today's race.
To that end, Geoffrey Kirui of Kenya won the men's division and Edna Kiplagat, also from Kenya, took the women's honors. Switzer and 13,696 other women, just under half of the marathon's 30,074 participants, followed the elites. At age 70, and in prime, mid-life like condition, Switzer was not looking at her stopwatch as she raced through the tough Boston course and the legendary Heartbreak Hill path through Newton and into Boston. When she crossed the line, it was graciousness and sheer appreciation to her team of runners who raised money for the launch of the global organization to live-on for the next 50 years or more, in her name.
"I'd like to thanks all teh people on the streets of Boston. I am so grateful for being able to run the Boston Marathon 50 years after my first one," said Switzer after the race today. "I'd like to thank the BAA and everyone involved for their amazing support this entire weekend. I'd also like to send special thanks to the members of our 261 Fearless Boston Marathon team who have helped empower women globally through running."
Switzer crossed the finish line to thunderous applause and into the arms of race officials and her husband, all while a huge contingent of media jockeyed for position to capture the moment. She ran the race in an official time of 4:44:31. It was her ninth Boston Marathon, the last to ever see the bib No. 261 participate.
The glorious day and her healthy and impressive finish put an end to a whirlwind weekend in Boston, from throwing out the first pitch at Fenway to a private party for her team tonight, Switzer seemed beyond elite, beyond inspirational, but rather, she seemed somewhat invincible. So invincible, we might need another 50 years or more to prove her membership in the human condition, known as mortality. As 261 Fearless grows, the guess here is that the legacy of one Kathrine Switzer is still yet to be realized. Let's see what the next 50 years brings?
Related